Data Sheet: GORE® Tethered Drone Cables for Commercial & Defense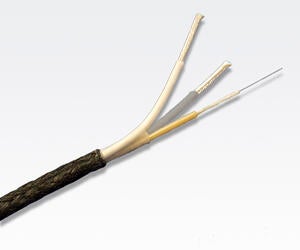 Data Sheets, English
Tethered drone cables using standard materials often present ongoing challenges for commercial and defense applications, from absorbing moisture and weighing drones down to limiting opportunities for more payload options and decreasing the drone's capabilities. Luckily, that's where W. L. Gore & Associates comes in, offering a durable, low-weight hybrid solution with proven, unrivaled performance allowing drones to fly higher, see farther and do more than ever before.
---
Cable Performance and Specifications
Built to withstand even the harshest of environments, GORE Tethered Drone Cables outperform standard cables for a number of reasons. Because every gram of weight saved on a drone matters, Gore's unique cable jacket material significantly reduces weight pickup. Further, Gore's patent-pending fiber braid cable jacket has low-friction properties, making our cables easier to handle compared to standard nylon cables.
Among other design considerations, all of this allows for more payload flexibility, increased height above ground level (AGL) during operation and greater drone responsiveness. GORE Tethered Drone Cables also expand line of sight or coverage and deliver the following benefits compared to alternatives:
Continuous Reliable Performance
Thanks to Gore's proven materials, GORE Tethered Drone Cables provide unfailing data transmission, secure signals and continuous high-voltage power over the lifetime of the drone. This is because they are engineered with high-strength, waterproof components to withstand damage from the following:
Crushing
Abrasion
Repeated reeling
Fluctuating temperatures
Humidity, rain and snow
Tough terrain
Easier Installation and Maintenance
GORE Tethered Drone Cables are 20% smaller in size than standard nylon cables, making them inherently lighter in weight. Therefore, they take up less space inside the tether management system (TMS) and allow for more design options and extra payload during operation. And because they're proven to deliver reliable performance over the lifespan of the drone, they decrease time spent on intensive maintenance and cable replacements.
Meeting Rigorous Standards across Commercial and Defense Applications
GORE Tethered Drone Cables are pre-qualified and tested to meet rigorous industry requirements. To ensure optimal performance and successful missions, Gore used SAE AS4373™ Method 601, to compare GORE Tethered Drone Cables to nylon-constructed cables, with a goal to determine weight stability after immersion in harsh fluids. Results showed that the initial weight of nylon cables increased by 13% in hydraulic fluid and over 7.5% in saltwater. Meanwhile, Gore's cables offer 90% less weight pickup, particularly holding less than 1% in saltwater.
In addition, Gore's single-mode fiber optic cable meets ARINC 802-3 requirements and is proven to provide a high level of crush resistance with low insertion loss. Ensuring a secure data link from the drone to ground support equipment (GSE), the fiber can serve as a low-loss coaxial cable for applications that transmit and receive data, including:
Temporary cell towers
Rural network connectivity
Mesh drone networks
Line-of-sight communications
Downlink for continuous video streaming to provide situational awareness and coverage for emergency response, news and events, aerial photography and border patrol
Generally, commercial and defense applications for GORE Tethered Drone Cables include:
Video streaming
News, events, commercial photography, search/rescue
Industrial/land inspections
Telecommunications
Intelligence, surveillance and reconnaissance (ISR)
Electro-optical infrared (EO/IR) sensors
Signals intelligence
How to Order GORE Tethered Drone Cables for Commercial and Defense
Fly higher, see farther and do more with a durable, low-weight hybrid solution like GORE Tethered Drone Cables available in a variety of standard configurations and sizes. Prequalified, tested complimentary samples could also be available for this product within 48 hours of your request. To learn more about how these products and our other solutions for aerospace and defense can enhance your application, contact a Gore representative today. When you're ready to make a purchase, reach out to a Gore distributor to order one of the following part numbers:
RCN9164
RCN9166
RCN9168
RCN9186
RCN9188
RCN9190
RCN9217
RCN9218
RCN9219
RCN9175
RCN9152