Data Sheet: GORE® Fiber Optic Cables (1.2 mm Simplex) for Aircraft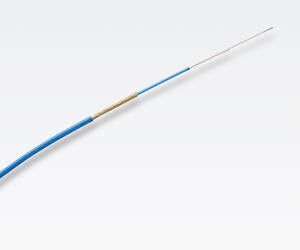 Data Sheets, English
The advanced avionics systems found in commercial and defense aircraft depend on reliable high data rate cables. Designed for complex avionics network applications, GORE Fiber Optic Cables (1.2 mm Simplex) from W. L. Gore & Associates balance mechanical strength with a slim, lightweight design that accommodates installation in compact environments. Thanks to a rugged buffering system, our aerospace fiber optic cables deliver stable performance with minimal loss to ensure optimal system operation in challenging conditions.
---
Cable Performance and Specifications
Our 1.2 mm Simplex aerospace fiber optic cables feature blue extruded fluorinated ethylene propylene (FEP) jackets for durability. Available models feature single-mode cables designed for long-distance data transfer and high-bandwidth demands, as well as multi-mode cables with a graded-index design to minimize modal dispersion.
Thanks to a polytetrafluoroethylene (PTFE) buffer, our cables withstand tension, shock and vibration to maintain reliable performance in essential avionics network systems. This configuration balances strength, size and weight to maintain fast, stable data transfer even in complex, space-limited routing and installation scenarios. GORE Fiber Optic Cables (1.2 mm Simplex) for Aircraft also separate themselves from alternatives with the following qualities:
Hassle-Free Compatibility
To make things as easy for designers and engineers as possible, GORE Fiber Optic Cables (1.2 mm Simplex) for Aircraft are compatible with a wide range of high-speed aerospace and defense connector systems and backshells. This includes manufacturers like Amphenol®, COTSWORKS®, Glenair®, and Radial, as well as ARINC, MIL-STD-38999, and MIL-PRF-29504.
Rugged Construction
Designed for transferring high speed data in avionics networks, these cables deliver stable optical performance with low loss. They also combat the vibration, shock and tension that can severely impact overall system performance in both commercial and defense aircraft for added peace of mind.
Single- and Multi-Mode Core Types
Both types are smaller and lighter weight than many alternatives but don't sacrifice mechanical strength, meaning they minimize routing and installation complexities in tight aircraft areas.
Meeting Rigorous Standards across Several Applications
Airborne environments often present harsh conditions and require high-speed data cables that can withstand a wide range of challenges. To ensure strength, stability and reliable performance, our fiber optic cables are tested and prequalified to comply with the following civil and military aerospace standards:
Flammability: ABD0031 (AITM 2.0005); BSS7230-F6; BSS7324-7.25; FAR Part 25, Appendix F, Part I
Smoke Density: ABD0031 (AITM 3.0008B); BSS7238; FAR Part 25, Appendix F, Part V
Toxicity: ABD0031 (AITM 3.0005); BSS7239
Humidity: MIL-STD-202, Method 103
Salt Fog: MIL-STD-810, Method 509
Sand and Dust: MIL-STD-810, Method 510
Backed by their compliance, GORE Fiber Optic Cables (1.2 mm Simplex) provide low-loss, high-speed data transfer for a wide range of avionics networks and related aviation and aerospace applications. These include:
Avionics digital networks
Digital video systems
Ethernet backbone
Flight management systems
Inside the box/laser pigtail
Strain gauge systems
Transceivers
How to Order Gore Aerospace Fiber Optic Cables
High-quality, low-loss fiber optic cables ensure the efficient data transfer needed to maintain proper functioning for modern avionics network systems. For additional information about our cables, specific characteristic limits and application needs, please contact a Gore representative today.
To order GORE Fiber Optic Cables (1.2 mm Simplex), learn more about available sample products and lead times and contact a Gore cable distributor. Our tested, pre-qualified samples and small quantities will arrive within 48 hours. GORE Fiber Optic Cables (1.2 mm Simplex) come in the following part numbers:
FON1002
FON1003
FON1253
FON1307
FON1371
Amphenol is a registered trademark of Amphenol Corporation.
COTSWORKS is a trademark of COTSWORKS, LLC.
Glenair is a registered trademark of Glenair, Inc.
FOR INDUSTRIAL USE ONLY
Not for use in food, drug, cosmetic or medical device manufacturing, processing, or packaging operations.