F-16 Application Guide: GORE® SKYFLEX® Aerospace Materials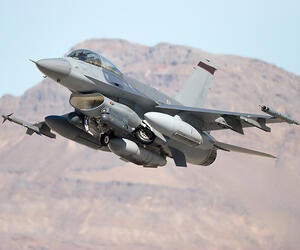 Application Guides, English
GORE® SKYFLEX® Aerospace Materials by W. L. Gore & Associates are backed by over 20 years of proven success in Defense applications. The following information is based on Gore's best practices and intended to be used as a guide only. Always consult the most current instructions that accompany your specific GORE SKYFLEX Aerospace Materials and visit gore.com/skyflex to view instructional videos.
---
About GORE SKYFLEX Aerospace Materials
Relied on by the military for years, GORE SKYFLEX Aerospace Materials are available in form-in-place (FIP) tapes or die-cut gaskets. Gore constructed these solutions by including proprietary material, expanded polytetrafluoroethylene (ePTFE). This makes them resistant to fuels, oils and hydraulic fluids, as well as corrosion. They also have a low environmental impact and deliver benefits such as the following:
No Mess or Curing Required
Gore's materials are dry, lightweight sealants that remain flexible and compliant over multiple open/close cycles. They do not require any curing on panels, fairings or floorboards, easing installation across F-16 applications. Once the material is applied and the panels are fitted, the aircraft is fully operational.
Durable Protection against Aerospace Conditions
These single-component materials provide superior defense against extreme temperatures, fluids and other environmental hazards, outlasting alternatives and leading to decreased maintenance downtime and reduced manufacturing cycles.
Approved Applications for F-16 Aircraft
Gore's aerospace materials are tested and pre-qualified to meet the high standards of the United States Air Force and handle even the most volatile aerospace conditions during vital missions. They are approved for use in the following F-16 technical orders (TOs):
TO 1-1-691: Aircraft Weapons System Cleaning and Corrosion Control
1F-16C-2-00GV-00-1: General Vehicle Organizational Maintenance
1F-16CJ-4-28: IPB Fuel Systems
6J14-2-39-2: 370-Gallon External Fuel Tank
Specifically, GORE® SKYFLEX® Aerospace Tapes, Series 100 and 110, should be used on panels that require environmental sealing. This material may be used as an alternate to AMS-3276 or AMS-3277 (formerly MIL-S-83430) when installing new access door or panel sealing. Meanwhile, GORE SKYFLEX Aerospace Tapes, 720 Series, also known as SKYFLEX "OP" Environmental Sealant Tape (Fuel/ Hydraulic Areas) is a non-hazardous and reusable alternative to FIP polysulfide sealant.
Further, GORE® SKYFLEX® Aerospace Gaskets, 720 Series, is intended for use on fuel system panels, as well as on non-fuel system panels.
Ensuring Inspections to Determine Need for Repairs and Replacements
Inspect the sealant whenever the panel is removed, as well as prior to reinstallation and reuse. Note that if it has been damaged, its sealing ability may be degraded, requiring repair or replacement as specified in the appropriate technical manual and Gore's resources.
NOTE: If damaged, GORE SKYFLEX Aerospace Gaskets, 720 Series, in fuel system panels should be replaced in their entirety. If GORE SKYFLEX Aerospace Tapes, 720 Series, are damaged in non-fuel system panels, refer to the appropriate inspection and repair criteria.
Learn More About GORE SKYFLEX Aerospace Materials for F-16
For more information about GORE SKYFLEX Aerospace Materials, contact a Gore representative today. We'll be happy to discuss your specific F-16 application and provide you with our best practices for installation and use. You can also contact one of our authorized distributors.
---
FOR INDUSTRIAL USE ONLY
Not for use in food, drug, cosmetic or medical device manufacturing, processing, or packaging operations.