Overview
In critical electrical applications where interference can be a factor, the reliability of your cables can be a factor, too.
GORE IDC Ribbon Cables maintain excellent electrical performance and effectively shield against interference. With their industry-standard individual conductor color coding — which can be in accordance with EIA-359-A or DIN VDE 47100 — the cables provide easy-to-use, accurate, and discrete cable polarity identification and wire termination that prevents RF signals from reflecting back from the end of the cable. Even in extreme thermal and chemical environments, the cables remain durable and dependable.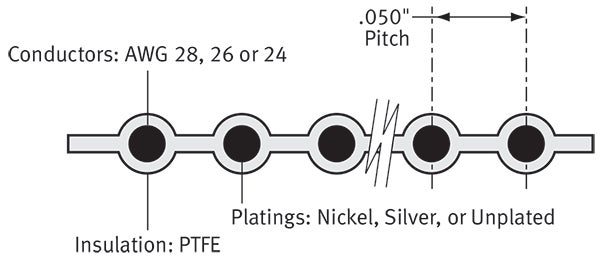 The cables' conductors have a 0.050" pitch and are available in AWG 28, 26 or 24.
Additionally, the cables are vacuum compatible and resist aging, and conform to UL Styles 1371 and 1538.
The GTS811 cable series is used in applications with discrete wiring/IDC terminations, systems with soldered/IDC terminations, high reliability systems and in high/low temperature environments, ensuring electrical performance in even the most unforgiving environments.
Features and Benefits
The most obvious feature of GORE Color-Coded IDC Ribbon Cables is its array of colors, which make installing and monitoring the cables more easy, safe and dependable. Additional features include:
 
UL conformity
color coding to EIA-359-A or DIN VDE 47100
.050" pitch
availability in 28, 26, or 24 AWG conductors
Chemically inert PTFE insulation
As a result, manufacturers and end users report:
 
superior electrical performance
extreme thermal resistance
chemical immunity
individual conductor color coding
vacuum compatibility
resistance to aging
Additionally, Gore's worldwide engineering team provides superior sales and technical support. If you have any questions about the cables' features or benefits, please contact us.
Color Coding

GORE Color-Coded IDC Ribbon Cables have a color system that makes them easy to install and monitor during use. Colors can be coded according to EIA-359-A or DIN VDE 47100, and they differ based on the AWG needed in your application: 28, 26 or 24.
28 AWG: one side of the cable is red
26 AWG: one side of the cable is blue
24 AWG: one side of the cable is black
Properties
GORE Color-Coded IDC Ribbon Cables demonstrate a wide temperature range, excellent chemical resistance and other beneficial electrical, mechanical and chemical properties. For the full list of properties, please <a href="/node/4481/">download the product data sheet</a>.
Ordering Information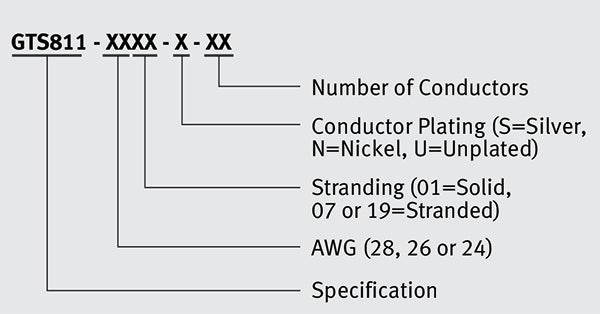 When ordering GORE Color-Coded IDC Ribbon Cables, please refer to your application needs and provide your ordering specifications in this format:

If you have any further questions or need more information, please contact us
Resources