Ambient Air Filters for Outdoor Cabinets
GORE® Cooling Filters provide years of maintenance-free life while enabling the cooling of sensitive electronics with ambient air without the risk of corrosion from airborne contaminants.
Contact Us
United States
+1 800 231 4364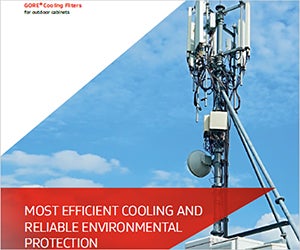 Filtration
GORE® Cooling Filters offer the most efficient and reliable cooling technology available for outdoor electronic enclosures. Unlike closed loop systems like AC and HEX, GORE Cooling Filters enable the use of DAC by providing critical environmental protection – allowing you to take full advantage of natural thermal efficiency of air.
English (U.S.)
All Resources For Ambient Air Filters for Outdoor Cabinets
Overview
GORE® Cooling Filters (GCF) enable you to lower your system costs by taking full advantage of the natural thermal efficiencies of ambient air. Our filters protect your equipment from harmful contaminants and corrosives for several years while requiring no regular maintenance.
High reliable cooling technology
Unlike large, energy consuming cooling systems, GORE® Cooling Filters enable you to take full advantage of the natural thermal efficiencies of ambient air while simultaneously lowering your system costs. GORE® Direct Air Cooling Filters are smaller and require fewer parts than bulky HEX and AC units. This reduces space usage and simplifies maintenance.
ABOUT DIRECT AIR COOLING (DAC) TECHNOLOGY WITH GORE® COOLING FILTERS
GORE® Cooling Filters offers the most efficient and reliable cooling technology available for outdoor electronic enclosures. Unlike closed loop systems like AC and HEX, GORE® Cooling Filters enable the use of DAC by providing critical environmental protection – allowing you to take full advantage of natural thermal efficiency of air.
INCREASE SYSTEM RELIABILITY WITH GORE® COOLING FILTERS
Gore's standard product line of Cooling Filters offers unique sizes that incorporate the high performance Gore filtration media into a lightweight, durable ABS polymer frame. The product offering can be integrated into a variety of enclosure designs in order to reduce weight and cost.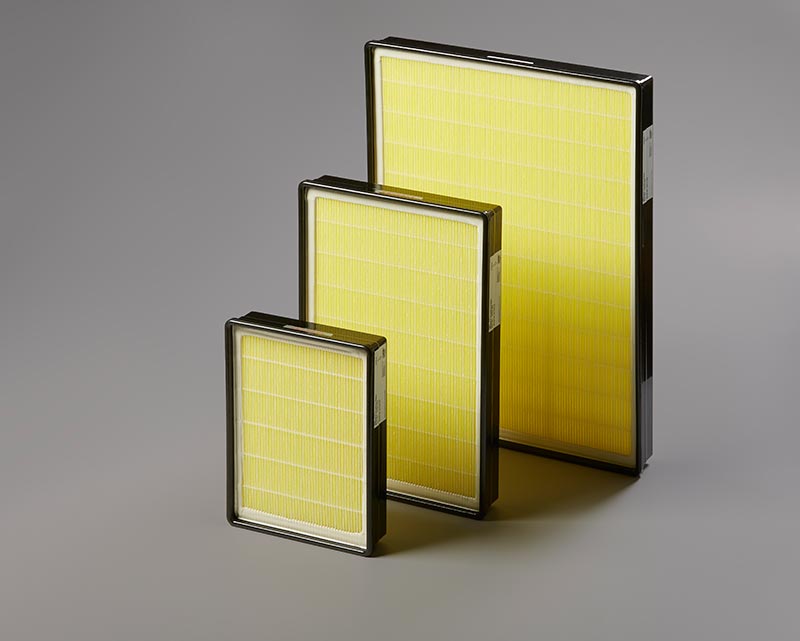 BENEFIT FROM OUR APPLICATION EXPERTISE AND EXPERIENCE
With sales and market experience of more than 15 years and several hundred thousand GORE® Cooling Filters deployed globally, Gore has gathered unparalleled in-depth application knowledge. Based on global field testing under various climatic conditions, we are in the position to provide our customers with realistic lifetime modeling projections that help to minimize maintenance uncertainties.
Features & Benefits
DIRECT AIR COOLING REDUCES THE HIGH CAPITAL AND OPERATING COST OF HEAT EXCHANGERS AND AIR CONDITIONING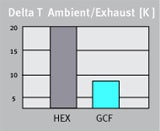 Improves Thermal Efficiency
No thermal transfer loss
Better Watts/K cooling capacity
More uniform airflow through cabinet
Wider temperature deployment range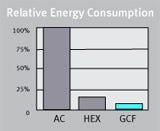 Lower Operational Costs
Uses less energy than AC and HEX
Requires less maintenance
Significantly improves MTBF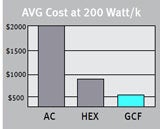 Lower Capital Expenses
Cost much less than air conditioning
Lower power consumption reduces the back-up energy requirement
Simplifies component placement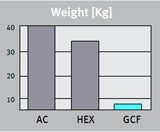 Smaller Size and Less Noise
Smaller installation area for a given cooling capacity
Lower weight reduces transportation and installation costs
No external fans for lower noise emissions
Direct air is one of the most efficient cooling methods available. When combined with high efficiency filters, DAC offers high protection from salt, dust, water and other contaminants. This results in the most reliable and cost-effective protection for your sensitive electronics. GORE® Cooling Filters technology enables direct air cooling by providing critical contamination protection while still allowing high airflow. Unlike bulky heat exchangers or costly air conditioning systems, GORE® Cooling Filters let you benefit from the thermal efficiency of ambient air while reducing capital and operational costs.
GORE® COOLING FILTERS INCREASE RELIABILITY AND LOWER COSTS
High efficiency membrane protects from even submicron particles. Our unique expanded polytetrafluoroethylene membrane's microporous structure provides E12 particle filtration efficiency according to EN188 yet still allows high flows of cool, clean air to pass through to system electronics. It provides long term protection and easily meets an IP6X dust rating.
Protects against Salts and Corrosive Particles. GORE® Cooling Filter's inert membrane easily screens out damaging salt sprays, and other corrosives. This ensures longer life for system electronics and cabinetry.
Water Tight Construction. The filter's hydrophobic membrane, ABS polymer frame, and robust sealing system prevent water ingress in alignment with an IPX5 ingress protection rating.
High Durability, Lower Opex Costs. Besides their low initial costs and small size, GORE® Cooling Filter's ruggedized construction and fewer replacement parts also leads to significant reductions in ongoing maintenance and service costs. No matter which GORE® Cooling Filter you choose for your electronic enclosure, our applications team will ensure the most operationally efficient cooling solution.
WHY USE GORE MEMBRANE COOLING FILTERS VERSUS NON-MEMBRANE FILTERS?
Reliable protection of system electronics requires highly efficient filtering of ambient air to remove submicron particles and aerosols while also preventing water ingress into the cabinet. This is best achieved by using membrane filter media, which provides 99.5% particle filtration efficiency at the 0.1um level yet still allows high airflow. Not only do membrane filters eliminate costly failures caused by corrosion and other pollutants, but they are also maintenance free and have longer lifetimes than non-membrane alternatives.
Unlike conventional non-membrane filters, GORE® Cooling Filters have been specifically developed for outdoor cooling and protection under extreme environmental and climatic conditions. GORE® Membrane offers the lowest pressure drop at a given filtration efficiency, allowing you to select smaller fans and limit noise pollution. 
Membrane Filter (500X SEM)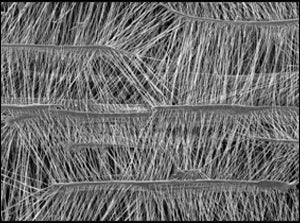 GORE expanded PTFE membrane's microporous structure provides higher filtration efficiency
Non-Membrane Filter (500X SEM)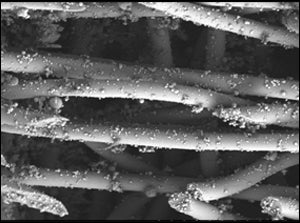 The open structure of non-membrane filters lets dust and small particles pass right through into cabinet
Engineering & Support
FAN CONTROL
Typical initial resistance of a GORE® Cooling Filter is approximately 50 Pascals and increases over its lifetime depending on the air particle concentration and operating conditions. To maximize filter lifetime, selecting the right fan is critical.
The fans should be set to ensure minimum temperature fluctuation within specified ranges. Control of the internal temperature is influenced by many variables including: ambient temperature, solar radiation, heat load and filter resistance. These variables are addressed by using fan control logic that offers either simple speed control or advanced (thermostatic) features depending on system requirements.
Gore Applications Engineers can help you to select the appropriate fan type and position to optimize the life of your electronics and filter.
FILTER SEALING
To ensure a good seal between enclosure and GORE® Cooling Filter, there is a compressible gasket integrated in the frame.
DESIGN AND MOUNTING CONSIDERATIONS
The pleats must be oriented vertically to ensure optimal performance. The filter is designed for unilateral flow, refer to the airflow arrow on the label. Integrating the GORE® Cooling filter in the enclosure design is typically done using mounting brackets or frames as illustrated in the following graphic.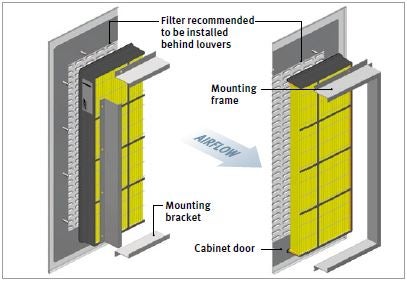 It is critical to maintain a consistent gasket compression around the perimeter. Additionally, a minimum of 10 mm clearance on each filter side is recommended to prevent distortion from thermal expansion. For further design and mounting recommendations specific to your application, please contact a Gore specialist.
Performance Characteristics
Selecting appropriate GORE® Cooling Filter size requires a basic understanding of the required airflow or heat dissipation as well as the available mounting area for the filter.
All installations have variations in the environmental specifications. The Filter Performance table is used to show relative performance at standard parameters. Specific calculations are required for individual installations and may differ from standard parameters.
Gore application engineers are available to help solve your heat dissipation needs, calculating the filter performance for your specific application and recommend an available filter size.
Typical Performance Characteristics per Filter Size
Part Number
Filter Attributes
Filter Performance
Height (mm)
Width (mm)
Depth (mm)
Weight (kg)
Maximum Air Flow (m3/hr)
Equivalent Heat Dissipation Capacity (W) 1
New Filter Pressure Drop (ΔP) vs. Airflow (Q) Curves
CF541163
692
500
48
2.7
500
1613
ΔP (Pa) = 0.11 x Q (m³/h)
CF541211
200
345
90
1.2
162.5
524
ΔP (Pa) = 0.34 x Q (m³/h)
CF541237
605
454.5
57.2
2.2
450
1452
ΔP (Pa) = 0.12 x Q (m³/h)
CF541238
455
305
57.2
1.2
200
645
ΔP (Pa) = 0.28 x Q (m³/h)
CF541239
305
230
57.2
0.7
100
323
ΔP (Pa) = 0.56 x Q (m³/h)
CF541242
605
455
80
3.3
625
2016
ΔP (Pa) = 0.09 x Q (m³/h)
CF541252
305
455
57.2
1.2
212.5
685
ΔP (Pa) = 0.26 x Q (m³/h)
CF541257
494
440
57.4
1.9
337.5
1089
ΔP (Pa) = 0.17 x Q (m³/h)
CF541258
850
440
57.2
3.0
625
2016
ΔP (Pa) = 0.09 x Q (m³/h)
CF551278
205
440
80
1.2
187.5
605
ΔP (Pa) = 0.30 x Q (m³/h)
CF551279
440
440
80
2.4
450
1492
ΔP (Pa) = 0.12 x Q (m³/h)
Global Pollution Map
Environmental challenges: PM10 particles in the air

Global Field Testing / Theoretical Lifetime Modelling
The environmental conditions in deployment locations of outdoor electronic enclosures are highly variable. Seashore, industrial areas, mega-cities, arctic regions, forests, deserts and other extreme spots burden the ambient air with particles of different natures and origins: road dust, diesel exhaust, hydrocarbon particles, corrosive salts, pollen, sand and many other kinds of contaminants that cannot be clearly defined. Even highly sophisticated computer simulation or laboratory testing cannot adequately predict long term behavior of filters used for ambient air filtration.
Therefore, Gore has deployed many test cabinets with our filters in extreme environments around the globe in order to accumulate data that characterize the behavior of our products under real life conditions. The valuable field data allows modelling of filter lifetime under various environmental conditions, and enables Gore to develop the most advanced filtration media for ambient air filtration.
GORE® Cooling Filters are the only air filters which are optimized for ambient air filtration. Our operating lifetime at various pollution levels can be realistically approximated by a theoretical model supported by field data.
Global Test Locations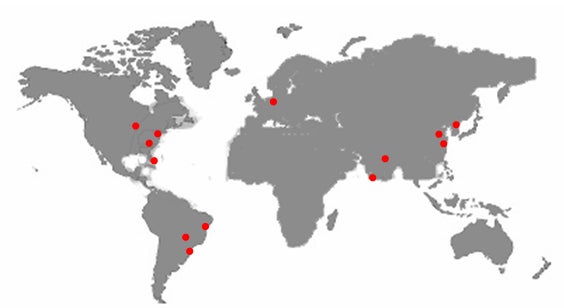 In order to ensure fitness-for-use, our global field test program was implemented to evaluate the performance of GORE® Cooling Filters in real-world environments. Various test locations around the world were chosen in order to compare the lifetime of filters in different air pollution environments. With this research we were able to validate theoretical models with global empirical data collected from the field test units.
Product & Design
Construction Materials
| | |
| --- | --- |
| Frame | ABS Black |
| Membrane | Hydrophobic ePTFE |
| Pleated Filter Media | Fully Synthetic Composite |
| Potting | Polyurethane |
| Gasket | Polyurethane Foam/Thermoplastic Elastomer |
Product Performance
| | |
| --- | --- |
| Operating Temperature | –40 to +65 °C |
| Humidity Range | 0 to 100% RH |
| Filtration Efficiency | > 99.5% (@ 0.1 μm, 1 cm/sec) |
| Filtration Class | EN1822 – E12 |
| Flammability | UL 900 |
| Typical Filter Lifetime | Up to 5 years (based on application)2 |
2 Installation location impacts PM10 air pollution assumptions used in lifetime projections
Industry Standards
Ingress Protection Testing
Wind Driving Rain Testing
Flammability Testing
Filter protection against ingress of particulates and water
Resistance to open flame
METHOD:
RATING:
METHOD:

GR 487-CORE
Comply with the 31 m/sec
[70 mph] 3

METHOD:
Salt Fog Testing
Filter Attributes
Filter resistance to salty environments
METHODS:

GR 487-CORE
Passed the 30 day continuous salt fog test 3
IEC 60068-2-52
Passed cyclic salt fog Test Method 3 3

METHOD:

GR-487-CORE
(3% H2SO4 , 0.2N NaOH, NH3 , 90% IPA, Kerosene,
10% Igepal CO 630, WD40, Cable Filling Compound, Splice Encapsulating Compound,
Wasp and Hornet Spray)
3 Enclosure test; filter supports this performance when installed in sealed enclosure with louver protecting filter
Resources
---
FOR INDUSTRIAL USE ONLY
Not for use in food, drug, cosmetic or medical device manufacturing, processing, or packaging operations.