Gore's Compact Fiber Optic 1.8 mm Simplex Cables Provide Proven Impact Resistance for 10-Gb Military Avionics Networks
---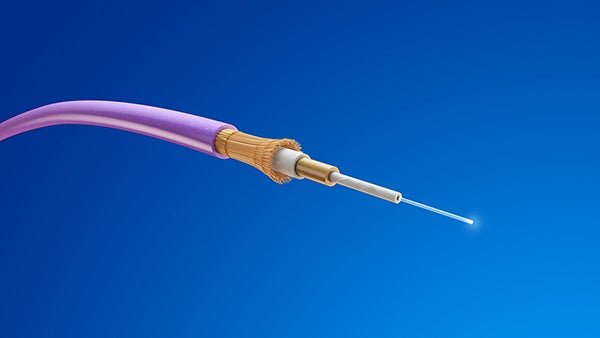 GORE® Aerospace Fiber Optic Cables, 1.8 mm Simplex
DUNDEE TECHNOLOGY PARK, UK. (July 12, 2018) — W. L. Gore & Associates, Inc. (Gore) is pleased to announce that GORE® Aerospace Fiber Optic Cables, 1.8 mm Simplex is proven to provide greater impact resistance in the most challenging environments for extended service life. These cables reliably transfer mission-critical data on military high-speed avionics networks up to 10 gigabits.
Built with a unique buffering system, Gore's 1.8 mm Simplex cables resist crushing, kinking and abrasion and can easily handle complex routing, maintenance activities, and repeated flight conditions — unmatched by today's alternatives. These robust cables also have a compact, flexible footprint with tight bending capability that meets size, weight and routing constraints as more high-tech avionics are being installed or retrofitted into military aircraft.
Full Line of Durable Solutions
Gore's offers a collection of single- and multi-mode fiber optic cables that meet stringent industry requirements for reliable performance on military high-speed avionics networks. Gore's legacy 1.2 mm Simplex cables deliver stable optical performance in a rugged construction that withstands extreme conditions that can severely impact overall system performance. Gore's 900 micron buffered fiber optic cables allow for a smaller-scale design preferable for inside-the-box applications while still being compatible with standard ARINC 801 termini. Lastly, Gore's fiber optic ribbon cables provide durable, long-lasting protection with up to 12 channels while maintaining high-speed communications on networks.
GORE® Aerospace Fiber Optic Cables complement Gore's wide selection of high-speed data cables, including Ethernet, USB, HDMI, and more. Gore's entire portfolio of high-performance aerospace cables and materials will be on display at the Farnborough International Airshow, 16-22 July in Hall 1, Booth 1265. Additional details can be found at gore.com/FIA2018.
About W. L. Gore & Associates, Inc.
W. L. Gore & Associates is a global materials science company dedicated to transforming industries and improving lives. Founded in 1958, Gore has built a reputation for solving complex technical challenges in the most demanding environments — from revolutionizing the outerwear industry with GORE-TEX® fabric to creating medical devices that improve and save lives to enabling new levels of performance in the aerospace, pharmaceutical and mobile electronics markets, among other industries. The company is also known for its strong, team-oriented culture and continued recognition from the Great Place to Work® Institute. Headquartered in Newark, Del., Gore employs approximately 9,500 Associates and generates annual revenues that exceed $3 billion.
Performance Solutions Division
Gore Performance Solutions Division develops products and technologies that address complex product and process challenges in a variety of markets and industries, including aerospace, automotive, pharmaceutical, mobile electronics, oil and gas — and more. Through close collaboration with industry leaders across the globe, Gore enables customers to design their products and processes to be safer, cleaner, more productive, reliable, durable and efficient across a wide range of demanding environments.
Media Contact
Gail Smith-Berry
+44 (0) 1382569245
Contact by email
GORE, GORE-TEX, and designs are trademarks of W. L. Gore & Associates.