W. L. Gore & Associates supports global companies that address sustainable energy issues facing the world with its GORE-SELECT® Membranes.
With its advanced materials engineering capabilities and supply chain reliability, Gore is supporting fuel cell industry leaders in the development of RE100 solutions*1, that use pure hydrogen fuel cell generators to generate electricity.
---
TOKYO, Japan (March 27, 2023) — W. L. Gore & Associates ("Gore") announced its ongoing support for the RE100 initiative by offering GORE-SELECT® Membranes to stationary fuel cell manufacturers developing pure hydrogen fuel cell generators. These membranes were developed with Gore's expertise in advanced materials engineering and electrochemistry.
As the market-leading proton exchange membranes (PEMs) for polymer electrolyte fuel cells, GORE-SELECT® Membrane is the first choice for fuel cell vehicles (FCVs). It is currently used in more than 40,000 vehicles in 100 vehicle models, including Toyota's new Mirai, Hyundai Motor's NEXO, and Honda's Clarity Fuel Cell, contributing to the reduction of more than 150,000 tons of global CO2 emissions.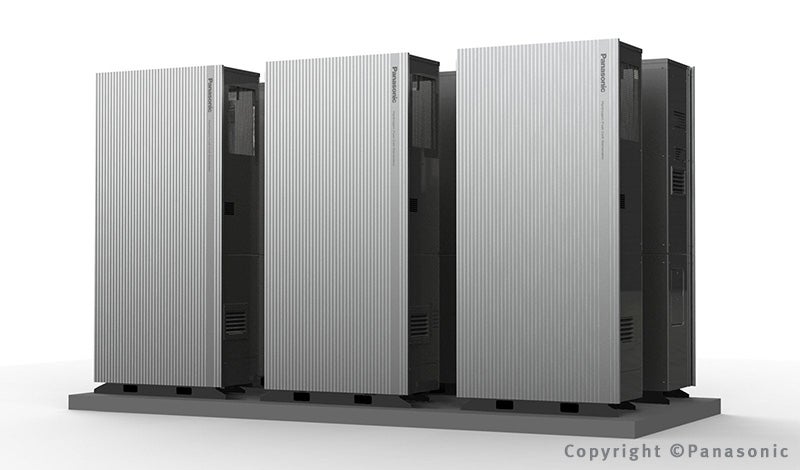 Pure hydrogen fuel cell generators arranged for integrated control
Polymer electrolyte fuel cells are increasingly adopted around the world due to their positive environmental impact. They are used not only as the stationary fuel cell for household (ENE-FARM*2) and FCVs, but also as the stationary fuel cell for commercial and industrial use.
Panasonic has successfully developed a highly efficient pure hydrogen fuel cell system*3 in-house and installed it in its H2 KIBOU FIELD facility. This is the world's first*4 facility built to demonstrate that 100% of the electricity consumed in a factory is generated through renewable sources.
"Gore is committed to improving the life of future generations together with companies that share its sustainability vision," said Isao Abe, Key Account Manager at Gore Japan. "I believe that this is one of the reasons why Panasonic has selected Gore as the partner providing PEMs for its pure hydrogen fuel cell system, responsible for conducting the world's first demonstration test of an RE100 solution in which 100% of the power consumed for its business activities is generated from renewable sources."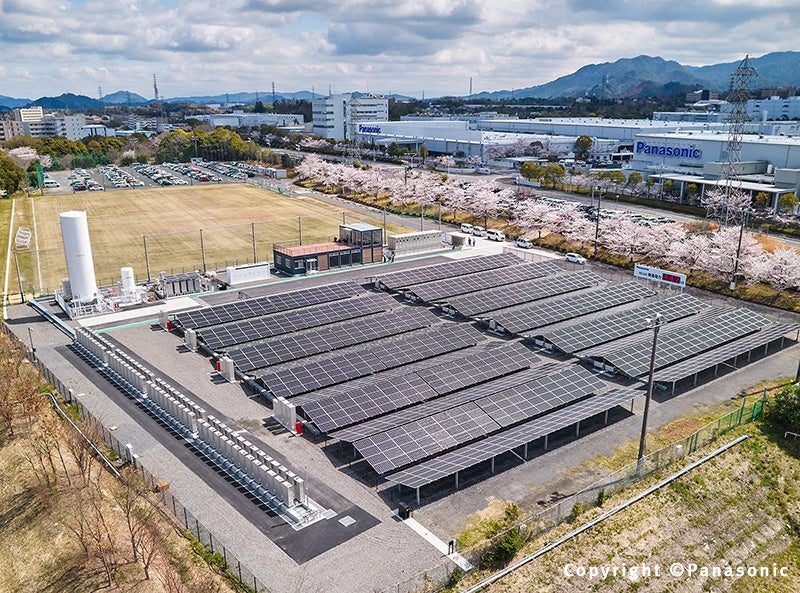 H2 KIBOU FIELD photographed in April 2022
GORE-SELECT® Membrane is the heart of Panasonic's pure hydrogen fuel cell stack installed at the H2 KIBOU FIELD facility. Its high proton conductance and mechanical and chemical durability have enabled the development of highly efficient and long-life fuel cell systems, contributing to the improvement of the total cost of ownership.
Through this demonstration test, Panasonic will be able to deepen its expertise and experience in energy management, including the operation of pure hydrogen fuel cell systems.
According to Panasonic, Gore's superior material technology is not the only reason why it adopted GORE-SELECT® Membranes for the pure hydrogen fuel cell generators "H2 KIBOU" in the RE100 solution demonstration test. Another major reason is that Gore has played a vital role in the technological innovation and performance improvement of Panasonic's ENE-FARM systems since it was launched in 2009, while meeting strict requirements during the development of its first and subsequent generation models. This has led to the successful sales of Panasonic's ENE-FARM systems, currently in their seventh generation, with more than 230,000 units sold in the Japanese market.
Satoru Ebata, Product Specialist at Gore Japan, said: "To achieve global carbon neutrality goals, we have to ensure the quality and performance of our customers' products when they are marketed. With our unparalleled product characterization and modeling, product analysis, and company-wide global analytical resources, we can supply products with consistent quality to our customers on time."
Mr. Masao Kato, Director (Hydrogen & Fuel cell Business) (&) Smart Energy System Business Division, Electric Works Company, Panasonic Corporation Global Environmental Business Development Center stated: "I believe that in 'Panasonic GREEN IMPACT,' the environmental initiative announced by the Group in January 2022, hydrogen and fuel cells will play a very important role in spreading decarbonized energy. Fuel cell and PEM technologies, which we have developed in partnership with W. L. Gore & Associates, are one of the most important technologies for RE100 solutions. Going forward, we would like to further strengthen our partnership with W. L. Gore & Associates and contribute to resolving global environmental issues and promoting wellbeing."
Commitment to clean energy
Gore has continued to be the market leader in the technological development and production of proton exchange membranes (PEMs). In early 2021, it established a new clean energy business group, recognizing the need to expand its PEM product technology into related markets with a proven track record in the fuel cell industry since 1994. This new business group places an emphasis on developing and manufacturing products to ensure cleaner, more sustainable energy sources and higher energy efficiency, in turn providing innovative material solutions that contribute to global carbon neutrality. The new business group will focus on three key industry areas: fuel cells, water electrolysis, and energy storage.
Key features of GORE-SELECT® Membrane
High Proton Conductance & High Power Density
Thinner membrane thickness provides excellent water transport and high proton conductance, resulting in high power density regardless of extreme conditions.
Enhanced Mechanical Durability
Reinforced membrane properties provide high mechanical durability without compromising performance, even under stress during relative humidity (RH) cycling.
Improved Chemical Durability
Proprietary additive technology provides high chemical durability throughout the product life cycle.
Low Gas Permeance
Gore's unique membrane design technology enables even thinner membranes to exhibit low gas permeance with no loss in fuel cell efficiency.
*1. The mention of RE100 in this press release does not imply endorsement or certification by the global RE100 initiative.
*2. "ENE-FARM" is a registered trademark of Tokyo Gas Co., Ltd., Osaka Gas Co., Ltd., and ENEOS Corporation.
*3. In the demonstration of the large-scale use of hydrogen as a fuel to generate electricity to power the plant's operations (according to recent research by Panasonic, as of March 31, 2022)
*4. Green hydrogen from renewable sources can achieve RE100, including energy attribute certificates. In the demonstration, Panasonic will initially use non-renewable sources but eventually switch to hydrogen from renewable sources.
Reference: April 27, 2022 press release "Panasonic to Begin Operating H2 KIBOU FIELD Demonstration Facility Utilizing Pure Hydrogen Fuel Cell Generators"
https://news.panasonic.com/global/press/en220427-1
About Gore
W. L. Gore & Associates is a global materials science company dedicated to transforming industries and improving lives. Since 1958, Gore has solved complex technical challenges in demanding environments — from outer space to the world's highest peaks to the inner workings of the human body. With more than 12,000 Associates and a strong, team-oriented culture, Gore generates annual revenues of $4.5 billion. For more information, visit gore.com.
About RE100
A global corporate renewable energy initiative, RE100 brings together hundreds of large and ambitious companies focused on achieving 100% renewable electricity.
Media Contact