W. L. Gore & Associates Recognized for Excellence by Northrop Grumman
---
NEWARK, Del. (March 29, 2023) — W. L. Gore & Associates (Gore) today announced that earlier this month it was recognized by Northrop Grumman with a Quality Excellence Award as part of Northrop Grumman's Supplier Excellence Award program.
"It's a tremendous honor to receive this recognition from such an important partner in our industry like Northrop Grumman," said Lutz Biewer, Executive VP, Transformative Systems Solutions with Gore. "Northrop pointed to our commitment to our customers and to high-quality, on-time delivery for our programs as the determining factor for the prestigious award."
Out of a global supplier network of more than 10,000 companies, Gore is one of 60 partners to be recognized with one of three awards: Performance Excellence, Quality Excellence and Strategic Excellence. Gore qualified for the Quality Excellence Award by demonstrating more than 99.5 percent on-time delivery and zero defects.
"The performance of W. L. Gore set it apart as one of the best of the best supplier partners," said Matt Bromberg, Corporate Vice President, Global Operations Northrop Grumman. "The expertise and partnership of our supplier teams across the globe demonstrates that together, we are well positioned to meet our customers' most complex mission needs."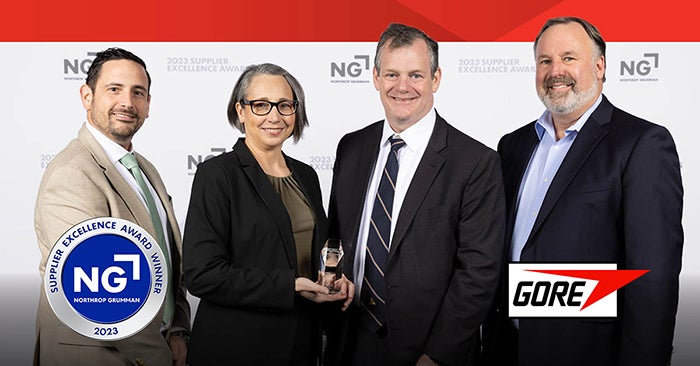 Left to right: Bill Rubin, NGC Senior Director, Global Supply Chain; Jen Gruce, W. L. Gore & Associates, VP Sales North America;
Jeff Todd, W. L. Gore & Associates, Director, Strategic Accounts; Greg Maxwell, NGC Vice President, Global Supply Chain.
About Gore
W. L. Gore & Associates is a global materials science company dedicated to transforming industries and improving lives. Since 1958, Gore has solved complex technical challenges in demanding environments — from outer space to the world's highest peaks to the inner workings of the human body. With more than 12,000 Associates and a strong, team-oriented culture, Gore generates annual revenues of $4.5 billion. For more information, visit gore.com.
Media Contacts
Brian Grossman
Radancy
+1 704 609 5406
Contact by email
Jennifer C. Haupt
Marketing Communications Lead / Aerospace & Defense
W. L. Gore & Associates
+1 410 506 7935
Contact by email