Related Products
Silicone/ePTFE composite tubing for high pressure applications
GORE® STA-PURE® Pump Tubing, Series PCS
GORE STA-PURE Pump Tubing Series PCS is a durable, resilient tubing product used in peristaltic pumps and is suitable for pharmaceutical and biopharmaceutical manufacturing. The product delivers consistent flow rate and low incidence of rupture, even at operating pressures up to 100 pounds per square inch gauge (psig), thus enabling the pump to work reliably under challenging conditions.
This document is available upon request.
Heading
Validation Guide: GORE® STA‑PURE® Pump Tubing, Series PCS
Resource Image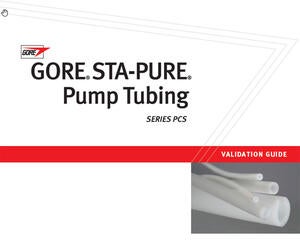 Contact Locations
Contact Locations
+1 800 294 4673
+1 410 506 1715
Americas
+49 89 4612 3456
+800 4612 3456
Europe
+1 800 294 4673
+1 410 506 1715
All Other Inquiries
Contact Forms
Gore has built a worldwide reputation for ethics and integrity in its dealings with customers, suppliers and employees.