Membrane Filter Socks for the Recaust Plant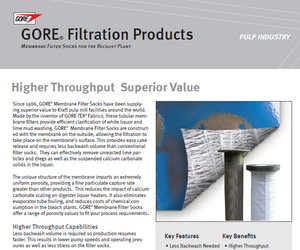 Brochures, English
Made by the inventor of GORE-TEX® Fabrics, these tubular membrane filters provide efficient clarification of white liquor and lime mud washing. GORE® Membrane Filter Socks are constructed with the membrane on the outside, allowing the filtration to take place on the membrane's surface.
---
FOR INDUSTRIAL USE ONLY
Not for use in food, drug, cosmetic or medical device manufacturing, processing, or packaging operations.