GORE® Protective Vents Reduce Condensation in Sealed Enclosures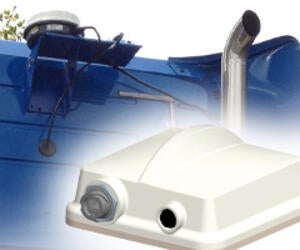 Case Studies, United States
Laird Technologies, a global manufacturer of telematics, needed to provide a way to maintain equalized pressure inside a smart antenna enclosure without creating a path for water and other contaminants to enter.
---
Situation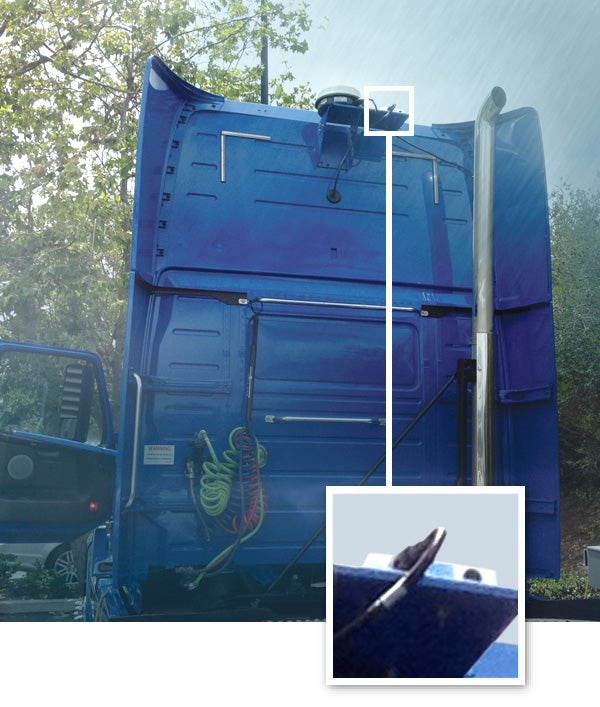 Laird Technologies, a global manufacturer of telematics, delivers ruggedized antennas, multi-band antennas and integrated modules to meet the demands of vehicle manufacturers, fleet owners and individual drivers around the world. These products enable vehicles to maintain signals for AM/FM, celluar, GPS and satellite radio, mobile television and WiFi; provide information gateways such as navigation assistance and asset tracking services; and offer safety functions such as cell phone, GPS, tire pressure sensing and anti-theft protection devices.
For fleet management systems, Laird provides the smart antenna that consists of a cellular modem and a WiFi transceiver. They also design the antennas for the cell, GPS and WiFi systems. The smart antenna is mounted on the roof or behind the cab of commercial vehicles, which exposes the electronics to all kinds of weather conditions. As the trucks travel faster down the road, these weather conditions, such as rain, become worse. Therefore, Laird uses thermoplastic housings and O-ring gaskets that meet IP67 requirements to ensure that the electronics are not compromised by weather.
Challenge
When designing a new antenna for one of their customers, Laird's engineering team leveraged its design experience and knowledge of the impact of temperature changes on sealed enclosures. Rapid temperature changes in the outside environment can create pressure differentials that result in a vacuum forming inside the antenna's housing. When the internal pressure increases, the housing tries to equalize the pressure by drawing air inside. This causes stress on the seals and can lead to leak paths. Through these leak paths, a vacuum not only pulls in air, but also pulls in water vapor, which condenses inside the device. Once in liquid form, the water has no direct path to escape, so it collects inside the sealed housing and can eventually cause the electronics to short out. Laird needed to provide a way to maintain equalized pressure inside the enclosure without creating a path for water and other contaminants to enter.
Solution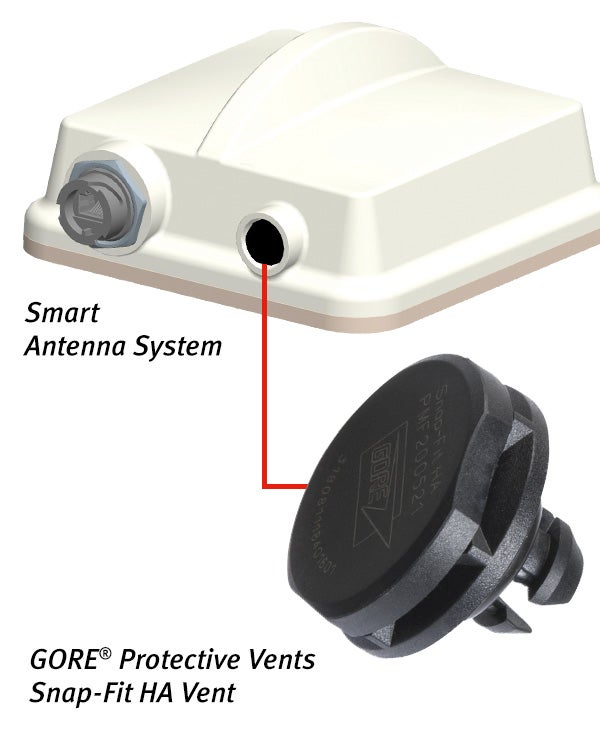 Laird's customer, a global telecommunications provider, specified the use of a GORE® Protective Vent in the antenna system. Laird's engineering team selected a high airflow, snap-in vent to install in the IP67 housing. This vent withstands water entry pressure of more than 0.3 bar per 30 seconds, while maintaining a typical airflow of 2,000 milliliters per minute. In addition, the vent maintains reliable performance in temperatures ranging from -40°C to 125°C, ensuring that the fleet management system will function in extremely cold or hot locations around the world.
According to John Kowalewicz, Senior Staff Engineer in Laird Technologies Telematics, his team collaborated with their customer to determine the vent's location. Because of the severe weather conditions, they decided to install the snap-fit vent on the housing's vertical surface opposite the direct impact of driving rain, snow, or wind. "We found it easy to choose the right vent for our application. Because of the options available, we were able to test a few different vent designs, and we didn't need to alter our design of the antenna," says Kowalewicz.
"Although the vent is transparent to the end user, our product would not be able to sustain system reliability without it," Kowalewicz continues. "To date, we have more than 175,000 smart antennas of this design in use, and we have not experienced any water issues. Considering the conditions in which trucks operate, that's quite a statement!"
FOR INDUSTRIAL USE ONLY
Not for use in food, drug, cosmetic or medical device manufacturing, processing, or packaging operations.