Data Sheet: High Durability Filter Bag 8127 PTFE Fabric 288 g/m² (8.5 oz/ yd²)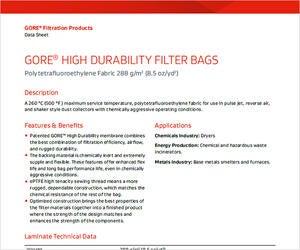 Data Sheets, English
A 260°C (500°F) maximum service temperature, polytetrafluoroethylene fabric for use in pulse jet, reverse air, and shaker style dust collectors with chemically aggressive operating conditions. 
---
Features & Benefits
Patented GORE™ High Durability membrane combines the best combination of filtration efficiency, airflow, and rugged durability.
The backing material is chemically inert and extremely supple and flexible. These features offer enhanced flex life and long bag performance life, even in chemically aggressive conditions.
ePTFE high tenacity sewing thread means a more rugged, dependable construction, which matches the chemical resistance of the rest of the bag.
Optimized construction brings the best properties of the filter materials together into a finished product where the strength of the design matches and enhances the strength of the components.
Technical Specifications
| | |
| --- | --- |
| Weight: | 288 g/m2 (8.5 oz/yd2 ) |
| Fiber Content: | Polytetrafluoroethylene |
| Continuous Operating Temperature: | 260°C (500°F) |
| Maximum Surge Temperature: | 274°C (525°F) |
| Acid Resistance: | Excellent |
| Alkali Resistance: | Excellent |
| Breaking Strength | |
| | 1334 N/2.54 cm (300 lb/1 in) modified grab |
| | 1223 N/2.54 cm (275 lb/1 in) modified grab |
| Mullen Burst: | 3447 kPa (500 psi) |
All data expressed as typical values. This technical data is subject to change. Please contact W. L. Gore & Associates, Inc., directly to confirm current information.
Applications
Chemicals Industry: Dryers.
Energy Production: Chemical and hazardous waste incinerators.
Metals Industry: Base metals smelters and furnaces.
FOR INDUSTRIAL USE ONLY
Not for use in food, drug, cosmetic or medical device manufacturing, processing, or packaging operations.