Data Sheet: High Durability Filter Sock - Polytetrafluoroethylene Felt 830 g/m2 (24.5 oz/yd2)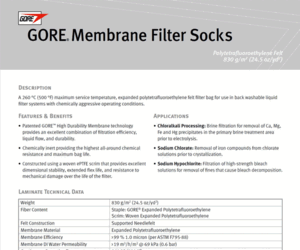 Data Sheets, English
GORE Membrane Filter Socks are used in a variety of filtration steps within the chlor-alkali process as well as for other Industrial Fluid or tubular back-pulse applications.
---
Description
A 260 °C (500 °F) maximum service temperature, expanded polytetrafluoroethylene felt filter bag for use in back washable liquid filter systems with chemically aggressive operating conditions.
Features & Benefits
Patented GORE™ High Durability Membrane technology provides an excellent combination of filtration efficiency, liquid flow, and durability.
Chemically inert providing the highest all-around chemical resistance and maximum bag life.
Constructed using a woven ePTFE scrim that provides excellent dimensional stability, extended flex life, and resistance to mechanical damage over the life of the filter.
Applications
Chloralkali Processing: Brine filtration for removal of Ca, Mg, Fe and Hg precipitates in the primary brine treatment area prior to electrolysis.
Sodium Chlorate: Removal of iron compounds from chlorate solutions prior to crystallization.
Sodium Hypochlorite: Filtration of high-strength bleach solutions for removal of fines that cause bleach decomposition.
Laminate Technical Data
Weight
830 g/m2 (24.5 oz/yd2)
Fiber Content
Staple: GORE® Expanded Polytetrafluoroethylene
Scrim: Woven Expanded Polytetrafluoroethylene
Felt Construction
Supported Needlefelt
Membrane Material
Expanded Polytetrafluoroethylene
Membrane Efficiency
> 99 % 1.0 micron (per ASTM F795-88)
Membrane DI Water Permeability
> 19 m3/h/m2 @ 69 kPa (0.6 bar)
Continuous Operating Temperature
260 °C (500 °F)
Maximum Surge Temperature
274 °C (525 °F)
Acid Resistance
Excellent
Alkali Resistance
Excellent
Breaking Strength
• Machine Direction
• Cross-Machine Direction


668 N/5 cm (150 lb/2 in) wide sample
890 N/5 cm (200 lb/2 in) wide sample

Mullen Burst
3860 kPa (750 psi)
Thickness
1.05 mm (0.042 in)
Thermal Stability
< 2 % shrinkage at 260 °C (500 °F) after 2 hours (unrestrained)
Durability
Excellent
Note: All data expressed as typical values. This technical data is subject to change. Please contact W. L. Gore & Associates, Inc., directly to confirm current information.
FOR INDUSTRIAL USE ONLY
Not for use in food, drug, cosmetic or medical device manufacturing, processing, or packaging operations.