Data Sheet: High Durability Filter Sock - Polypropylene Felt 441 g/m2 (13 oz/yd2)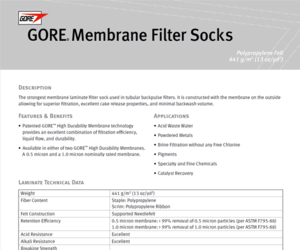 Data Sheets, English
GORE Membrane Filter Socks are used in a variety of filtration steps within the chlor-alkali process as well as for other Industrial Fluid or tubular back-pulse applications.
---
Description
The strongest membrane laminate filter sock used in tubular backpulse filters. It is constructed with the membrane on the outside allowing for superior filtration, excellent cake release properties, and minimal backwash volume.
Features & Benefits
Patented GORE™ High Durability Membrane technology provides an excellent combination of filtration efficiency, liquid flow, and durability.
Available in either of two GORE™ High Durability Membranes.
A 0.5 micron and a 1.0 micron nominally rated membrane.
Applications
Acid Waste Water
Powdered Metals
Brine Filtration without any Free Chlorine
Pigments
Specialty and Fine Chemicals
Catalyst Recovery
Laminate Technical Data
Weight
441 g/m2 (13 oz/yd2)
Fiber Content
Staple: Polypropylene
Scrim: Polypropylene Ribbon
Felt Construction
Supported Needlefelt
Retention Efficiency

0.5 micron membrane: > 99% removal of 0.5 micron particles (per ASTM F795-88)
1.0 micron membrane: > 99% removal of 1.0 micron particles (per ASTM F795-88)

Acid Resistance
Excellent
Alkali Resistance
Excellent
Breaking Strength
• Machine Direction
• Cross-Machine Direction


667 N/5 cm (150 lb/2 in) wide sample
890 N/5 cm (200 lb/2 in) wide sample

Mullen Burst
2068 kPa (300 psi)
Thickness
1.91 mm (0.075 in)
Note: All data expressed as typical values. This technical data is subject to change. Please contact W. L. Gore & Associates, Inc., directly to confirm current information.
FOR INDUSTRIAL USE ONLY
Not for use in food, drug, cosmetic or medical device manufacturing, processing, or packaging operations.