Data Sheet: GORE™ Camera Link® High Flex Flat Cable Assemblies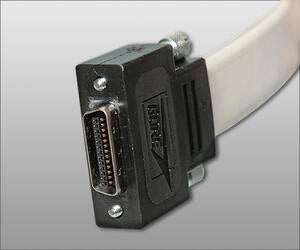 Data Sheets, United States
Includes description, features and benefits, and technical specifications.
---
Reliable Flex Life Performance
GORE Camera Link High Flex Flat Cable Assemblies provide motion control and vision systems with reliable interconnects for high performance flex life and signal transmission. These assemblies should be used to avoid bit errors in moving Camera Link systems. GORE Camera Link High Flex Flat Cable Assemblies provide peace of mind when reliable system performance and equipment uptime are critical.
GORE Camera Link High Flex Cables use quad constructions that are laminated into a flat cable. These assemblies incorporate 26-position 3M MDR connectors to meet Camera Link electrical requirements as shown below in the Technical Specifications.
GORE Camera Link High Flex Flat Cable Assemblies provide consistent electrical performance over the life of the cable. Chart 1 shows the attenuation of GORE Cable compared to an alternative cable. The GORE Cable maintains attenuation beyond 5 million flex cycles while the alternative cable degrades quickly at only 100,000 flex cycles. The test was performed at 1 GHz with the alternative cable at a 75 mm bend radius and the GORE Cable at a more strenuous bend radius of 47 mm.
Technical Specifications
Test Parameter
Typical Value
Camera Link® Standard
Units
Eye Opening
>40
>40
%
Attenuation
100 MHz
–0.35
–0.34
dB
1000 MHz
–1.4
–1.4
dB
Interpair Skew
25
50
ps/m
Intrapair Skew
40
50
ps/m
Impedance
100 ±10
100 ±10
ohm
Crosstalk
NEXT
<0.1
≤4
%
FEXT
<0.1
≤4
%
Key Features
Cables can be customized for unique requirements
Flat cable is non-particulating for clean room use
Incorporates 26-position 3M MDR connectors
Key Benefits
Prevents lost data/data integrity problems
Longer fl ex life
Prevents system downtime
Can be used for 50 mm bend radius
GORE Cable Has a Proven Track Record
GORE Cable has a proven track record for endurance in delivering digital signals, analog signals, and power for demanding applications such as vision inspection, robots, pick-and-place or linear motion, material handling or cranes, wafer manufacturing, hand-held industrial tools, medical and pharmaceutical automation, printing or plotting, and storage and warehouse applications.
GORE Cable offers superior flex life performance and maximum resistance to severe mechanical and environmental stresses. With 50 years of experience in the wire and cable industry and extensive knowledge of unique materials, Gore provides reliable solutions to your most demanding cable and assembly needs.
Chart 1: Attenuation vs Flex Cycles
Camera Link flex life analysis with attenuation at 1 GHz. Alternative Camera Link on a 75 mm bend radius and GORE™ Camera Link on a more strenuous 47 mm bend radius.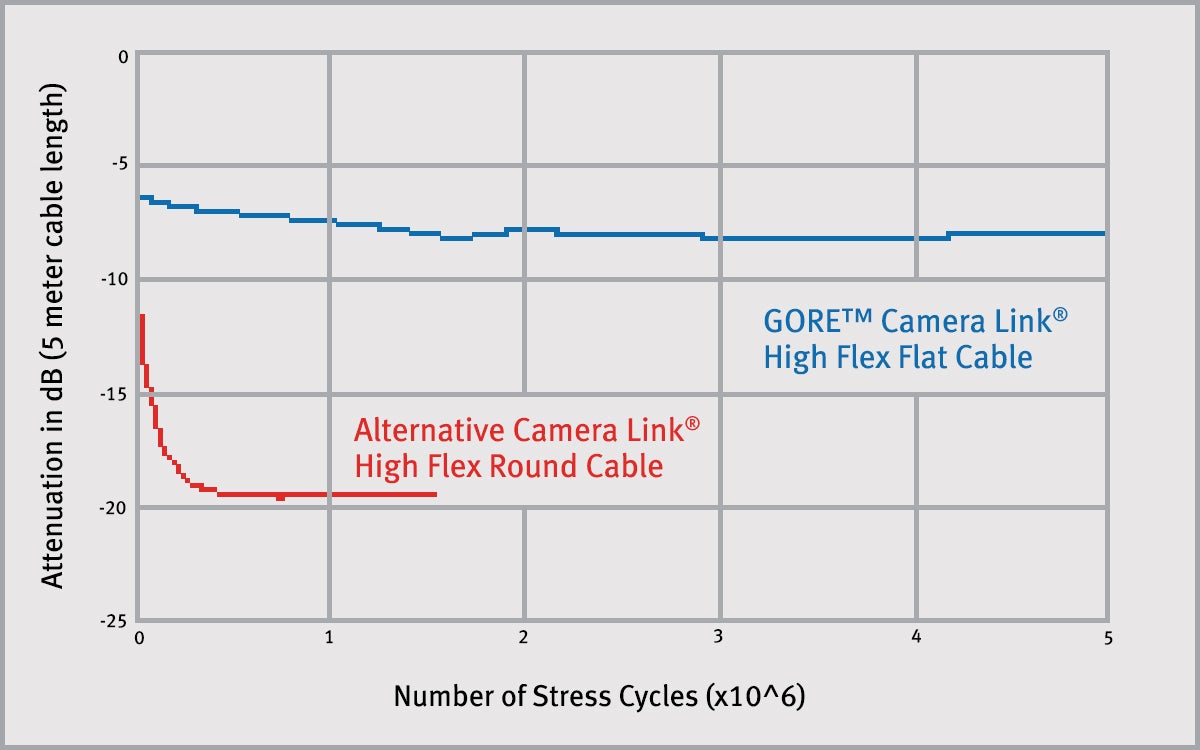 The Automated Imaging Association (AIA), as sponsor of the Camera Link committee, owns the U.S. trademark registration for Camera Link.

GORE and designs are trademarks of W. L. Gore & Associates, Inc. ©2008 W. L. Gore & Associates, Inc. JK080302-01 Rev. 3-11-08