New Gore technology for innovative Flue Gas Desulphurization (FGD)
No reagent, small footprint, simple operation, low operating cost. The GORE SO2 Control System allows you to reap multiple benefits.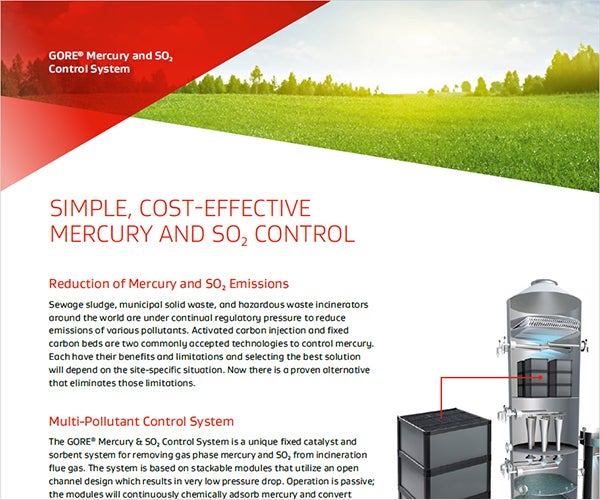 Particle and Gas Filtration for Industrial Processes & Bag Houses
Sewage sludge, municipal solid waste, and hazardous waste incinerators around the world are under continual regulatory pressure to reduce emissions of various pollutants. The GORE Mercury and SO₂ Control System is a unique, scalable, low-cost fixed catalyst and sorbent system for removing gas phase SO₂ and mercury from incineration flue gas.
English (U.S.)
All Resources For New Gore technology for innovative Flue Gas Desulphurization (FGD)
Overview
The GORE SO2 Control System is a flue gas desulphurization system (FGD) which allows plants to comply with SO2 emission standards without requiring any reagent.  The system utilizes fixed catalysts to convert SO2 into saleable sulfuric acid.  This eliminates concerns related to reagent supply, logistics, handling, storage and preparation operations, reagent price volatility and solid waste disposal. Since the Gore System is installed after an existing ESP or baghouse there is no impact on the fly ash, allowing for its continued beneficial use. 
Benefits of Gore's FGD system
No reagent, small footprint, simple operation, low operating cost - the GORE SO2 Control System for flue gas desulphurization allows you to reap multiple benefits.
Low Operating Cost
No reagent required for SO2 removal
Low parasitic power consumption
Saleable sulfuric acid by-product
Simple operation
Lower water consumption
Low Process Impact
Small, flexible footprint
No impact on fly ash quality
Additional PM reduction
Minimal maintenance required
No additional CO2 generation
The science behind the solution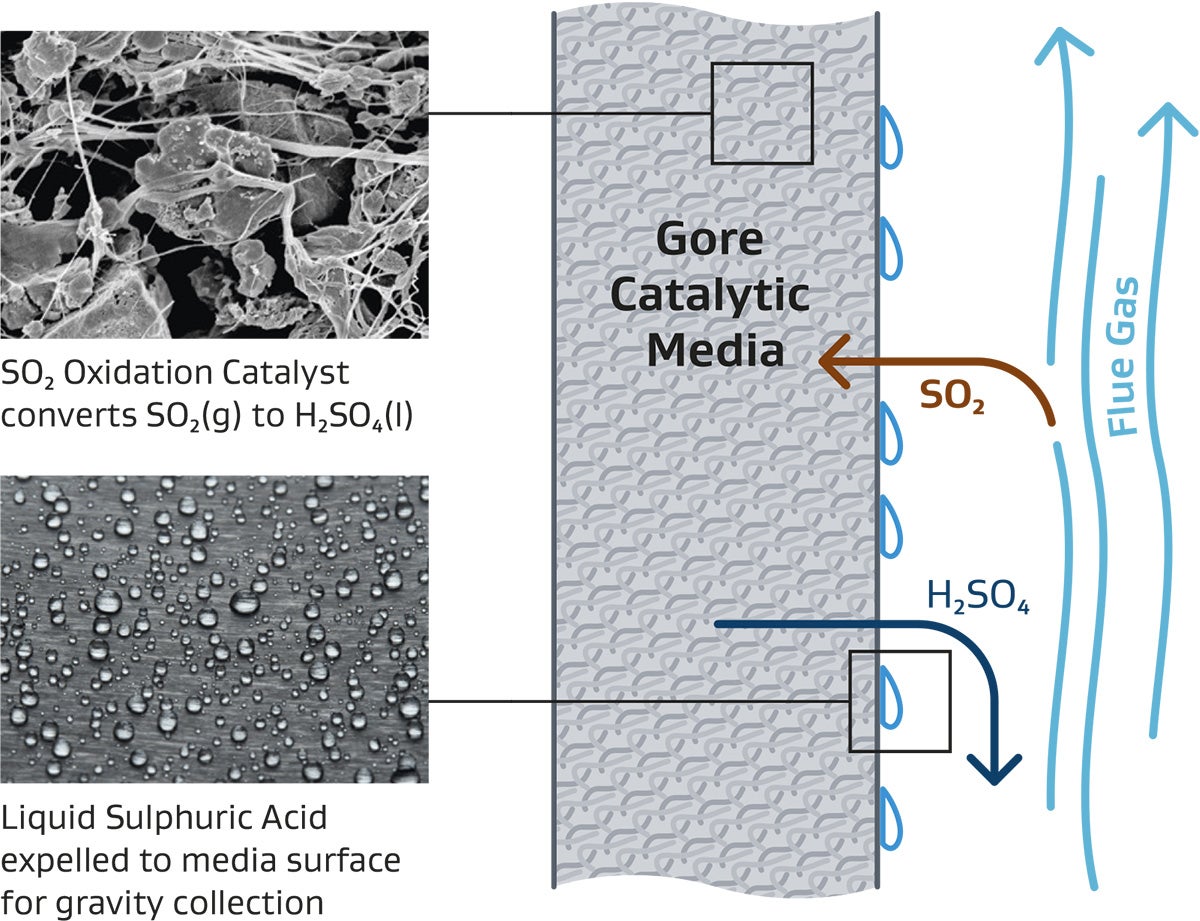 How GORE SO2 Control Modules work
Sorbent Polymer Catalyst (SPC) composite material is a novel fluoropolymer-based substance created by Gore scientists. This substance's sorbent effectively captures both elemental and oxidized mercury from the flue gas stream. As a result, it is unaffected by modifications to fuel or manufacturing processes that alter mercury speciation. Through chemisorption, mercury is tightly bound inside the SPC. It is a highly successful solution for high sulfur coals or units with SO3 gas conditioning because, unlike many activated carbon sorbents, the presence of SO3 does not prevent mercury extraction by the SPC. Since no injected sorbents are used, there is no need to worry about fly ash contamination or additional particulate matter collection. Additionally, the technology eliminates the need for chemicals for oxidation, thus avoiding concerns over halogen-induced corrosion and wastewater treatment complications.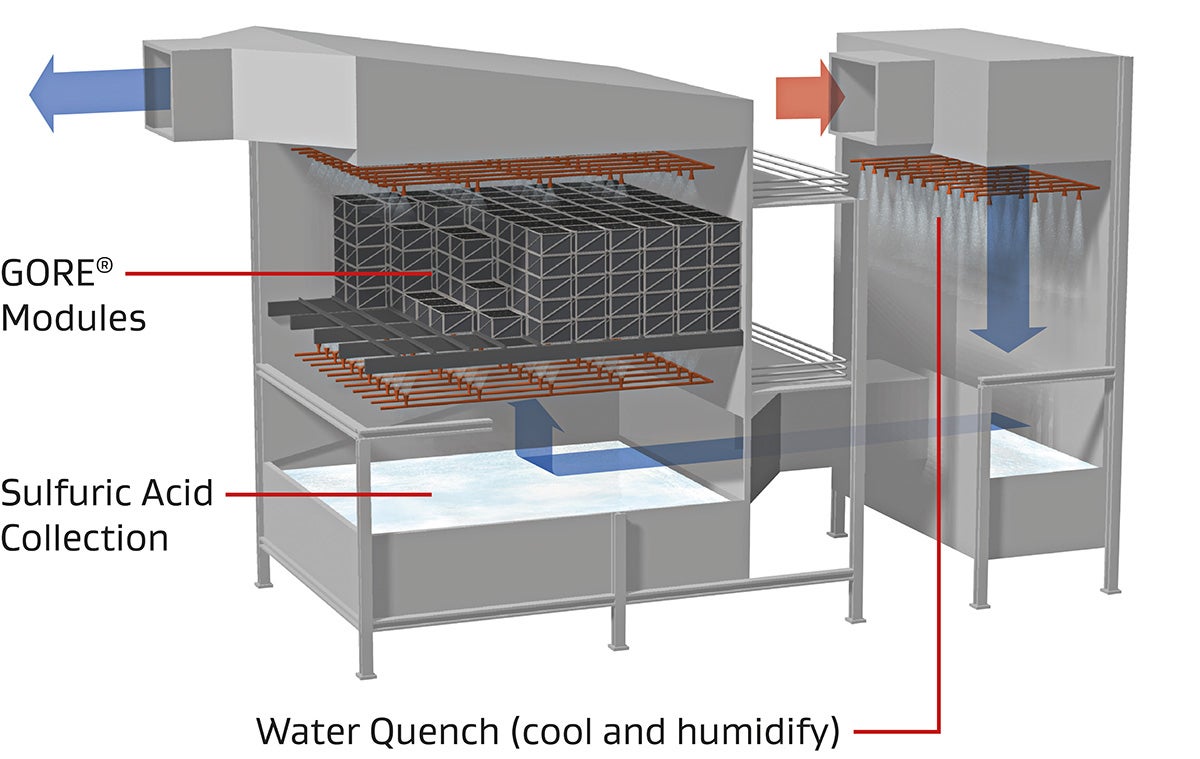 GORE SO2 Control System including water quench, catalytic modules & acid collection
The lack of reagent and low parasitic power enable a significantly lower operating cost than other Flue Gas Desulphurization (FGD) systems.  Moreover, the footprint of the system has significant flexibility allowing it to fit into space constrained sites that are challenging for wet and semi-dry systems.  In addition to lower water consumption, the passive system operation is simple and doesn't require any adjustments, treatments, or regeneration. The catalytic SPC modules have no moving parts and will continuously convert SO2 into sulfuric acid for many years with the lowest total cost of ownership. 
The sulfuric acid byproduct is a versatile chemical with strong demand in the fertilizer production industry.  Unlike limestone-based FGD systems, the GORE SO2 Control System does not produce additional CO2. 
Recent News