Microfiltration Membranes for Semiconductor and Microelectronics Processing
Purity is essential in critical applications. With the best-available balance of retention and flow, GORE® Microfiltration Media enable the production of ePTFE membrane filters for semiconductors and microelectronics processing and provide assurances of purity and repeatable high performance.
Contact Us
United States
+1 800 542 3146
South Korea
+82 2 393 3411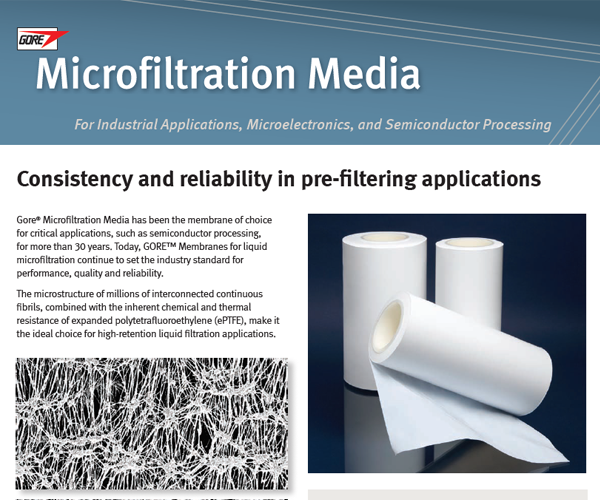 Microfiltration Solutions for Semiconductors, Microelectronics & Disk Drives Microfiltration Media for Semiconductor and Microelectronics Processing
GORE® Microfiltration Media for pre-filter applications offer a unique combination of highest retention and unparalleled flow to ensure repeatable high performance, consistent quality and exceptional product cleanliness in critical semiconductor and microelectronics manufacturing processes. Available in pore size ratings of 1.0–10.0 μm, the ePTFE-based membranes deliver consistency, chemical and thermal resistance, and extreme resistance to shedding.
English (U.S.)
All Resources For Microfiltration Membranes for Semiconductor and Microelectronics Processing
Fluid purity is essential in semiconductor and microelectronics manufacturing processes such as wet etch and clean, photolithography, and chemical mechanical planarization (CMP). As transistors continue to shrink, it becomes increasingly critical to capture smaller and smaller particles in the nanometer range.
With the unique combination of highest retention and unparalleled flow, GORE Microfiltration Media enable the manufacture of expanded polytetrafluoroethylene (ePTFE) membrane filters used in demanding applications that require repeatable high performance, consistent quality and exceptional product cleanliness.
Gore's expertise in manufacturing ePTFE and controlling its microstructure allow us to tailor membranes to increase retention, allow greater throughput, or impart specific characteristics needed for the intended use. These capabilities and skills result in filtration for enabling technologies that improve productivity and increase processing yields during microchip fabrication.
Our membrane technology is derived from Gore's almost four decades of serving the semiconductor and microelectronics markets. We take pride in providing high-quality, high-performance products for the most critical and demanding semiconductor fabrication steps. When our membranes deliver, filter makers can innovate quickly and reliably serve chip makers who produce the microelectronic devices at the center of the digital age.
Technology that Sparks Innovation
Gore's membranes are designed to help filter makers innovate with confidence in their products' performance. Available in many pore size ratings, our membranes facilitate the quick development of high-performance filters with high particle capture efficiency and superior flow rates.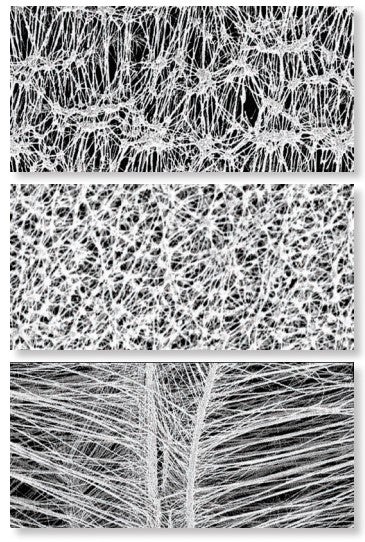 ePTFE membrane structures under extreme magnification
The key to our membrane materials' performance is their microstructure. Gore's ePTFE-based membranes are comprised of millions of interconnected, continuous fibrils that reliably capture particles in the nanometer range, while allowing high flow rates at a given retention level. The PTFE makeup of our membranes makes them:
extremely resistant to shedding
chemically and thermally resistant
consistent from lot to lot
Other providers of membranes also use ePTFE as a base material. What sets Gore apart is our unparalleled expertise in the manufacture and control of ePTFE's microstructure to provide the characteristics required in a given application.
The result is high-performing, application-specific membranes that keep pace with the increasingly demanding filtration needs of semiconductor, OLED, LED and hard disk drive processing, as well as high purity process chemical production.
Global Research and Reach
Gore has served the semiconductor and microelectronics markets for over 35 years. In that time, we've seen membrane separation processes evolve and transistors shrink to previously unimaginable sizes. Meanwhile, the need for process purity has grown exponentially.
Our expertise in critical applications informs how we serve filter manufacturers — and, in turn, how they serve chip makers. Through R&D and extensive field testing, we have developed a portfolio of membranes that perform as promised to fit the application, each time, every time.
With Gore's global manufacturing and supply chain, we can easily communicate our expertise to manufacturers in Asia, the Americas and all points between, delivering membranes to meet the tight timelines expected in this always innovating industry.
GORE Microfiltration Media are available as membrane rolls in a range of sizes and capabilities to fit various critical applications and microfiltration device formats.
Pore size ratings: Our microfiltration media are offered in a range of membrane filter pore sizes, from 30 nm (0.03μm) to 10μm.

Pre-filter and final filter: With various pore size ratings, our membranes support both pre-filter (1.0–10.0 μm) and leading-edge final filter (30 nm–200 nm) applications.

Flow rates: Our membranes are engineered to enable various flow rates as required by each application.

Hydrophilic and hydrophobic: Our membranes are available as either hydrophilic media, used in water-based processes; or hydrophobic media, typically used in aggressive chemical and solvent-based applications. Both types are highly uniform and best in class.

Laminated media: Typical membranes come standard as a layer of ePTFE without backing. Upon request, we also offer hydrophobic membranes as a laminate of ePTFE bonded to a non-woven backing material for added support and strength.

Discs: In addition to membrane rolls used in cartridge filters, we provide membrane discs in custom sizes for varied applications.
Material of Construction
Type
Pore Reference Size
Hydrophobic
Membrane
Pre-filter
1 μm–10 μm
Final filter
0.03 μm–0.45 μm
Laminate
PP net and PET non-woven
0.1 μm–1.0 μm
Hydrophilic
Membrane
Pre-filter
1 μm–10 μm
Final filter
0.1 μm–0.45 μm
Gore's membranes for high-retention liquid filtration applications feature:
a unique ePTFE microstructure
a surface that is clean and non-shedding
consistency from roll to roll and lot to lot
extreme thermal and chemical resistance
the best-available balance of retention and liquid flow rate
With these qualities, filter makers can expect:
the ability to push the limits of particle retention. Proven to provide higher flow rates at high retention levels, Gore membranes enable the production of filters without compromises to retention flow or quality.
membranes that stand up to the challenges of critical applications, performing as promised despite exposure to extreme heat and harsh chemicals or demanding operating conditions.
quality that comes standard. Our product efficacy provides filter manufacturers with the confidence of repeatable high performance for applications where reliability is critical.
Gore's microfiltration membranes are used in many critical liquid filtration applications.
Semiconductors: Membranes from Gore successfully filter nano-sized particles and harmful contaminants during logic and memory chip fabrication. With the industry's best-available balance of retention and liquid flow rate, our membranes enable high process yields without sacrificing throughput.

Microelectronics: Gore's microfiltration membranes enable the manufacture of LED, OLED, hard disk drives and other microelectronics with higher yields and a low cost of ownership. Manufacturers can also count on our membranes to provide high performance and rigorous quality for the production of sensors and other microelectronics critical for Internet of Things devices and products.

Chemical production: Gore's chemically inert ePTFE membranes are used in semiconductor-grade chemical production to provide assurances of improved particle retention and exceptional product cleanliness.
Innovations in Filtration
Gore is more than a membrane company — we are a global expert in filtration. We deliver air, gas, liquid and particle filtration solutions that help our partners purify processes, increase yields, and control costs. Beyond microfiltration membranes for semiconductor processing, we develop:
filtration solutions for steel, cement and waste-to-energy baghouses
high-purity filters for life sciences processing
air filtration filters for turbine filters and air cabinets
Materials science is the backbone of our product solutions, particularly related to ePTFE, the extraordinarily versatile material Bob Gore discovered in 1969 by expanding PTFE. Combining our advanced materials with our expertise in each market, we produce filtration solutions that help our partners meet their industries' strict, competitive demands.
More About Gore
Gore is a global materials science company dedicated to transforming industries and improving lives.
Gore serves dozens of industries around the world (and beyond).
Founded in 1958, Gore has built a reputation for solving complex technical challenges in the most demanding environments — from revolutionizing the outerwear industry with GORE-TEX® fabric to creating medical devices that improve and save lives to enabling new levels of performance in the aerospace, pharmaceutical and automotive markets, among many others.
A spirit of innovation guides everything we do at Gore. We evolve along with the industries we serve, delivering product innovations that uphold our — and our customers' — high standards for usability and performance. Learn more about Gore.
Learn more about GORE Microfiltration Membranes in data sheets detailing our product offerings, their features and benefits to suppliers.
FOR INDUSTRIAL USE ONLY
Not for use in food, drug, cosmetic or medical device manufacturing, processing, or packaging operations.