New GORE® PolyVent EX+
Safety + Uncompromising performance for equipement in explosive atmospheres
---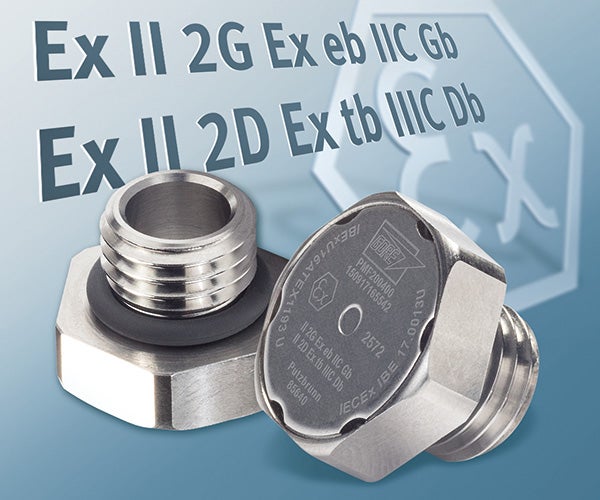 Suitable for equipment used in potentially explosive environments, the new IECEx and ATEX approved GORE® PolyVent Ex+ offers reliable protection and venting performance to increase the lifetime of enclosures up to a 20 liter volume. 
MUNICH, GERMANY (November 29, 2017) – W. L. Gore & Associates proudly announces the launch of GORE® PolyVent Ex+. Our latest addition to the Protective Vents Screw-In Series is certified according to explosion-proof safety standards, IECEx and ATEX. This will enable sales of products globally with fewer certification efforts, saving labour and testing costs. Plus, the PolyVent Ex+ offers additional protection performance due to its unique design.
GORE® PolyVent Ex+ has earned the IECEx and ATEX certification codes Ex II 2G Ex eb IIC Gb and Ex II 2D Ex tb IIIC Db. IECEx and ATEX directives describe general requirements for equipment, components and devices that are used in potentially explosive atmospheres. Therefore PolyVent Ex+ is allowed in areas with potentially explosive atmospheres caused by combustible gases or dust as following: 
Gas: All non-mining, above-ground applications (equipment group 2) in the Zones 1 and 2 with need for protection type "eb" (increased safety) for Equipment Category 2 Gb.
Dust: All non-mining, above-ground applications (equipment group 2) in the Zones 21 and 22 with need for protection type "tb" (standard protection by housing) for Equipment Category 2 Db.
Peter Kroker, Technical Project Manager, gladly explains: "We developed this new product to meet the needs of many of our customers, who are working in industries that process, use or manufacture materials that may give rise to an explosive atmosphere. The new Ex-rated GORE® PolyVent Ex+ is the perfect fit for these tough environments."
Peter goes on to say, "Ensuring that products and systems meet stringent IECEx and ATEX requirements is a complex, time consuming and costly process. Choosing GORE® PolyVent Ex+ can easily speed up time-to-market and reduce costs in the certification process."
GORE® PolyVent Ex+ offers additional plus (+) features that truly deliver the uncompromising Gore performance which is required in these tough environments and add to the "safety aspect" for both – operators and equipment.
The Plus (+) means this product can do more!
In sensitive and potentially explosive environments especially, there should be no compromises when it comes to the quality of components. Due to its unique design, GORE® PolyVent Ex+ offers:
Uncompromising performance. All materials selected for designing GORE® PolyVent Ex+ have been chosen as they support the vent's long-lasting exceptional behavior in the field. The vent body, cap and Gore's creative, patented membrane-sealing technology only use premium 1.4404 (316L) non-flammable, stainless steel.

The latest GORETM membrane, made of 100% ePTFE, delivers the remarkable performance for pressure-equalization customers expect – and achieves the highest flammability rating in its category (UL 94 VTM-0) at the same time. Not to mention, the silicone O-ring with the flammability resistance rating of UL 94 V-0 adds another layer of safety customers can depend on.

These high-quality materials combined with our innovative construction ensure comprehensive flammability resistance, excellent corrosion resistance and exceptional chemical robustness.


High "Ingress Protection – Airflow" Ratio. The GORETM Membrane provides lasting oleophobic and hydrophobic protection. With an airflow rate of 1600 ml/min at 70 mbar and an ingress protection rating of IP68/IP69k, PolyVent Ex+ reliably protects enclosures up to 20l for a wide range of temperatures.
Confidently, Peter Kroker adds: "GORE® PolyVent Ex+ is made of materials of the highest quality. But most importantly, these vents deliver the exceptional venting performance and reliable protection our customers have come to rely on. This new product rounds out the already extensive Screw-In product portfolio by fulfilling the need for a venting application in potentially explosive environments."
For more information about the GORE® Protective Vents product portfolio, visit gore.com/protectivevents.
About Gore Performance Solutions
Gore Performance Solutions Division develops products and technologies that address complex product and process challenges in a variety of markets and industries, including aerospace, automotive, pharmaceutical, mobile electronics, oil and gas – and more. Through close collaboration with industry leaders across the globe, Gore enables customers to design their products and processes to be safer, cleaner, more productive, reliable, durable and efficient across a wide range of demanding environments.
About Gore
W. L. Gore & Associates is a global materials science company dedicated to transforming industries and improving lives. Since 1958, Gore has solved complex technical challenges in demanding environments – from outer space to the world's highest peaks to the inner workings of the human body. With approximately 9,500 Associates and a strong, team-oriented culture, Gore generates annual revenues that exceed $3 billion. www.gore.com
Media Contact: