A Partnership To Advance Downstream Purification
---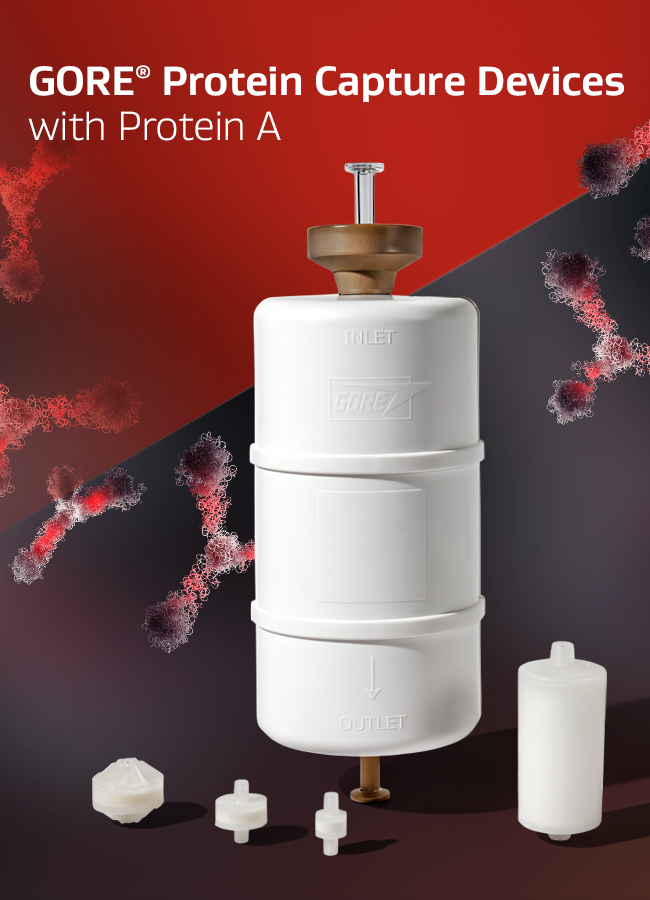 WL Gore and AGC Biologics, a leading global biopharmaceutical contract development and manufacturing organization (CDMO), recently announced a powerful collaboration. The partnership brings the GORE® Protein Capture Devices with Protein A as an integral component in the AGC Biologics' mAb-based CDMO services. The combined offering from GORE and AGC Biologics is available across the CDMO's global network.
This partnership is notable given emerging trends in the industry. Thirty-five years after the FDA's approval of a first monoclonal antibody, mAbs now account for nearly a fifth of the agency's new drug approvals each year (Mullard, 2021). Just since October 1, 2022, 105 bispecific antibodies (BsAbs) have entered the space, taking the total number of bispecifics currently in development to 1,920 (Beacon Bispecific database).
Now that the therapeutic effectiveness of antibody therapies has been demonstrated, there is increasing pressure on pharma- and biopharmaceutical companies to reduce manufacturing costs and boost productivity. This requires changes to traditional downstream purification that rely on oversized and underutilized columns, leading to unnecessary waste, resource-intensive storage, and contamination risks especially for the Protein A resin columns used in the capture step.
The Power of Partnership
Membrane chromatography's productivity boosting potential in antibody-based therapies has been unrealized due to lack of consistent, scalable Protein A membranes. Gore's Protein Capture Device with Protein A is a membrane technology that combines high binding capacity at short residence times, resulting in increased productivity. All Gore membrane device sizes consistently scale dynamic binding capacity (DBC), elution widths, purity, and operate at low pressure drop, making the GORE Protein Capture Devices compatible with existing liquid chromatography (LC) systems. Available in sizes from 1.0 mL to 232 mL, with additional larger sizes launching soon, you can take advantage of fast, efficient purification from lab to commercial scale. These rapid cycle chromatography columns enable the protein capture step to become truly single-use to further reduce cost and complexity while offering more flexibility.
This groundbreaking device will be fully integrated with AGC Biologics services. The scientists across AGC Biologics' network have industry leading experience with Protein A membranes and several decades of scientific R&D experience in the monoclonal antibody space. The company's global network of sites has established more than 200 mammalian and microbial cell culture-based products. AGC Biologics' historic work in implementing early-on high-throughput titer assessments of monoclonal cell lines helps streamline its early-phase mAb product programs.
The Bottom Line: Accelerated Development
By using GORE and AGC Biologics, biopharmaceutical companies can improve downstream purification through increased productivity of the Protein A step, enabling a full single-use downstream process, which can eliminate column bioburden from storage, reduce manufacturing footprint, and help lower costs for clinical manufacturing and select scale commercial manufacturing.
Learn more about GORE® Protein Capture Devices with Protein A and get the latest information on upcoming events at www.gore.com/capturemoremAbs.
To learn more about AGC Biologics' cell line development services, visit https://www.agcbio.com/capabilities/process-development/cell-line-development.
To learn more about the CDMO's full line of mammalian-based cell development and manufacturing services visit https://www.agcbio.com/capabilities/mammalian.