AGC Biologics and Gore Collaborate on New Protein A-based Purification Technology and Contract Manufacturing Services for Antibody Therapies
GORE® Protein Capture Devices and AGC Biologics development and manufacturing platforms help advance downstream purification and support effective development and manufacturing
---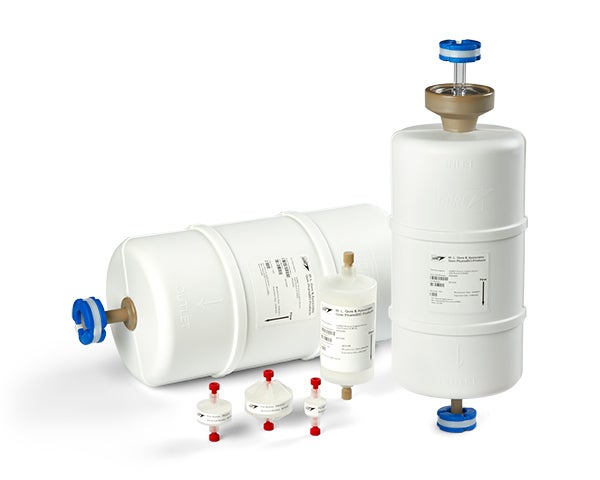 SEATTLE – December 12, 2022 -- AGC Biologics, a leading global Biopharmaceutical Contract Development and Manufacturing Organization (CDMO), today announced a collaboration with W.L. Gore & Associates (Gore) that features Protein A affinity purification technology from Gore alongside the CDMO's contract development and manufacturing services. 
By using GORE and AGC Biologics, biopharmaceutical companies can improve downstream purification processes through increased productivity of the Protein A step, enabling a full single-use downstream process, which can eliminate column bioburden from storage, reduce manufacturing footprint, and help lower costs for clinical manufacturing and select scale commercial manufacturing.
The collaboration includes the family of GORE® Protein Capture Devices with Protein A, which improves productivity in Protein A affinity purification, and provides high binding capacity at short residence times, alongside AGC Biologics' mAb-based CDMO services. The joint offering from Gore and AGC Biologics is available across various sites in the AGC Biologics' network. 
"This is a notable example of how our technology can support antibody-based therapies coming to market by addressing bottlenecks and boosting productivity" said William Barrett, Ph.D., Product Specialist, for GORE PharmBIO. "Our portfolio of GORE Protein A Capture Devices, with a unique expanded polytetrafluoroethylene (ePTFE) membrane, offers a scalable solution and we are thrilled to work with ACG Biologics so customers can reach their next clinical or commercial milestones."
AGC Biologics' scientists have several decades of R&D experience in the monoclonal antibody space. The company has established more than 200 mammalian and microbial cell culture-based products. AGC Biologics' historic work in implementing early-on high-throughput titer assessments of monoclonal cell lines helps streamline its early-phase mAb product programs. 
"Investments in new technologies like the GORE Protein Capture Device are important to meet our clients' needs and address the changes in the monoclonal antibody market," said Kasper Møller, Chief Technical Officer of AGC Biologics. "We are excited to offer this new technology for GMP manufacturing at relevant scales throughout our manufacturing network."
Learn more about GORE Protein Capture Devices with Protein A and get the latest information on upcoming events at www.gore.com/capturemoremAbs.
To learn more about AGC Biologics' cell line development services, visit https://www.agcbio.com/capabilities/process-development/cell-line-development. 
To learn more about AGC Biologics' full line of mammalian-based cell development and manufacturing services visit https://www.agcbio.com/capabilities/mammalian.
 
About Gore
W. L. Gore & Associates is a global materials science company dedicated to transforming industries and improving lives. Since 1958, Gore has solved complex technical challenges in demanding environments — from outer space to the world's highest peaks to the inner workings of the human body. With more than 12,000 Associates and a strong, team-oriented culture, Gore generates annual revenues of $4.5 billion. For more information, visit gore.com.
About AGC Biologics
AGC Biologics is a leading global biopharmaceutical Contract Development and Manufacturing Organization (CDMO) with a strong commitment to delivering the highest standard of service as we work side-by-side with our clients and partners, every step of the way. We provide world-class development and manufacture of mammalian and microbial-based therapeutic proteins, plasmid DNA (pDNA), messenger RNA (mRNA), viral vectors, and genetically engineered cells. Our global network spans the U.S., Europe, and Asia, with cGMP-compliant facilities in Seattle, Washington; Boulder and Longmont, Colorado; Copenhagen, Denmark; Heidelberg, Germany; Milan, Italy; and Chiba, Japan and we currently employ more than 2,000 employees worldwide. Our commitment to continuous innovation fosters the technical creativity to solve our clients' most complex challenges, including specialization in fast-track projects and rare diseases. AGC Biologics is the partner of choice. To learn more, visit www.agcbio.com. 
Media Contact
Joe Fallon
W. L. Gore & Associates
402 Vieve's Way
+1 410 506 7539
Contact by email
jfallon@wlgore.com
Blair Ciecko
CG Life
+1 708 655 2045
Contact by email 
bciecko@cglife.com
Nick McDonald
Sr. Manager Marketing & Communications
AGC Biologics
Mobile: (425) 419-3555