Visit Gore at TIDES ASIA 2023
March 7, 2023 - March 9, 2023
Westin Miyako Kyoto, Kyoto, Japan
Gore is exhibiting at this year's TIDES Asia Conference, and you're invited to visit our stand, where we'll be demonstrating the benefits of GORE® LYOGUARD® Freeze-Drying Trays. Chat with Gore representatives and see how our freeze-drying trays protect both pharmaceutical products and operator safety.
---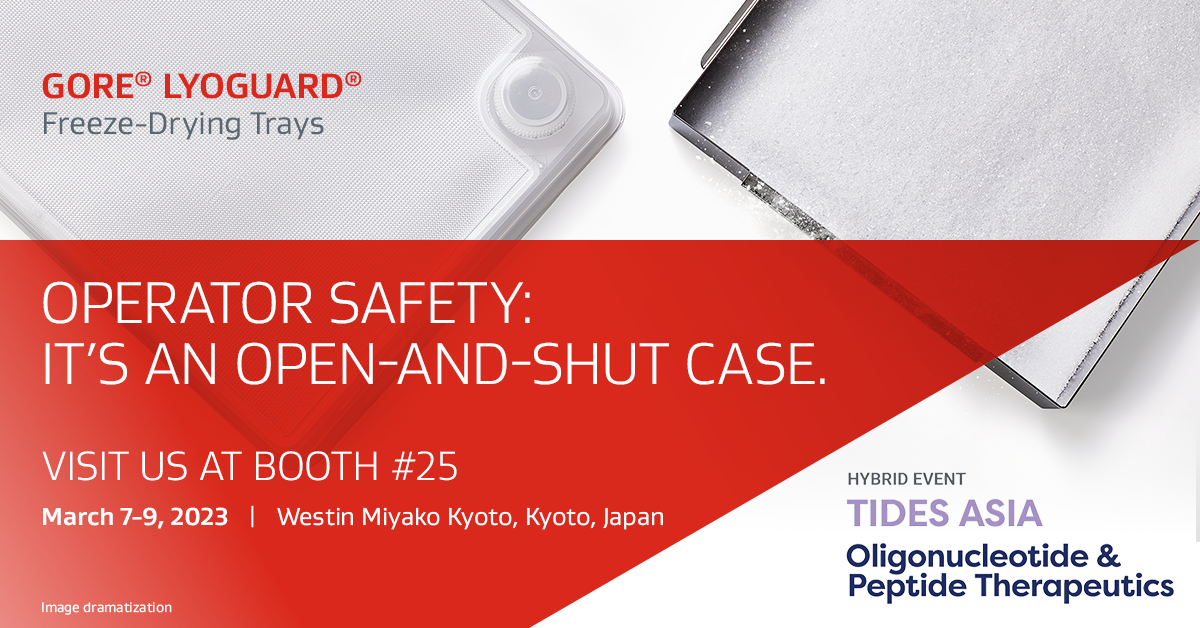 At Gore's stand, #25, attendees can:
Explore the design of the Access the GORE® LYOGUARD® Freeze-Drying Tray, which features an integrated top barrier that delivers a highly effective protection barrier to keep product contained in the tray, as well as a high vapor transmission rate so water and solvent vapors are readily released.
Understand how our freeze-drying trays were designed in consultation with industry experts and how this led to a breakthrough solution that protects operators, eliminates tray cleaning and validation, and reduces product loss and risk of cross-contamination.

TIDES ASIA brings together industry leaders and service providers to share cutting-edge content and company expertise across the oligonucleotide, peptide, MRNA and drug delivery spectrum. Find out more and register for TIDES ASIA.