Design Your GORE® High Flex Flat Cable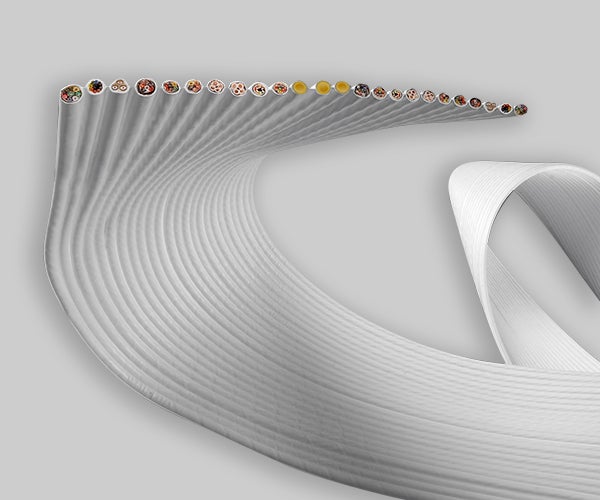 This form enables you to: 
Choose from the most common components used in the industry to begin building your own cable that meets your specific application needs and requirements.
Choose your desired core for each pod. You can choose up to two cores per pod.
Describe the application in which the cable will be used. Optionally, you can estimate your initial and annual quantity requirements.
Once you submit the form, a Gore representative will contact you.
For more information or to discuss your specific application needs, please contact us at +1 800 311 3060.
For information about GORE® Trackless High Flex Cable, send us an email.
Our customized high flex flat cable solutions have revolutionized the flat panel and semiconductor equipment industries. They enable higher yields with high reliability that help reduce particle formation and optimize flex life for high-precision, automated machinery applications.
---
Choose from these available cores
201

Shielded Power Cable
3 x AWG 16
ePTFE binder over shield (not an insulator)
Colors: yel-grn, red, wht
Ratings: 600V rms
Dimensions: 5.0mm (0.20")
Note: Formerly A

202

 

Shielded Power Cable
4 x AWG 18
ePTFE binder over shield (not an Insulator)
Colors: yel-grn, red, wht, blu
Ratings: 300V rms
Dimensions: 4.7mm (0.18")
Note: Formerly B

203

 

Shielded Power Cable
4 x AWG 20
ePTFE binder over shield (not an Insulator}
Colors: yel-grn, red, wht, blu
Ratings: 600V rms
Dimensions: 4.5mm (0.18")
Note: Formerly B

204

 

Unshielded Signal Cable
7 Twisted Pairs AWG 26
Colors: wht-blk/blk, wht-brn/brn, wht-red/red, wht-org/org, wht-yel/yel, wht-grn/grn, wht-blu/blu
Ratings: 300V rms
Dimensions: 4.0mm (0.16")
Note: Formerly D

205

Shielded Signal Cable
5 Twisted Pairs AWG 26
ePTFE binder over shield (not an Insulator)
Colors: wht-blk/blk, wht-brn/brn, wht- red/red, wht-org/org, wht-yel/yel
Ratings: 300V rms
Dimensions: 4.2mm (0.17")
Note: Formerly R

206

 

Signal Cable
3 Shielded Twisted Pairs AWG 26
300V rated Insulation over shield
Colors: wht-blk/blk, wht-brn/brn, wht-red/red
Ratings: 300V rms
Dimensions: 4.6mm (0.18")
Note: Formerly F

207

 

Video Cable / 75 ohm Cable
3 Coaxes
300V rated insulation over shield
Colors: all white
Ratings: 75 Ohm RG 1798 Equivalent
Dimensions: 4.8mm (0.19")
Note: Formerly G

208

 

Video Cable / 50 ohm Cable
3 Coaxes
300V rated Insulation over shield
Colors: all white
Ratings: 50 Ohm RG 316 Equivalent
Dimensions: 5.0mm (0.19")
Note: Formerly H

209

 

Ethernet/ Cat 5e Equivalent
4 Twisted Pairs with overall shield AWG 26 ePTFE binder over shield (not an Insulator)
Colors: wht-brn/brn, wht-org/org, wht-blu/blu, wht-grn/grn
Ratings: 100 Ohm +/-15 Ohm 50V rms
Dimensions: 4.7mm (0.18")
Note: Formerly I

210

 

IEEE 1394a / IEEE 1394b
2 Shield Twisted Pairs AWG 28, 2 Conductors AWG 22 with overall shield ePTFE binder over shield (not an Insulator)
Colors: red x grn, blu x org, blk, wht
Ratings: IEEE 1394a / lEEE 1394b
Dimensions: 5.7mm (0.22")
Note: Formerly J

211

 

Shielded Power
2 x AWG 22
ePTFE binder over shield (not an Insulator)
Colors: blk/wht
Ratings: 300V rms
Dimensions: 2.7mm (0.11")
Note: Formerly K

215

 

Fiber Optic
Multi-Mode Glass Fiber Thermoplastic Jacket
Color: blk/blk
Strain Relief: Aramid Filber Braid
Ratings: 62.5 / 125 micron
Dimensions: 2.5mm (0.10")
Note: Formerly P

216

 

Shielded Power or Ground Cable
1 x AWG 12 ePTFE binder over shield (not an insulator}
Color: gray
Ratings: 600V rms
Dimensions: 4.0mm (0.16")
Note: Formerly P

217

 

Shielded Power Cable w/Thermister
4 x AWG 16
Colors: yel-grn, red, wht, blk
2 x AWG 22
Colors: blk/wht
ePTFE binder over the shield (not an Insulator)
Ratings: 600V rms (AWG 16) / 300V rms (AWG 22)
Note: Formerly R

218

 

Encoder Cable (Heidenhain Compatible)
4 Twisted Pairs AWG 26
Colors: brn/grn, yel/vio, gry/pnk, red/blk
4 XAWG 24
Colors: wht, brn-grn, wht-grn, blu
ePTFE binder over shield (not an Insulator)
Ratings: 300V rms
Dimensions: 5.0 mm (0.20")
Note: Formerly S