Gore Enhances Product Performance in Next Generation of Screw-in Vents
---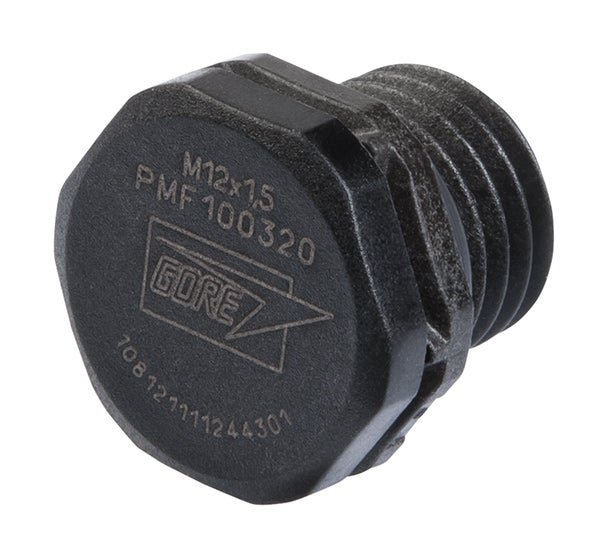 Next-Generation Screw-In GORE® Protective Vent
ELKTON, Md. (February 06, 2012) – W. L. Gore & Associates introduces the next generation of its screw-in GORE® Protective Vents for lighting, solar and telecommunication infrastructure applications, with a more rugged, single-body construction that increases protection against mechanical stress. For additional reliability, all of these vents are now online quality-tested and laser-marked with unique identification numbers to enable individual product tracking.
Like the full line of GORE® Protective Vents, the screw-in vents maintain high airflow in electronic housings and sealed devices. The constant airflow equalizes internal pressure, which in turn prevents premature failure of the housing seals by virtually eliminating vacuum caused by pressure build-up. At the same time, the vent prevents water, dust, dirt and other contaminants from entering the housing and damaging the sensitive electronics. This durable venting solution increases product reliability and improves profitability by reducing the need to over-engineer your product's housing.
The rugged, single-body design of the screw-in vents is engineered with an even more robust plastic that prevents damage from mechanical impact. The advanced properties of the vent's membrane enable the vent to recover quickly after liquid immersion. This chemically inert, UV-resistant membrane withstands operating temperatures ranging from -40°C to 125°C, enabling the vent to be used in harsh environments. For extreme conditions, such as explosive environments, Gore offers a metal vent with the same screw-in design and protection performance. To ensure quality control, Gore has added online camera and airflow testing for 100 percent of this new generation of screw-in vents. In addition, each vent has a unique identification number that includes date and unit position of manufacture, enabling individual part tracking for security.
Screw-in GORE® Protective Vents are available in various sizes and thread types. According to Torsten Eifler, product specialist for Gore's European venting group, their application engineers work with customers to identify the best size and construction for each venting application. "We evaluate the challenges that can compromise your product's performance and collaborate with your engineering team from initial design through testing and start-up," Eifler says. "We offer you a venting solution that meets the needs of your application and product market." For more information about Gore's full line of venting products, visit gore.com/venting.
About W. L. Gore & Associates, Inc.
Gore is a leading manufacturer of thousands of advanced technology products for the electronics, fabrics, industrial and medical markets. Perhaps best known for its waterproof and breathable GORE-TEX® fabric, the company's portfolio features a diverse array of innovations, including everything from guitar strings to life-saving cardiovascular devices. Gore is headquartered in Newark, Delaware, posts annual sales of roughly $3 billion, and employs 9,500 associates in 30 countries worldwide. It is one of a select few companies to appear on all of the U.S. "100 Best Companies to Work For" lists since the rankings were introduced in 1984. Visit gore.com to learn more.
Media Contacts