Gore Announces Launch of GORE™ Protein Capture Device with Protein A for Rapid mAb Purification at PepTalk
---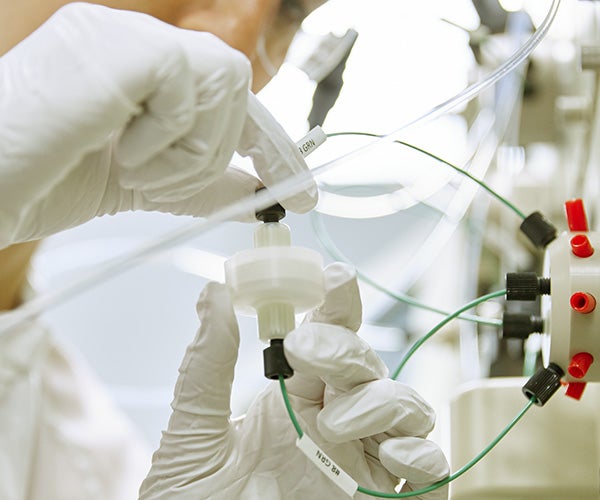 ELKTON, Md. (January 10, 2017) – Gore today announced the launch of a new line of GORE™ Protein Capture Devices with Protein A, intended for drug discovery and research applications, which fundamentally improves the purification process of monoclonal antibodies. The announcement came at PepTalk, Protein Science Week, one of the largest annual gatherings of protein science researchers in the world, being held this week in San Diego, California.
GORE Protein Capture Devices use a unique expanded polytetrafluoroethylene (ePTFE) membrane composite that provides a binding capacity advantage at high flow rates and improves the speed of purification. These unique membrane devices are currently being offered in 1.0 mL (≥ 30 mg capacity) and 3.5 mL (≥ 105 mg capacity).
Unlike other resin-based columns, the GORE Protein Capture Device has higher binding capacity at a short residence time enabling faster processing times and potential for more highly concentrated elution pools. This allows researchers to screen more candidates in less time and potentially eliminate a downstream concentration step during the antibody purification process.
Gore Product Specialist for chromatography products William Barrett, Ph.D. commented, "With PepTalk's Protein Science Week attracting top protein science researchers, we felt that it was an excellent venue to introduce our high binding capacity at short residence time, ePTFE membrane-based chromatography column, developed to offer scientists an improved mAb purification process. Gore is proud to be part of PepTalk 2017."
About Gore PharmBIO products
Our technologies, capabilities and competencies in fluoropolymer science are focused on satisfying the evolving product, regulatory and quality needs of pharmaceutical and bioprocessing customers and medical device manufacturers. GORE Protein Capture Devices, like all products in the Gore PharmBIO Products portfolio, are tested and manufactured under stringent quality systems. These high-performance products provide creative solutions to our customers' design, manufacturing and performance-in-use needs.
For more information, please visit gore.com/pharmbio
What is ePTFE?
What differentiates Gore's life sciences solutions is our use of advanced materials — particularly expanded polytetrafluoroethylene or ePTFE — and our expertise in modifying those materials for each application. ePTFE is inherently breathable, bio-inert, porous and non-particulating to name just a few of its properties. These unique properties enable our products to perform more efficiently while often taking smaller, lighter or stronger forms. In each application, Gore has the ability to manipulate ePTFE and combine it with other high performance materials and technologies to exhibit the properties needed to provide peak functionality.
About W. L. Gore & Associates, Inc.
W. L. Gore & Associates is a global materials science company dedicated to transforming industries and improving lives. Founded in 1958, Gore has built a reputation for solving complex technical challenges in the most demanding environments — from revolutionizing the outerwear industry with GORE-TEX® fabric to creating medical devices that improve and save lives to enabling new levels of performance in the aerospace, pharmaceutical and mobile electronics markets, among other industries. The company is also known for its strong, team-oriented culture and continued recognition from the Great Place to Work® Institute. Headquartered in Newark, Del., Gore employs approximately 10,000 associates and generates annual revenues that exceed $3 billion. www.gore.com
Media Contacts