GORE™ Protein Capture Device Drives Timeline Reduction for CRO
---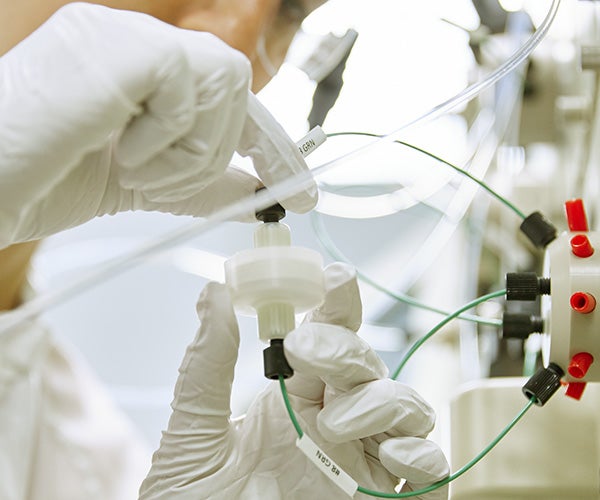 ELKTON, Md. (May 2, 2017) – Aragen Bioscience Inc. ("Aragen") will be presenting a poster titled "A Platform to Rapidly Purify and Formulate Immunoglobulins from Mammalian Expression Systems" at the 13th Annual Protein Engineering Summit (PEGS). The platform features the new GORE™ Protein Capture Device with Protein A for rapid mAb purification, as well as other technologies. The Gore pre-packed membrane chromatography column was selected because it offered Aragen something different — the advantage of high post-purification eluent concentration versus traditional agarose technology. Rene Pagila, a Scientist at Aragen Bioscience Inc commented:
"Our typical steps to purify, formulate and analyze human IgG from transient system cultures can take multiple days to complete and can vary greatly depending on many factors. It involves quite a few steps — clarification of harvested cell culture fluid, affinity purification using Protein A, polishing steps if required, a combination of dialysis and concentration steps using centrifugal filter units for formulation, and the assessment of the formulated antibody product for purity and other biophysical characteristics.  Recently introduced technologies such as Protein A membrane devices and TFF systems capable of handling ultrafiltration and diafiltration of samples as low as 1.0 mL have tremendously decreased the turnaround time down by 2-3 days, depending on the process. Given that we purify hundreds of antibodies each year, this technology will provide significant process efficiencies to our production efforts."
Aragen Bioscience Inc. is a leading contract research organization (CRO) focused on accelerating product development through high quality science, professionalism, and innovation. Their integrated preclinical research offerings include: antibody, antibody humanization, recombinant protein production and purification, cell-based and in vivo models of disease assays, and stable cell line development.
Gore Product Specialist for Chromatography Products, William Barrett, Ph.D., added, "The Gore message that resonates most with the industry is the combination of capacity and speed along with the potential to eliminate a concentration step. Gore is very pleased with the positive feedback for our new line from Aragen Biosicence as well as other top protein science researchers." 
About W. L. Gore & Associates, Inc.
Gore is a technology-driven company focused on discovery and product innovation. Well known for waterproof, breathable GORE-TEX® fabric, the company's portfolio includes everything from high-performance fabrics and implantable medical devices to industrial manufacturing components and aerospace electronics. Founded in 1958 and headquartered in Newark, Del., Gore posts annual sales of more than $3 billion and employs more than 10,000 associates with manufacturing facilities in the United States, Germany, the United Kingdom, Japan and China, and sales offices around the world. Gore is one of a select few companies to appear on all of the U.S. "100 Best Companies to Work For" lists since the rankings debuted in 1984. The company also appears regularly on similar lists around the world. Learn more at gore.com.
Media Contacts