An Update on Sustainability: Progress to Our Carbon Reduction Goals
---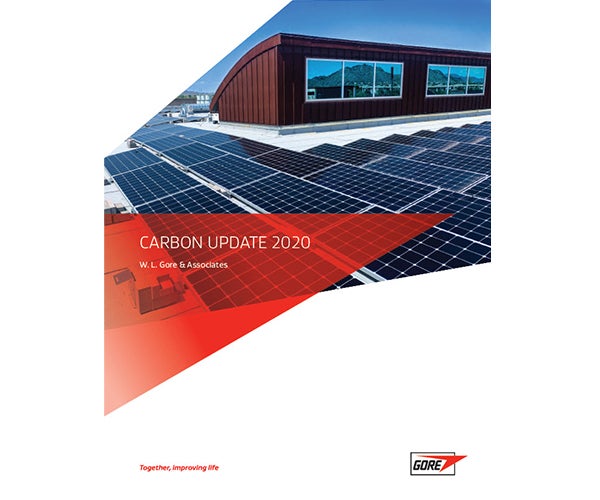 In early 2020, W. L. Gore & Associates (Gore) announced its first carbon reduction goals for the enterprise: a 60% reduction in absolute facility-related carbon emissions by no later than 2030, while working toward carbon neutrality by 2050. Since then, we have remained focused on our sustainability strategy to reduce our carbon footprint across the globe. This carbon update tells the story of our shared journey in 2020. 
Sustainability continues to be a fundamental element of our business strategy and we are taking priority action to combat climate change and its impacts. Achieving our goals and improving our carbon footprint means utilizing systems that allow us to measure impact, set goals and systematically work towards these goals through implementation of a broad portfolio of activities spanning our enterprise. 
Our carbon reduction program focuses on four fields of action: data, efficiency, renewables and purchasing. Collecting and using data to guide our decision-making, we are working to achieve our goals through improving equipment and process efficiencies, generating renewable energy onsite, and increasing our purchases of electricity from renewable sources.  
We recognize that providing visibility on our carbon reduction journey is important to support our enterprise goals and engage our stakeholders — from our Associates, to customers and suppliers, and the broader communities in which we live and work. As we make progress to do our fair share to limit climate change, we look forward to engaging with our stakeholders to drive change across our value chain.