PolyVent Stainless Steel Brings Premium Performance and Durability to GORE® Protective Vents Screw-In Series
---

Gore's new PolyVent Stainless Steel uses premium-quality materials and construction to durably withstand the toughest challenges: from contact with the most aggressive cleaners and chemicals in harsh industrial processes, to rugged environments like salty shoreline or even offshore locations.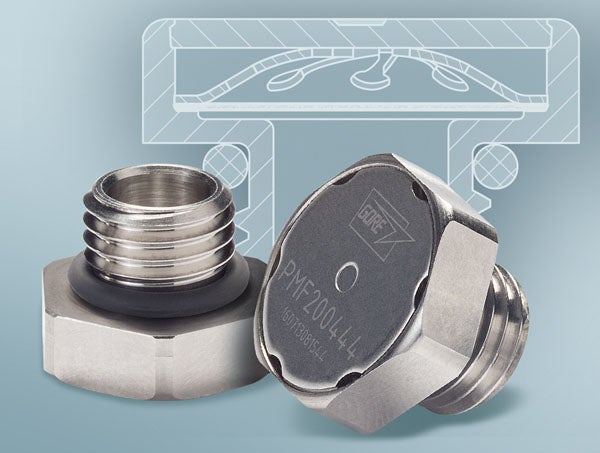 New PolyVent Stainless Steel features a body, cap, and creative membrane-sealing technology of 100% stainless steel 1.4404 (316L), and incorporates a new, flammability-resistant GORE™ Membrane of 100% ePTFE, with no backer.
Premium-Quality Materials and Construction Withstand the Worst
Excellent resistance to corrosion and the most aggressive acid-, leach- and oxidative-based chemicals.
Greater safety: the flammability-resistant GORE™ Membrane (UL 94 VTM-0) and O-ring (UL 94 V-0) complement the non-flammable stainless steel body.
Durable performance in the field: PolyVent Stainless Steel provides a tight, reliable seal to the housing, withstands operating temperatures of -40 °C to +125 °C, and delivers reliable oleophobic and hydrophobic protection that meets rigorous industry standards such as IP69K.
Streamlined Design Enhances Integration and Protects Airflow
Lower installed height (5.65 mm), shorter thread length (8.5 mm) and lighter weight (9.25 g) provide more housing design flexibility, easier integration, and better protection from damage from mechanical impacts or steam jets.
Newly-designed and positioned vent-holes, along the top edge of the cap, make it nearly impossible for water to enter and become trapped inside the vent. The stainless-steel surface also encourages roll-off, to avert the possibility of membrane blockage that could interrupt airflow.
New PolyVent Stainless Steel (PMF200444) is now available, for premium-level defense against the toughest industrial and environmental hazards your applications encounter.
PolyVent Stainless Steel
Thread Size
M12x1.5
Product Number
PMF200444
Product Performance Characteristics
Typical airflow
1600 ml / min (dp = 70 mbar)
Laminate: membrane / backing material
100% ePTFE / no backing material
Membrane characteristic
Oleophobic
Vent body & cap: material
Stainless steel (1.4404 / 316L)
Vent body & cap: color
Metallic
Wrench size
18 mm
O-ring material
Silicone 60 Shore A
Counter nut: material / color / part number
Nickel-plated brass / M10510-008
Traceability
Yes: Individually laser-marked
Design and Dimensions
Units are in mm
Recommended Installation

Units are in mm

Install on a flat, vertical housing surface where water or other contaminants will not pool.
Install vent with cap on exterior of the housing.

Recommended torque
0.9 ± 0.3 Nm
Through-hole diameter
12.2 ± 0.1 mm