Reduce Failure. Enhance Yields.
New GORE® MEMS Protective Vents: Style 100 and Style 200
---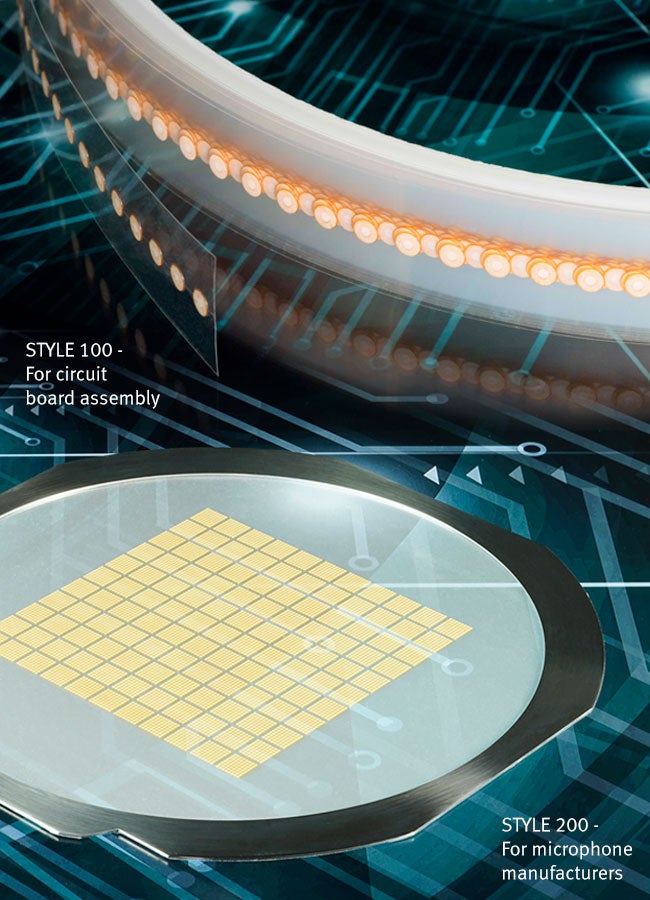 There are several technical challenges during high-volume assembly of printed circuit boards that can jeopardize the integrity of MEMS microphones. Gore's design and engineering teams have developed a unique solution – new GORE MEMS Protective Vents.
Current practices for protecting MEMS mic installations are limited by their susceptibility to yield loss. Many manufacturers fail to implement any solution for protecting the MEMS mic, which can leave the device vulnerable to contamination during the installation process; others choose to protect their MEMS mic with non-porous tape. This provision can be effective, however the non-permeable nature of this solution can lead to yield losses through damaging pressure build-ups.
Available in two formats designed to meet the specific needs of both circuit board assembly (Style 100) and microphone manufacturers (Style 200), and ready to handle multiple reflow cycles of up to 280 ºC for 40 seconds.
New GORE MEMS Protective Vents Style 100 and 200 also offer:
PARTICLE PROTECTION – reliable particle protection designed to reduce contaminants helping to secure the SMT process and helping manufacturers increase yields.
PRESSURE EQUALIZATION – the breathable ePTFE membrane allows gases to pass through the microphone port to mitigate pressure build-ups that may cause damage to the microphone.
IN-PROCESS TESTING – enables in-process testing of acoustic performance and improves process efficiency, by allowing manufacturers to monitor sound quality and permeability within the device.
Working directly with OEMs, microphone manufacturers and contract manufacturers, Gore has manufactured over 100 million GORE MEMS Protective Vents designed to handle the extreme stresses of high volume, high speed installation.
Watch our GORE MEMS Protective Vent video.
Style 100 - for circuit board assembly
Product performance characteristics
Part Number
VP0001MPX
Membrane Type
ePTFE
Membrane Characteristic
hydrophobic
Membrane Color
white
Minimum Airflow
10 l/hr @ 70mbar
Adhesive Type
silicone based
Adhesive Temperature Resistance
max. 260˚C for 3 mins
Style 200 - for microphone manufacturers
Product performance characteristics
Part Number
VP0002MPN
Membrane Type
ePTFE
Membrane Characteristic
oleophobic
Membrane Color
white
Minimum Airflow
6 l/hr @ 12 mbar
Adhesive Temperature Resistance
max. 280 ˚C for 40 seconds