Gore Earns High Rating in Human Rights Campaign Foundation's 2022 Corporate Equality Index
For the first time, Gore joins the ranks of 1,271 major U.S. businesses that were also ranked in the 2022 CEI.
---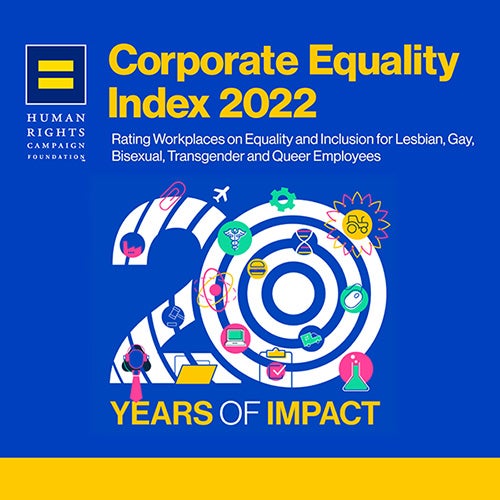 NEWARK, Del./United States (January 27, 2022) — W. L. Gore & Associates (Gore) announced today its first-ever appearance on the Human Rights Campaign (HRC) Foundation's Corporate Equality Index (CEI) for 2022, earning a score of 95 out of 100. The CEI is a leading U.S. benchmarking survey and report measuring organizational policies and practices related to LGBTQ+ workplace equality.
"As part of our ongoing commitment to fostering an inclusive workplace for all Associates, we are honored and humbled to earn placement on the 2022 CEI," said Bret Snyder, president and CEO. "While this marks a significant milestone in our diversity, equity and inclusion journey, it also serves as forward momentum as we continue to ensure equality for those who work with us, want to work with us and who do business with us." 
The CEI rates companies on criteria in four central areas:
Non-discriminating policies across business entities
Equitable benefits for LGBTQ+ workers and their families
Supportive an inclusive culture, and
Corporate social responsibility
Click here to learn more about Gore's DE&I efforts.
About Gore
W. L. Gore & Associates is a global materials science company dedicated to transforming industries and improving lives. Since 1958, Gore has solved complex technical challenges in demanding environments — from outer space to the world's highest peaks to the inner workings of the human body. With more than 11,000 Associates and a strong, team-oriented culture, Gore generates annual revenues of $3.8 billion. gore.com.
Media Contact