Gain the edge with greater contamination protection, deeper immersion capabilities and exceptional acoustic performance
Introducing GORE® Acoustic Vent - Product Model GAW342
---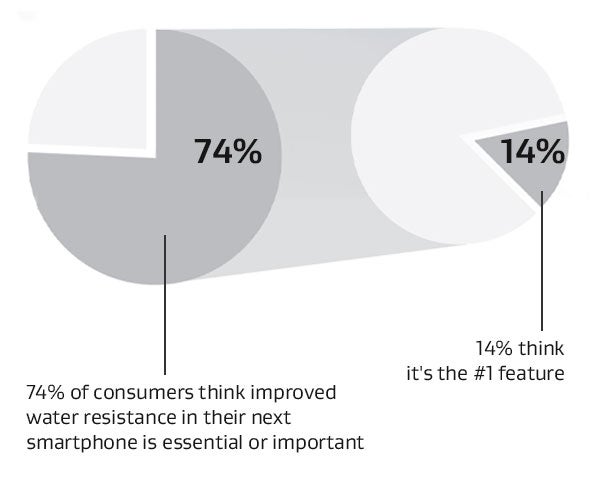 *Gore Market Study on Consumer's Perception of Water-Proof Phones, October 2019.
The new GORE® Acoustic Vents Product Model GAW342 lets you take your mobile devices to the next level with greater contamination protection and deeper immersion capabilities while maintaining excellent acoustic performance and consistency.
Recent studies show that 74% of consumers think improved water resistance in their next phone is essential or important. And 14% think it's the #1 feature.* Upping your game in this area by choosing this latest Gore solution can reduce customers' product returns and help you stand out from your competitors.
PROFIT FROM THE ADVANTAGES OF OUR NEWEST ACOUSTIC VENT ADVANCEMENT
Product Model GAW342 provides:
ENHANCED CONTAMINATION PROTECTION
Count on greater protection against coffee, soda and low surface tension liquids that can easily wet the protective membrane and compromise waterproof performance.
DEEPER IMMERSION PROTECTION
Your device microphones can be protected from water in depths of 5 meters for 30 minutes. That means our immersion protection is now deeper and more reliable than what the competition offers.
LOWER INSERTION LOSS AND VARIABILITY
This new model maintains exceptional acoustic consistency and low insertion loss as shown below:

Low acoustic loss and variability at typical design with inner diameter of 1.6 mm
Average insertion loss of less than 1.5 dB at frequency range of 100 Hz to 10 kHz
Standard deviation of insertion loss ≤ 0.3 dB at frequency range of 100 Hz to 10 kHz

PROVEN TRACK RECORD
No company has been trusted more than Gore to supply microphone and pressure venting products for mobile electronics supply chains. With billions of these components sold, we have an unmatchable track record.
Characteristics / Performance
Product model GAW342
IP rating (IEC 60529) a
Extended immersion test conditions
IP68
(5m water for 30 minutes)
Insertion loss at 1kHz(I.D 1.6mm) b
<1.3 dB
Membrane Type
ePTFE
Membrane color & characteristic
Black & Oleophobic
Support material
PET
Reference thickness c
0.31mm
Adhesive temperature resistance
-40°C to 100°C
Adhesive type
Acrylic
RoHS d
Meets requirements
a IP ratings for assembled devices depend on the design of the product housing.
b Average value tested using a typical MEMS microphone system. Design of the device will affect final performance.
c Nominal aggregate thickness of all layers (adhesives, membrane and support material) of finished part. Actual thickness may vary.
d To the best of our knowledge, the parts listed above do not have any restricted substances above the maximum concentration values listed in RoHS Directive 2011/65/EU and its amendment Directive (EU) 2015/863. Information is based on our current level of knowledge and does not constitute a representation or warranty beyond those contained in our standard terms and conditions.