Water Resistance Stimulates Smartphone Purchase
---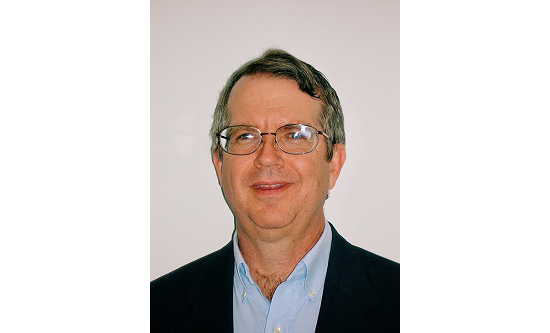 Jim Humphrys, Jim is the marketing leader for Gore Portable Electronic Vents, the global leader in vents for water protection of consumer electronic devices used in over 1 billion smartphones.  He has 40 years of engineering and marketing experience with manufacturers and service providers.
In the first issue, we looked at the survey results telling that smartphone ownership has significantly widen, becoming a must-have in our daily lives, and that smartphone water damage is common. The second issue covered another survey results that water resistance is essential in smartphone and that consumers prefer water resistance feature. In this issue, we analyze how important water resistance is in real purchase decision.
A survey on smartphone features generally asks this question: "What feature are you looking for the most in your next phone?" The responses are ranked based on the percentage of respondents who chose a specific feature. Sometimes they will ask for a 5-point rating of each attribute using a scale such as 'very important, important, neutral, low importance, not at all important.' Then the scores of 'very important' and 'important' are tallied up and converted into percentage.
With this traditional methodology, 12.5% of the respondents placed water resistance as their first choice out of each feature in their next phone purchase, and nearly 50% included it in their top 7 features. Only battery life had a larger percentage of respondents ranking it as the number 1 feature. This itself is a strong signal about the importance of water resistance.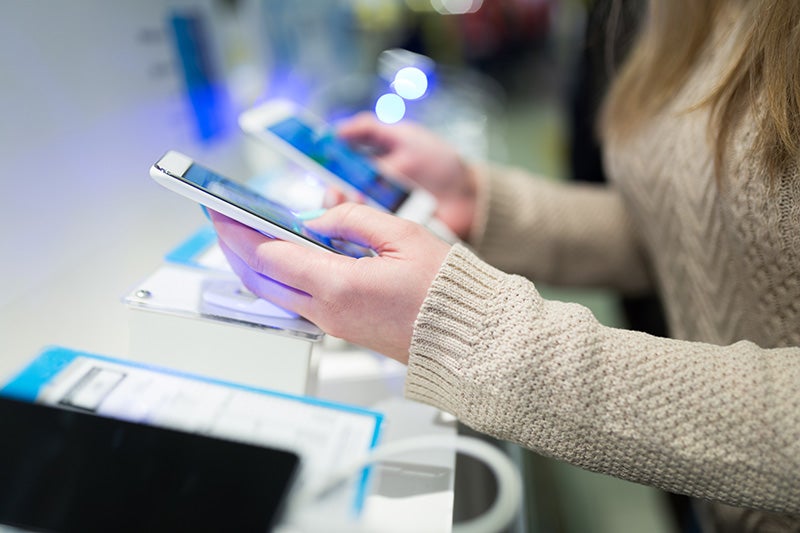 Strong Preference for Water Resistance and True Importance of the Feature in the Smartphone Purchase
The survey methodology stated above may be appropriate when it comes to simply analyzing the importance of a feature, but it may fail to draw accurate inferences on what factor effectively leads to purchase since the features of a smartphone is not the only factor that stimulates consumer's purchase; other external factors such as price also affects their choice.
To address the weakness of such typical surveys and to understand the true importance of water resistance in the smartphone purchase, Gore commissioned a leading market research firm to utilize a sophisticated technique called ACBC (Adaptive Choice-Based Conjoint). They analyzed consumer preference by first screening brand, price, water resistance, and 13 other features that consumers considered ideal whether they are 'unnecessary' or a 'must-have', then comparing them with other alternative phones. The ACBC was conducted on 300 consumers of major brands in each country, and the research firm weighted the results by brand share, age, and gender.
Study Confirms: After Brand and Price, Water Resistance has the Greatest Impact on the Purchase Decision and Consumers are Willing to Pay More for the Feature
As we expected: ACBC analysis found that the average importance of brand and price was 30% and 25% respectively, representing the biggest impact on smartphone purchase. After brand and price, of all the other features tested, phones with water resistance had the greatest impact on the purchase decision (with 9%.) The next closest feature, battery life had an importance of 4%, which was almost half of the impact water resistance had.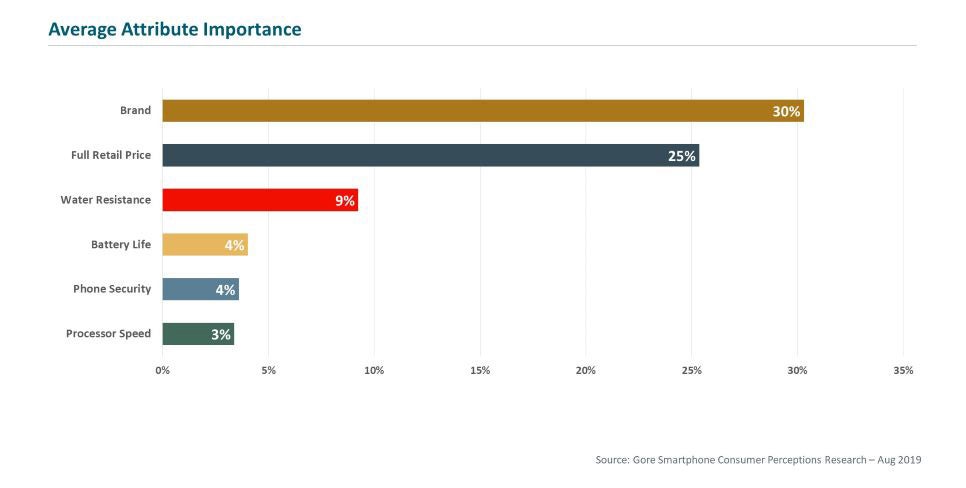 The Gore study also evaluated how much more consumers were willing to pay for each feature. Willingness to pay for phone capable of 'long water immersion' was rated the highest of all features. Consumers were willing to pay more for a phone with long water immersion capability than a phone that could last for 2 additional days without recharging, or a phone with better optical zoom, stabilization, and low-light shooting.
The study also suggested that the higher the anxiety level, the higher the willingness to pay. When we segmented the responses based on 'worried about a water event', those who were 'very worried' were willing to pay about double what consumers who were 'not worried a bit' were willing to pay. Even those who answered 'not worried a bit' were willing to pay more for long water immersion than for nearly all of the other features tested.
The increased value and preference for water protection has great implications for smartphone makers who are struggling with what to bring to the market to provide a better experience to their customers and achieve stronger financial results.
While smartphones OEMS introduce models with higher resolution cameras or faster processors, our data suggests consumers would buy more phones if the OEM added water resistance.
Gore commissioned a leading market research firm to conduct a survey of 5400 consumers in four countries (China, India, US and Korea) focused on smartphone ownership/usage patterns and attitudes about smartphone water resistance. An advanced statistical approach (adaptive choice based conjoint) was used to isolate and quantify the impact of 14 product features including brand, price and water resistance on the smartphone purchase decision. The survey was fielded in July/August 2019. Learn More
About Gore
W. L. Gore & Associates is a global materials science company dedicated to transforming industries and improving lives. Since 1958, Gore has solved complex technical challenges in demanding environments — from outer space to the world's highest peaks to the inner workings of the human body. With more than 10,500 Associates and a strong, team-oriented culture, Gore generates annual revenues of $3.7 billion.