As smartphones become more powerful and more expensive, consumers are holding onto their phones longer.
---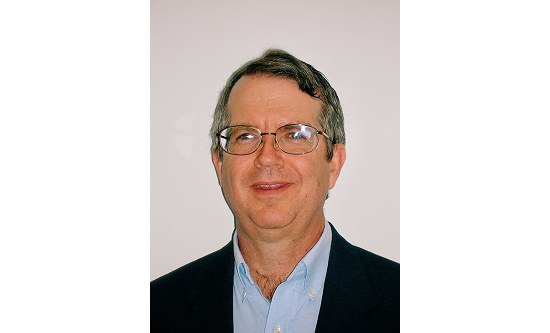 Jim Humphrys, Jim is the marketing leader for Gore Portable Electronic Vents, the global leader in vents for water protection of consumer electronic devices used in over 1 billion smartphones. He has 40 years of engineering and marketing experience with manufacturers and service providers..
In the first issue, we looked at the survey results telling that smartphone ownership has significantly widen, becoming a must-have in our daily lives, and that smartphone water damage is common. The second issue we cover another survey results that water resistance is essential in smartphone and that consumers prefer water resistance feature.
In 2018, US smartphone owners used their phones for 24.7 months on average before upgrading, up nearly 2 months compared to 2 years ago, according to the data from market research firm Kantar Worldpanel. In the China, the life cycle of a smartphone was extended to 21 months from 20.2.  According to Strategy Analytics research, US smartphone replacement cycle in 2018 increased to 33 months, and many consumers plan to keep their phones for 36 months or more.
With the launch of new products and increasing of its prices, consumers seem to be waiting longer before upgrading to new smartphone or concerned about not breaking their smartphones due to the high price of new ones.
Consumers Worry about Smartphone Water Protection
While phones are no longer replaced every year, consumers want their phone to survive daily incidents and worry that it might not survive. A 2018 Kantar Worldpanel study identified a fear among American consumers of losing personal data - photos, videos, messages, music. As we saw in the previous report, across the globe smartphone water related incidents often resulted in inoperable phones and loss of personal data. Gore's research found that consumers regularly engage in activities with their phones where water is near.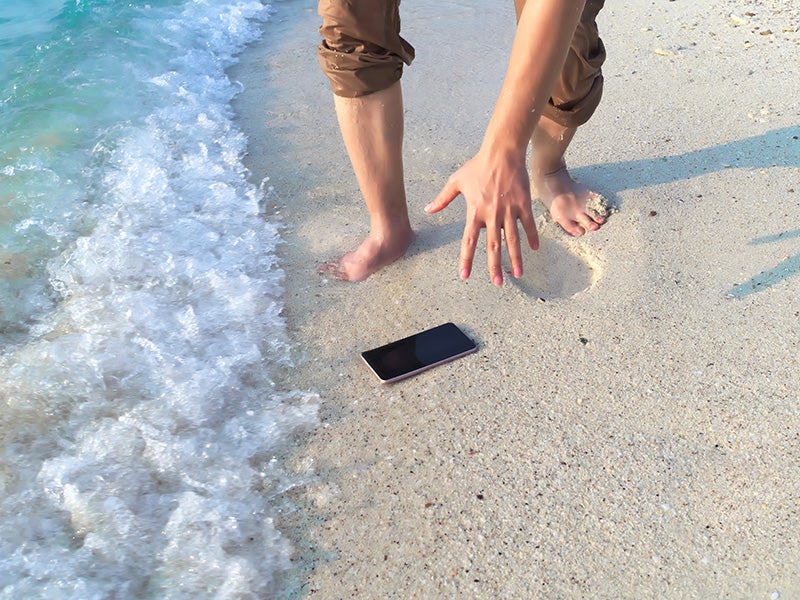 59% reported their phone was exposed at least once per month in activities where water is present. Overall 82% reported their phones were exposed to situations where water is present at some time during the year.
As a result of these factors, most consumers (82%) worry to some degree about protecting their phones from rain, splash, or being immersed in water, with 35% quite/very worried. When thinking about protecting their children's phones, 50% were quite/very worried. In India, the number of consumers who were quite/very worried about their phone's water protection rose to 60%.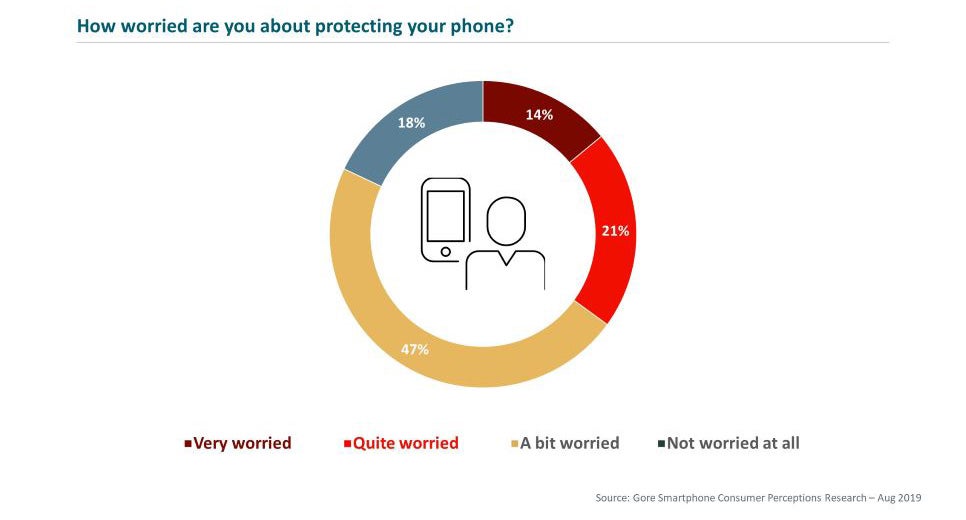 Water Resistance is an Essential Feature for Consumers Next Smartphone
It isn't surprising then that when asked what new or improved feature they want in their new smartphone compared to the current one, 74% of the respondents to the Gore Survey, rated improved water resistance as essential (36%) or important (38%). The interest was stronger for consumers using their mobile phones 24/7, with 41% considering it essential and 37% important.  Also, consumers who had a water related incident in recent years were more likely to say water protection was essential (41%) than those who were more fortunate (33%). Across income levels, the preference for water protection did not diminish for household incomes at or below the median.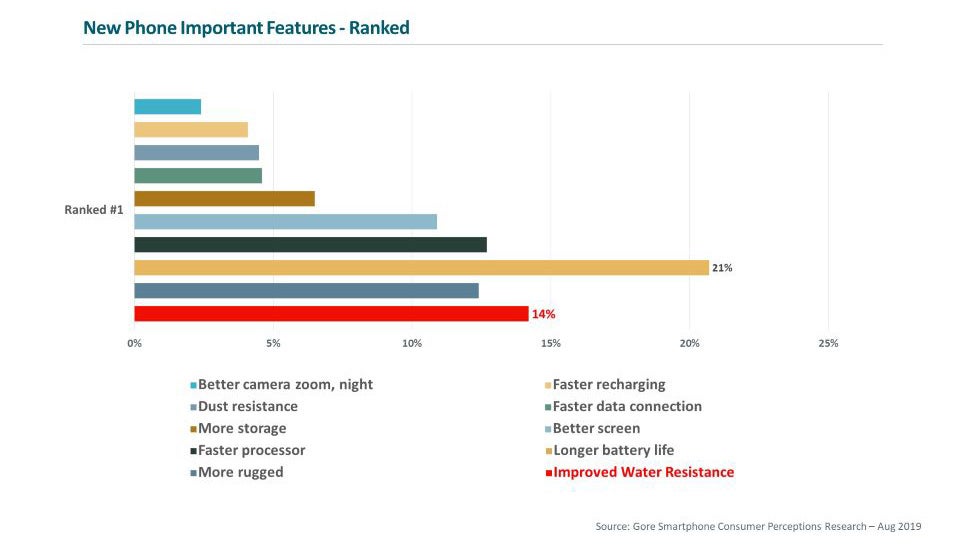 When asked to select the most important new or improved feature they wanted in their next smartphone, 14% consumers selected "improved water resistance". Of all the features tested, only longer battery life was ranked first by more people (21%).  For consumers who had experienced a water incident in the past year, 18% selected "improved water resistance" as their highest ranking feature. In China, India, and US, consumers that had a water incident in the past year ranked improved water resistance as their first choice more often than they selected improved battery resistance. 
Overall, many consumers expect their next smartphone will contain water resistance capabilities and survive common events.  They expect their next smartphone will be able to survive and still work even when splashed in a rainstorm (42%), dropped in the toilet or sink (32%), or submerged for a minute in a pool (27%). In China, the numbers were higher –submerged for a minute in a pool (38%) and dropped in toilet or sink (37%).  Another indicator of the importance of water protection was that 70% of respondents agreed that consumers are wise to by a water resistant phone (29% strongly, 41% somewhat agree).
Consumers Expect All Smartphones to Be Water-Resistant
Most consumers (75%) believe smartphone manufacturers should make all their smartphones water resistant (strongly agree 38%, somewhat agree 37%)  The survey also found an emotional connection between the phone brand and water protection.  62% of the respondents agreed that phone manufacturers that offer only water resistant phones care more about their consumers (strongly agree 25%, somewhat agree 37%).
In the next report, we will take a closer look at how much inclusion of a water resistance feature impacted a simulated smartphone purchase process.
Gore commissioned a leading market research firm to conduct a survey of 5400 consumers in four countries (China, India, US and Korea) focused on smartphone ownership/usage patterns and attitudes about smartphone water resistance. An advanced statistical approach (adaptive choice based conjoint) was used to isolate and quantify the impact of 14 product features including brand, price and water resistance on the smartphone purchase decision. The survey was fielded in July/August 2019. Learn More
About Gore
W. L. Gore & Associates is a global materials science company dedicated to transforming industries and improving lives. Since 1958, Gore has solved complex technical challenges in demanding environments — from outer space to the world's highest peaks to the inner workings of the human body. With more than 10,500 Associates and a strong, team-oriented culture, Gore generates annual revenues of $3.7 billion.