As smartphone usage increases, consumer attitudes are changing to demand more protection.
---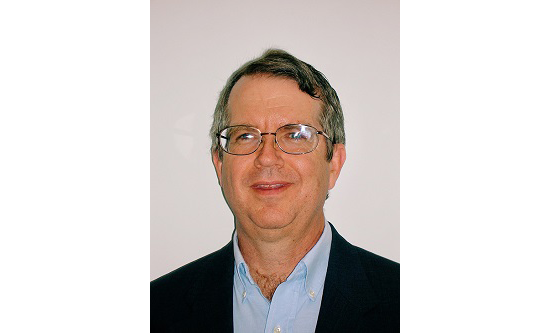 Jim Humphrys, Jim is the marketing leader for Gore Portable Electronic Vents, the global leader in vents for water resistance of consumer electronic devices used in over 1 billion smartphones. He has 40 years of engineering and marketing experience with manufacturers and service providers.
W. L. Gore & Associates, a global leader in environmental protection of smartphones conducted a survey last year of 5,400 consumers in 4 countries, regarding their smartphone usage patterns and behavior and attitudes.
With the continuously increasing reliance on smartphones worldwide, Gore wanted to investigate our key questions about smartphone owners' daily behavior and evolving needs; How severe would consumers' inconvenience and anxiety be if the smartphone they carry around 24/7 is damaged and all their personal data are lost? What are the main reasons consumers experience smartphone damage, and how would this ultimately impact which brand smartphone they choose?
Smartphone ownership continues to grow
By the end of 2019, 5.2 billion worldwide, accounting for 67% of the entire global population, was using mobile services, according to GSMA Mobile Economy 2020.
Pew Research reported in 2019 shows that a median of 76% of adults across 18 advanced economies reported owning a smartphone.  South Korea led with 95% ownership and the United States had 81%.  Many European countries had ownership rates above 70% (Germany, UK, France, Italy) with some exceeding 80% (Netherlands, Sweden, Spain). In 9 emerging economies, the median smartphone ownership rate is 45%, with India reporting the lowest rate (24%) among the surveyed countries.
Is Consumers Today Rely on their Smartphones better?
People now take their smartphones with them constantly. According to Gore research, 68% of respondents kept their phone 24/7 with them, and 28% said they take it with them when they leave the house.
The frequency of smartphone usage is also high. According to research done by Kantar in 2018, more than half of all Americans check their smartphones every few minutes and more than 80% use their smartphones to buy online. This trend is consistent in emerging economies too. Pew Research found in its 2019 survey that 82% send text messages, 61% look up health information, 39% look for or apply for a job and 32% buy or sell goods online via smartphones.
Rising Smartphone Reliance Comes with Rising Anxiety
Eighty-three percent of respondents to the Gore Survey found it difficult to carry out regular activities if smartphone were not available (impossible to live without 26%, very difficult to carry on without 40%, difficult to carry on without 17%).
There also were anxieties about the smartphone breaking down. Respondents reported that their greatest concerns if their smartphone stopped working were: loss of personal information (51%), inability to communicate with family and friends (50%), not reachable for emergencies (46%), and can't access the internet (41%). Forty-two percent of the respondents said they would purchase a new smartphone within a day if their phone stopped working.
Smartphone Water Incidents are Common
In 2016, IDC reported that liquid damage is the second largest cause of damaged smartphones and estimated that 900,000 smartphones were damaged by liquids every day.  Similarly, Squaretrade in 2018 found that for 39% of U.S. owners with damaged smartphones, the cause of the damage was dropping the phone in water. [Dropping the phone on the ground was the leading cause of damage (74%).]
Gore's research also found that smartphone water incidents are common.  In the last year, 42% of respondents said there was a smartphone water-related incident in their household. The number rose to 50% and 44% in India and China, respectively.
After a smartphone water related incident, nearly half become Inoperable
Sometimes (19%) after a water-related incident, the smartphone didn't have a problem or worked fine after drying out.  For most respondents (81%), the phone was never the same after a water-incident.  Some consumers (35%), said the phone worked again, but with problems.  More people (46%) reported their smartphone was inoperable after a water-incident and had to be replaced.  Korean consumers had the fewest inoperable phones (36%), while India had the most (58%).
According to our research, the damaged smartphone was usually (71%) replaced with the same brand of phone, but 26% of respondents selected a different brand.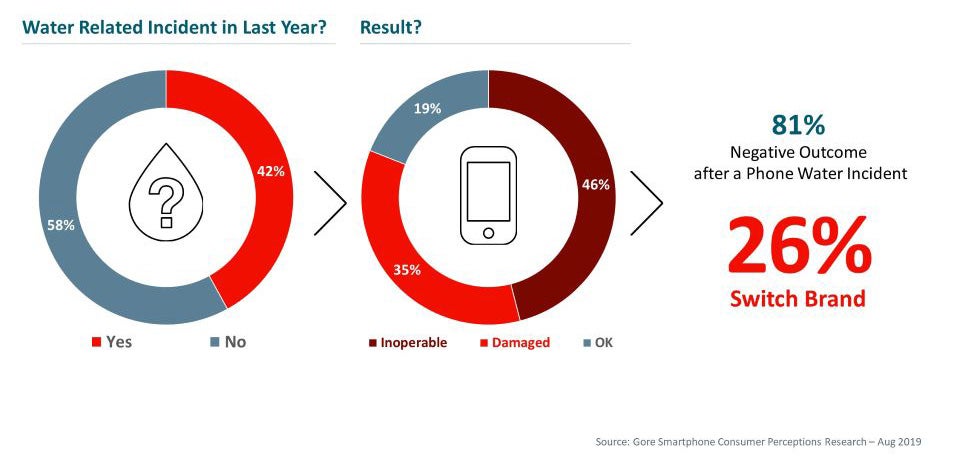 In summary, Gore research shows that water incidents with smartphones is common (42% in the last year) and when incidents occur most consumers (81%) have a bad outcome (35% malfunction, 46% inoperable). This translates to 34% of households having a negative experience with their smartphones in the last year and 19% having to replace their smartphone.  Based on this data, we estimate that an average of 5% of households across China, India, United States, and Korea switch brands each year due to water related incidents.      
(2nd Issue Teaser) Is water resistance in smartphones essential? This report looks into consumer expectations on smartphone water resistance.
Gore commissioned a leading market research firm to conduct a survey of 5400 consumers in four countries (China, India, US and Korea) focused on smartphone ownership/usage patterns and attitudes about smartphone water resistance. An advanced statistical approach (adaptive choice based conjoint) was used to isolate and quantify the impact of 14 product features including brand, price and water resistance on the smartphone purchase decision. The survey was fielded in July/August 2019. Learn More
About Gore
W. L. Gore & Associates is a global materials science company dedicated to transforming industries and improving lives. Since 1958, Gore has solved complex technical challenges in demanding environments — from outer space to the world's highest peaks to the inner workings of the human body. With more than 10,500 Associates and a strong, teamoriented culture, Gore generates annual revenues of $3.7 billion.