Join Gore at the 2022 PDA Universe of Pre-Filled Syringes and Injection Devices Conference
October 18, 2022 - October 19, 2022
Palm Springs Convention Center
Palm Springs, CA
Visit the Gore team in the Exhibit Hall at Booth 608 to learn more about GORE® IMPROJECT® Plungers. By eliminating the need for silicone in both the barrel and plunger, this innovative solution protects sensitive biologics in glass pre-filled syringes (PFS).
---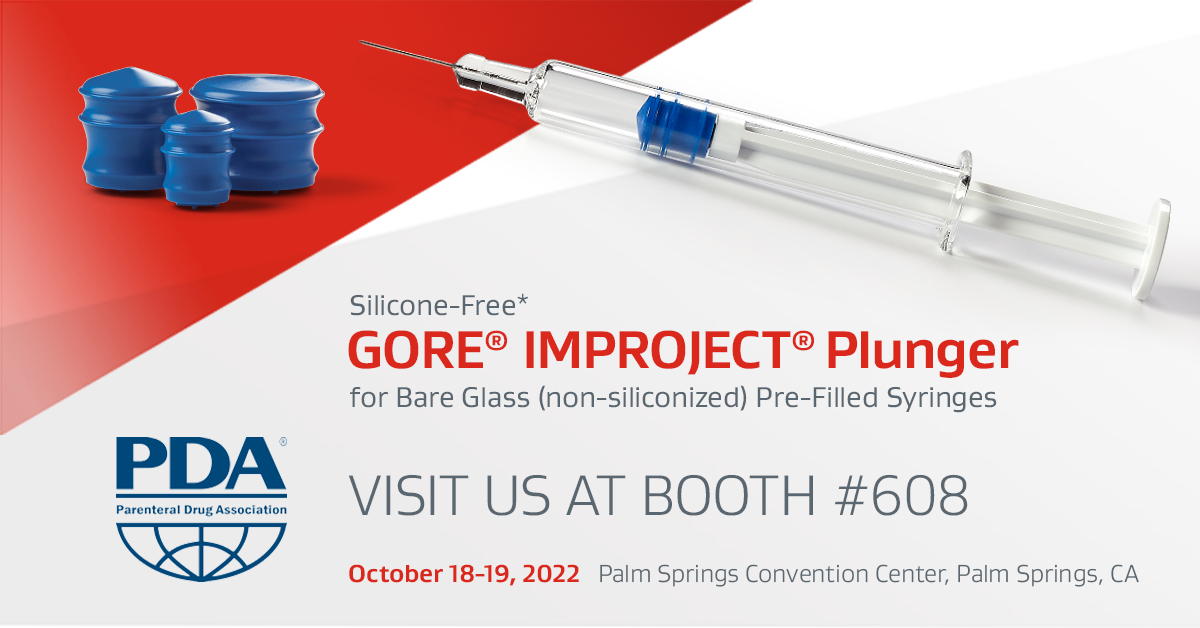 Don't miss the Gore team at these conference events:
Coffee Time — Pick up a Gore mug and meet the team at our sponsored coffee hour on Tuesday, October 18th, from 10:00-10:45 AM in the Exhibit Hall.
Presentation — Attend our breakfast session on Wednesday, October 19th, at 7:35 am Breakfast 1: Silicone-Free Solutions for Pre-filled Syringes
Vetter and Gore will jointly present "A Case Study in Fill-and-Finish Machinability of Silicone-free Pre-filled Syringe Components" to inform attendees about the challenges posed by processing silicone-free components on fill-and-finish lines and how to overcome them. The presenters will share functional and stability data for syringes filled on a commercial fill-and-finish line.
Presenters:
Joerg Stumbaum, Project Manager, PPS&P, Vetter

Chuck W. Seipel, Product Specialist, W.L. Gore & Associates
GORE IMPROJECT Plungers Offer a New Solution for Safer Drug Delivery
Today's complex biologics, such as monoclonal antibodies and conjugate vaccines, can be vulnerable to silicone-induced protein aggregation, particle formation, and drug product precipitation. In addition, over time, silicone migration can impact consistency of delivery, as it may change break loose/glide force (BLGF) and injection time. As a result, many biopharmaceutical manufacturers are actively seeking ways to address these issues related to silicone sensitivity.
Used with bare glass (non-siliconized) barrels, these silicone-free plungers provide consistent drug delivery performance over time and can protect complex or sensitive biologics from silicone-induced aggregation and particulation. For the first time, GORE IMPROJECT Plungers enable glass syringe manufacturers to eliminate silicone from both plunger and barrel in their PFS systems.
* Silicone is not a raw material, and is not used in the manufacture of the plungers