Military and defense teams, government officials and industry experts attended this year's international meeting and expo held at the Walter E. Washington Convention Center in Washington, DC. Leading manufacturing and technology companies, like Gore, showcased state-of-the-art products for the US Army. From armored vehicles, rotary-wing helicopters and unmanned aircraft to reconnaissance satellites, ground defense radar, and soldier-worn gear.
Gore's booth drew large crowds of visitors who explored our high-performance solutions and talked with our specialists for assistance in helping them solve their complex challenges now and for the future. Aviation platforms like cockpit displays, airframe surface and sealing protection, EO/IR (electro-optical infrared) surveillance and sensor systems, countermeasures, and uniform fabrics are among the diverse applications that Gore supports for the US Army. Media outlets also stopped by Gore's booth to interview our specialists, including Military & Aerospace Electronics, Military Embedded Systems, Military.com, and Tech Briefs.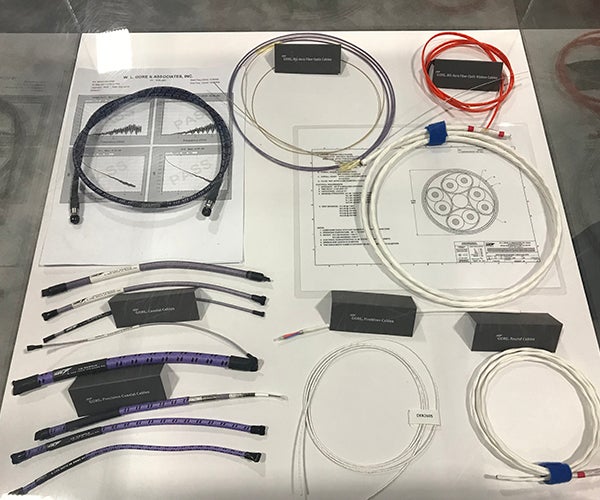 Gore's high-speed data cables and high-frequency microwave/RF assemblies.
Highlights included our vast collection of cables and cable assemblies proven to transmit more power, higher speeds, and precise high frequencies without failing in critical systems. Always a show-stopper at these big events, visitors were impressed with our small, lightweight, highly flexible and extremely rugged assortment with many connector options that support open-source architecture and standard protocols. Our Ethernet Cat6a cables recently earned the gold award for product and system-level innovation from the Military & Aerospace Electronics Innovators Awards program.
OEMs and military teams also showed much interest in our lightweight GORE™ SKYFLEX™ Aerospace Materials because they're non-curing, reduce installation process steps, simplify aircraft assembly, increase aircraft availability, and expedite maintenance. They discussed with our specialists how Gore's dry tapes and gaskets could help them solve real-world sealing and surface protection challenges in helicopter airframes.
Hot off the show floor, Gore unveiled a new offering in its Advanced Combat Fabrics line for soldiers. Excalibur is a new uniform fabric designed for both comfort and durability in hot-to-cold weather. Also part of the line, Katana took center stage and generated much attention from visitors and media outlets. Developed for wear in extremely hot, tropical climates, our revolutionary military uniform fabric was featured in the National Defense Magazine.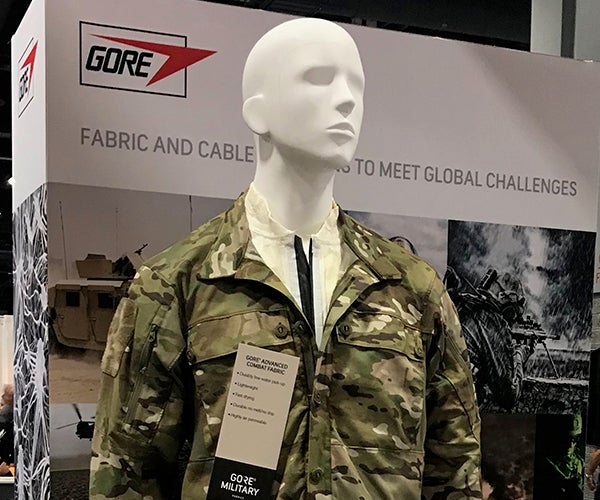 Gore's Advanced Combat Fabrics for soldiers.
We also featured our new ChemBio protective garment, GORE CHEMPAK with Stretch Technology is used in the CPCSU-2 and built for comfort while providing durable protection against a broad range of chemical and biological hazards in liquid, vapor and aerosol form. 
Gore also held a daily raffle to win a GORE-TEX® jacket that was very popular among visitors. And, an Army ranger helped our specialists with the blind drawing during one of the raffles. 
Also at the expo, OEMs showcased full-scale models, like Boeing's V-280 Valor, Airbus's UH-72, and the LMCO/Sikorsky Raider developed for the US Army's Future Vertical Lift (FVL) program. BAE Systems premiered its new Armored Multi-Purpose Vehicle (AMPV) and Bradley Fighting Vehicle equipped for air defense. The latest in armored vehicles included the new Stryker Dragoon and Oshkosh's Joint Light Tactical Vehicle (JLTV).
This year's expo was an overall success for Gore, and we look forward to showcasing the many innovative products that we continue to develop for the US Army in 2018, so come our booth next year!