Visit Gore at the 2018 Farnborough Airshow in Hall 1, Booth 1265!
We're Exhibiting High-Performance Solutions — Proven & Trusted For Decades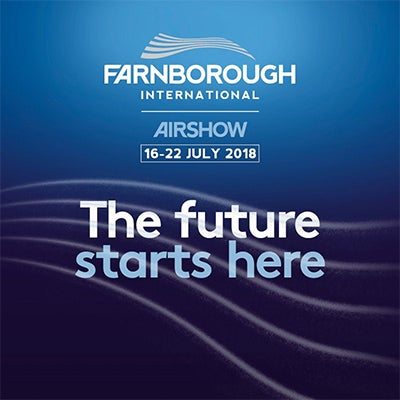 At Gore, we can help start your future with our high-performance solutions that have been proven and trusted for decades in the real world. At this year's airshow, we'll exhibit our vast collection of cables, materials and fabrics that ensure you'll stay connected, protected and safe — whether you're a pilot, astronaut, passenger or other military personnel.
Take Off & Stay Connected in the Air or Space
World travelers, aviators and aircrews expect to stay connected to critical systems, IFE and portable devices; upload/download content quickly; and view displays in high definition. Manufacturers want compact cables and materials that can handle difficult aerospace environments to last longer and cost less.
We're reshaping the future of modern avionics with our advanced solutions in durable, low-profile and highly flexible designs that can easily tolerate the most challenging conditions imaginable in the air and space. Products like our Ethernet Cat6a cables and GORE-FLIGHT™ Microwave Assemblies, 6 Series continue to win awards every year.
Our high data rate cables transfer loads of content at high speeds without failing while supporting the latest open-source architectures and standardized protocols, like USB, HDMI, fiber optics and more. Our power/signal delivery cables ensure constant power distribution and quality signals with optimized shielding for the highest bandwidth and lowest skew in sophisticated aircraft and spacecraft systems.
Whether used in lab, field test or flight environments, our rugged coaxial & microwave/RF solutions routinely maintain low loss, consistent phase/amplitude stability, and outstanding shielding effectiveness in critical electronics — after installation and over time.
Specified by leading civil and military aircraft OEMs, GORE™ SKYFLEX™ Aerospace Materials are proven to solve many sealing/surface protection challenges. These lightweight, non-curing tapes and gaskets simplify aircraft assembly, increase throughput, and reduce life-cycle costs with seals that can withstand multiple open/close cycles. At our booth, we'll display our sealants installed on a section of an aircraft wing.
Stay Protected & Comfortable During Missions
Armed forces are routinely exposed to harsh weather conditions, fluctuating temperatures, hazardous chemicals/fluids and flames during missions. They want clothing and footwear that can keep them well protected and comfortable against these extreme environments to stay focused on completing their missions.
GORE® Military Fabrics like our new GORE-TEX® PYRAD® MTP Rainsuit for fixed and rotary crews provides durable waterproof, windproof, breathable and flame protection. Our rainsuit has been specified and tested by the UK Royal Airforce (RAF). Our lightweight Uniform Integrated Protective Ensemble, Increment 1 (UIPE I1) made with GORE® CHEMPAK® Selectively Permeable Technology provides a unique combination of chemical/biological (CB) protection and reduced thermal burden.
Our clothing and footwear maximize protection and comfort, so armed forces stay dry and safe for improved operational readiness and effectiveness. Proven next-gen fabric technologies the military has come to trust and depend on for many years.
Stop by for Happy Hour!
Come by Hall 1, Booth 1265 for Happy Hour on Tuesday, 17th July at 4:00 pm to enjoy a few drinks and snacks with us. Email Gail Smith-Berry to RSVP for Happy Hour and schedule an appointment with one of our specialists during the airshow to find out how we can help start your future!