Government officials, military teams, and industry experts from all over the world attended this year's worldwide review held at the Eccles Center in Ogden, Utah. They came to see leading manufacturing and technology companies like Gore, Lockheed Martin, Northrop, Boeing and more exhibit their latest capabilities and solutions for F-16 and other proven aircraft. 
During the two-day event, many attendees stopped by Gore's booth to see our extensive collection of high-performance cables and materials for military aircraft applications. Our specialists met with leading OEMs and global military teams to discuss how we can help them solve some of their biggest challenges now and for the future.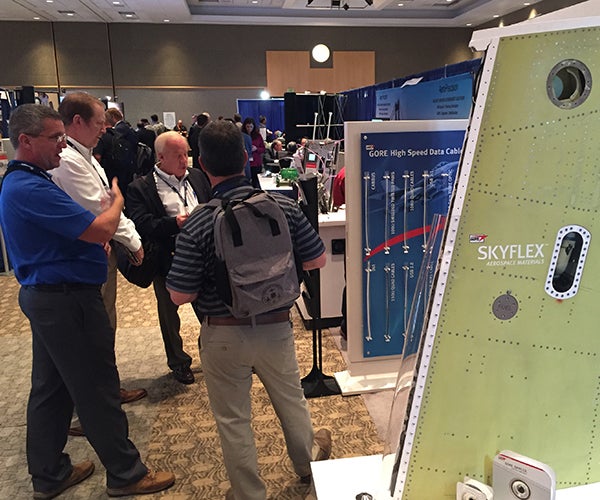 Gore's dry sealants displayed on a section of an aircraft wing.
Highlights included GORE™ SKYFLEX™ Aerospace Materials. These aircraft sealants generated a lot of attention from OEMs and military teams because they simplify aircraft assembly and repair. These tapes and gaskets are lightweight and non-curing with fewer installation steps, so visitors were impressed with how our materials can reduce their processes, increase aircraft availability, and expedite maintenance.
On display we had an aircraft wing that showed visitors how our dry sealants are more durable and can reduce maintenance time compared to Polysulfide FIP (Form-In-Place) wet seals. OEMs and military teams also discussed with Gore specialists how we can help them solve real-world aircraft sealing and surface protection challenges.
GORE™ SKYFLEX™ Aerospace Materials are readily available and authorized for use in military aircraft. Visitors found our F-16 Application Guide useful because it includes examples using our tapes and gaskets, specific T.O. approvals, material requirements, and locations for installing our materials. We also offer a NSN (National Stock Numbers) Reference Guide to make it easier when ordering our materials for military aircraft such as the  F-16 and more.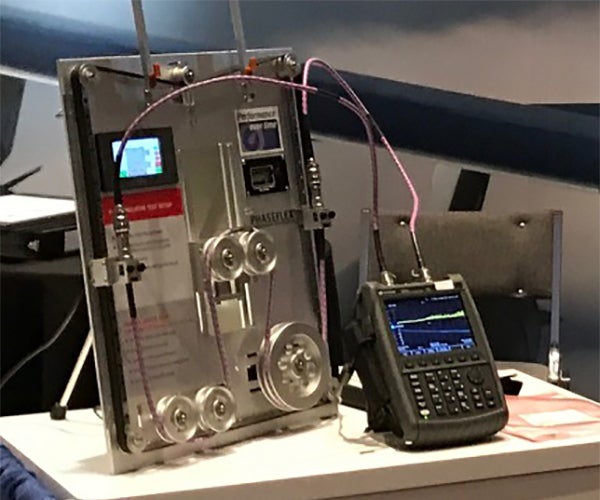 Gore's flex simulator showed the high flexibility and durability of microwave/RF assemblies.
Our flex simulator captivated a large number of visitors who continued to stop by throughout the event to see how many flexes our cables can withstand over a long period. We designed the simulator to evaluate the durability and stability of microwave/RF assemblies in real-world conditions, like lab and field test environments, during and after installation, and in flight over time.
Finally, Gore's display of high-speed data cables was also popular, particularly with OEMs, as the industry continues to demand cables in military aircraft that can transmit higher data rates over longer distances. We offer a variety of small, lightweight, highly flexible yet durable cables with many connector options that support new and standard protocols such as Ethernet, Fiber Optics, HDMI, USB and more.
We look forward to exhibiting our aerospace capabilities and solutions for F-16 fighter aircraft at the 2018 worldwide review, so stop by and see us next year!