GORE® LOW DRAG Filter Bags — Low Emissions, Lower Pressure Drop, Longer Bag Life and Stable Operation in TiO₂ Production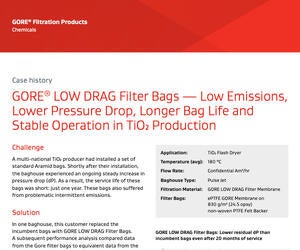 Case Studies, English
A multi-national TiO₂ producer had installed a set of standard Aramid bags. Shortly after their installation, the baghouse experienced an ongoing steady increase in pressure drop (dP).
As a result, the service life of these bags was short: just one year. These bags also suffered from problematic intermittent emissions. Learn how Gore helped solve the issues.
---
FOR INDUSTRIAL USE ONLY
Not for use in food, drug, cosmetic or medical device manufacturing, processing, or packaging operations.