Data Sheet: GORE® Fiber Optic Ribbon Cables for Aircraft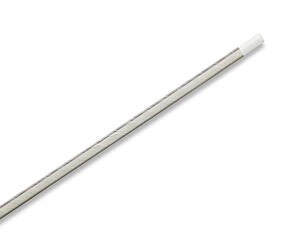 Data Sheets, English
Supporting system designers and engineers, W. L. Gore & Associates offers GORE Fiber Optic Ribbon Cables for Aircraft, which are proven to withstand the volatile conditions experienced by aircraft everywhere. They're available in three versions, each ruggedly manufactured to optimize performance and maintain high-speed communications up to 12 channels on avionics digital networks. Gore's ribbon cables are suitable for a variety of commercial and military applications, ranging from inside-the-box to outside the aircraft.
---
Cable Performance and Specifications
GORE Fiber Optic Ribbon Cables for Aircraft are engineered with a unique buffering system, which is durable enough to provide reliable protection in difficult environments. With a compact design and small bend radius, these multi-mode ribbon cables increase flexibility and simplify the installation process in cramped aircraft areas, saving valuable time and resources. They also offer other benefits compared to alternative products, such as:
Consistent Signal Integrity
Gore's ribbon cables bring consistent signal integrity with low optical loss to aircraft systems, offering uninterrupted data transmission long after alternatives have succumbed to harsh conditions.
Reliable Contact-Connector Options
Unlike other options, our aviation cables fit a variety of standard high speed aerospace and defense MT connector systems and backshells, including Amphenol®, COTSWORKS®, Glenair® and Radiall. For exact part numbers, tooling information and termination instructions, contact the specific manufacturer.
Meeting Rigorous Standards Across Several Applications
Like every product we manufacture, GORE Fiber Optic Ribbon Cables for Aircraft are rigorously tested and pre-qualified to ensure that they meet strict standards, including the following:
ABD0031 (AITM 2.0005); BSS7230; FAR Part 25, Appendix F, Part I: Flammability

ABD0031 (AITM 3.0008B); BSS7238; FAR Part 25, Appendix F, Part V: Smoke Density

ABD0031 (AITM 3.0005); BSS7239: Toxicity

MIL-STD-202, Method 103: Humidity

MIL-STD-810, Method 509: Salt Fog

MIL-STD-810, Method 510: Sand and Dust
Their compliance makes Gore's high data rate ribbon cables an ideal match for avionics digital networks, digital video systems, Ethernet backbone usage, flight management systems, transceivers and weather radar systems.
How to Order GORE Fiber Optic Ribbon Cables for Aircraft
GORE Fiber Optic Ribbon Cables for Aircraft are available in standard sizes through a number of distributors. Gore's part numbers include the following and are identified by an asterisk designating the core type followed by an asterisk designating the number of fibers (i.e., 4, 8, or 12):
FON1214/1/*
FON1214/2/*
FON1214/4/*
FON1214/5/*
FON1214/6/*
FON1256/*/*
FON1551
FOA8100/*/*
Tested, prequalified complimentary samples could also be available for this product within 48 hours of your request. For more information about Gore's ribbon cables, other fiber options and core types, contact a Gore representative for civil aircraft or defense aircraft today. We'll be happy to discuss your exact application and the specific characteristic limits you require, as well as recommend any other Gore solutions for aerospace and defense that may benefit your application.
Amphenol is a registered trademark of Amphenol Corporation.
COTSWORKS is a trademark of COTSWORKS, LLC.
Glenair is a registered trademark of Glenair, Inc.
FOR INDUSTRIAL USE ONLY
Not for use in food, drug, cosmetic or medical device manufacturing, processing, or packaging operations.