Data Sheet: GORE® Ethernet Cables (4 Pairs, Cat5e/6/6a) for Aircraft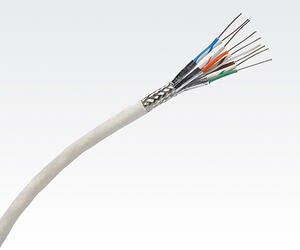 Data Sheets, English
Modern aviation relies on increasingly sophisticated digital networks. As the demands of these networks rise with new advances in aerospace technology, GORE Ethernet Cables (4 Pairs, Cat5e/6/6a) for Aircraft from W. L. Gore & Associates provide the fast speeds and excellent signal integrity needed to support critical systems. And with a unique design that reduces size and weight, our Ethernet cables are easy to install and maintain, even when space is at a premium.
---
Cable Performance and Specifications
Our Ethernet cables are designed with speed and signal integrity in mind. In fact, the 2017 Military & Aerospace Electronics Innovators Awards Gold Honoree award-winning Cat6a cables maintain clear transmission with speeds up to 10 Gb at lengths up to 80 m (262 ft) for outstanding performance. The small design is ideal for routing and weight-saving, while its high-density, multi-layer construction, including an engineered fluoropolymer jacket, is environmentally friendly.
A unique design also yields a significant reduction in size over competing cables, offering a cable that is 24% smaller and 25% lighter than alternatives. This slender diameter facilitates routing in compact spaces and makes maintenance quick and easy.
In addition to their speed and size, GORE Ethernet Cables (4 Pairs, Cat5e/6/6a) outperform several leading alternative cables with:
Improved performance
The performance of GORE Ethernet Cables (4 Pairs, Cat5e/6/6a) offers a more reliable data transmission, as well as vastly better insertion loss to crosstalk ratio. It all adds up to providing an additional margin that helps overcome installation issues and operational challenges.
Crosstalk and interference reduction
Our unique cable design has shown to reduce crosstalk – right out of the box – by more than 10dB at 500MHz when compared to competing cables. Among multiple electronic systems, Gore's Cat6a cable also enhances signal integrity by reducing RF interference by up to 20dB at higher frequencies. These benefits can be proved by our innovative design, which provides better noise immunity and less EMI emissions vs. alternative cables.
Connector-cable compatibility
To assist designers in selecting the best option for a specific application, Gore tests connector-cable compatibility during the initial design process to ensure reliable interconnectivity.
Simulator
To evaluate the effects of severe bending on high-speed data cables while being routed through an airframe, we developed a simulator. It verifies whether a cable can withstand the complex challenges of installation that can degrade signal integrity. Based on the results, Gore's Cat6a cable maintained sufficient margin below the specification limit for return loss compared to the alternative cables, providing consistent impedance control at higher frequencies after routing and indicating reliable data transfer rates.
Meeting Rigorous Standards across Several Applications
Aircraft environments often present challenging conditions for sensitive electronic components, including Ethernet cables. To ensure lasting performance for the life of the aircraft, our Ethernet cables are rigorously tested to meet standard SAE AS4373™ for Test Methods for Insulated Electric Wire, as well as the following:
Flammability: ABD0031 (AITM 2.0005); BSS7230; FAR Part 25, Appendix F, Part I
Toxicity: ABD0031 (AITM 3.0005); BSS7239
Smoke Density: ABD0031 (AITM 3.0008B); BSS7238; FAR Part 25, Appendix F, Part V
Environmental Testing, Jacket and Marking: ANSI/NEMA WC 27500
Performance Requirements: ANSI/TIA 568-C.2
IEEE 802.3: Ethernet 10G BASE-T
QPL (RCN9034-24, RCN9047-26): SAE AS6070™/5 & /6: Ethernet 1000BASE-T (10 Gb, 100 Ohms)
We also conduct extensive testing to ensure reliable connectivity in a variety of common applications. As a result, the aerospace industry relies on GORE Ethernet Cables (4 Pairs, Cat5e/6/6a) for Aircraft to provide reliable performance for a wide range of data transmission applications. Common uses include:
Avionics networks
Cabin/flight management systems
Digital video systems
Ethernet backbone
Civil/defense program upgrades (C-130, F-16, KC-135, UH-60)
Our Ethernet cables are compatible with a wide range of high-speed aerospace connector systems, allowing designers to choose the best cables for every application.
Ordering GORE Ethernet Cables (4 Pairs, Cat5e/6/6a) for Aircraft
Our Ethernet cables are ideal for today's advanced aerospace data networks and built for the intense demands of aviation environments. If you're ready to order our GORE Ethernet Cables (4 Pairs, Cat5e/6/6a) for Aircraft, review their exact specifications and contact one of our aerospace wire and cable distributors. You can also request prequalified, tested samples, and small quantities, which are complimentary and available within 48 hours. Part numbers for these Ethernet cables include:
Cat6a

RCN8966-24
RCN9034-24
RCN8966-26
RCN9047-26
RCN9034-28

Cat5e

GSC-01-83471-00
GSC-01-83472-00