Ensure Reliable Protection without Compromising Sound Quality
United States
Sepura, a global leader in digital radio products, was developing a new line of rugged two-way handheld radios for use in exceedingly rugged or adverse conditions. To achieve high-quality sound performance with reliable ingress protection, Sepura turned to GORE® Portable Electronic Vents.
---
Situation
Sepura, a global leader in digital radio products, systems and applications for business and critical communications, wanted to expand their line of rugged, two-way, handheld radios. The majority of Sepura radio users operate in physically demanding environments that can expose them to all types of weather as well as hazardous conditions such as chemical spills, toxic gases, or high-pressure water sprays. These users must be able to communicate with one another in any situation, so their radios must provide high-quality sound and continue to function regardless of the challenges they encounter.
Devices that are exposed to challenging environments are thoroughly sealed inside a rugged housing to protect the internal electronics from exposure. However, audio devices include openings to enable sound waves to be transmitted. In addition, rapid changes in temperature – which can be caused by changing weather conditions, extreme heat at a fire scene, or movement from indoors to outdoors during a pursuit – expose the operative's radio to pressure differentials. Over time, the pressure can compromise the housing seals, causing them to fail and create a leak path for contaminants.
Challenge
When developing the first STP8000 Series radio, Sepura's engineering team knew they needed to equalize pressure and protect the audio components from exposure to contaminants. They wanted their device to meet the IEC 60529 Ingress Protection testing protocol, which means that neither dust nor spray could enter the housing. Just as important, the acoustic performance had to meet the European Telecommunications Standards Institute (ETSI) recommendations, ensuring clear and reliable communication between the responders. Thus, Sepura needed a protective material that allowed sound waves to pass through easily while providing a barrier against liquids and particulates.
The STP9000 Series includes two transducers, which increased the challenge in Top Mic Frequency Response meeting the frequency recommendations of the European Telecommunications Standards Institute (ETSI). In addition, the radio needed environmental protection that meets IP67. Sepura's engineering team worked with Gore to identify the GAW325 Series of GORE® Acoustic Vents as the best solution to meet both requirements. As shown in the following graphs, Sepura's testing showed that these vents enabled both microphones to maintain frequency response measurements within the ETSI-recommended masks. The measured responses and the mask varies depending on the position of the microphone, location of the vent, and changes in the acoustic system. These acoustic test results met Sepura's specifications, and the transducers remained protected from the environment.
Solution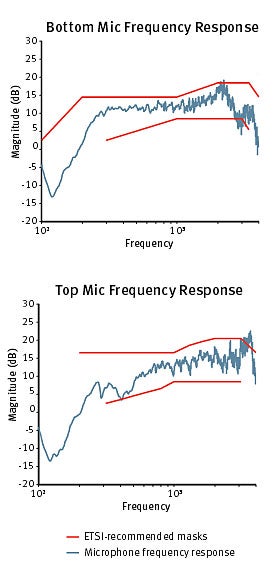 Sepura turned to Gore for assistance in determining the best venting solution to maintain both the sound quality and protection level they needed to ensure that the STP8000 radio met the needs of the public safety industry. Gore's application engineers collaborated with Sepura's product team throughout the entire design and development process. After analyzing the environmental conditions in which the radio would be used and the preliminary design of the radio, Gore developed several prototype GORE® Portable Electronic Vents for further testing. Gore then worked with Sepura to optimize the radio design with three GAW325 Series vents to ensure the best acoustic performance and reliable protection of the two microphones and the ear-piece. To address the need for pressure equalization in the main cavity of the radio, Gore also provided a PE8 Series GORE® Pressure Vent that was installed beneath the battery for maximum protection. Since the success of this first project in 2007, Sepura has worked with Gore on several product developments, including the IP67 rated STP9000 series and the intrinsically safe STP8X – the latest addition to the STP Series. Integrating GORE® Portable Electronic Vents in their radios helped Sepura maintain excellent acoustic performance in a long-lasting radio. According to Keith Kenny, Mechanical Engineering Team Leader of Sepura plc, "High-quality sound performance in a radio that lasts has always been our top priority. Emergency responders need a radio they can rely on regardless of what's going on around them. Gore stepped in as a new supplier and understood our needs right away. Because of their experience with venting technology, they have been able to work side-by-side with our engineering team throughout the entire design and development process to create a rugged solution that provides the sound quality our customers demand."
FOR INDUSTRIAL USE ONLY
Not for use in food, drug, cosmetic or medical device manufacturing, processing, or packaging operations.