Data Sheet: Polyester Felt GORE Filter Cartridge 407 g/m2 (12 oz/yd2 )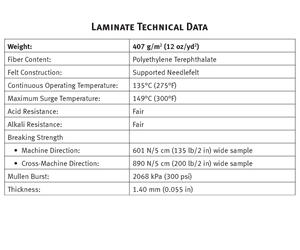 Data Sheets, United States
A 135°C (275°F) maximum service temperature, stayed-polyester felt filter cartridge for use in pulse-jet style dust collectors where high differential pressure and high cleaning pressures are required due to aggressive dust loading.
---
Features and Benefits
Patented GORE™ High Durability membrane technology provides an excellent combination of filtration efficiency, airflow, and durability.
Polyester fibers provide good all-around chemical resistance, especially in applications operating below 79°C (175°F)
Available in top, bottom, and horizontal loading configurations
Withstands pressure drop up to 6.2 kPa (25 inches water gauge)
Applications
Chemicals processing: dryers, bin vents, and nuisance dust collectors in the pigment, plastic, and catalyst industries
Minerals processing: finish mill, bulk loading, ship off-loaders, and bin vent dust collectors
Metals processing: material handling for coal and limestone. Process-venting dust collectors in the lead, lead oxide, and iron and steel industries. Fume and bulk handling systems in coke production and sand-reclamation systems in foundries
Technical Specifications
Fiber content

Polyethylene terephthalate

Felt construction

Supported needlefelt

Continuous operating temperature

135°C (275°F)

Maximum surge temperature

149°C (300°F)

Acid resistance

Fair

Alkali resistance

Fair

Weight

407 g/m2 (12 oz/yd2)

Breaking Strength

• Machine Direction
• Cross-Machine Direction


601 N/5 cm (135 lb/2 in) wide sample
890 N/5 cm (200 lb/2 in) wide sample

Mullen burst:

2068 kPa (300 psi) minimum

Thickness

1.40 mm (0.055 in)
FOR INDUSTRIAL USE ONLY
Not for use in food, drug, cosmetic or medical device manufacturing, processing, or packaging operations.