Pressure Equalization and Protection for Rear Lamps: AVS 22/AVS 23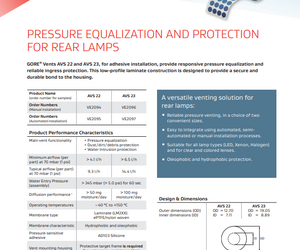 Data Sheets, English
This document provides performance characteristics and specifications for GORE® Automotive Vents AVS 22 and AVS 23, suitable for rear lamps. Featuring a laminate construction, these low-profile adhesive vents provide a secure bond to the housing.
---
FOR INDUSTRIAL USE ONLY
Not for use in food, drug, cosmetic or medical device manufacturing, processing, or packaging operations.