Overview
Mobile handheld computer scanner manufacturers know, their commercial and industrial customers demand devices that meet or exceed IP64, IP65, IP67 or IP68 standards…and perform reliably under the most challenging field conditions.
Leading OEMs rely on Gore for expertly engineered materials and unsurpassed engineering support to design venting solutions that promote superior acoustic performance while providing the highest levels of ingress protection for these high-value devices.
GORE® Vents Enhance Acoustic Performance and Ingress Protection for Mobile Handheld Computer Scanners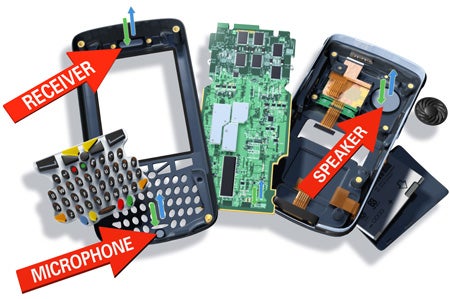 Acoustic Vents
Acoustically-transparent performance with IP64 (dust and splash-level) and IP67 (immersion-level) protection.
Receiver
Microphone
Speaker
Pressure Vents
Rapidly equalize pressure to protect housing seals from premature failure.
New GORE® Pressure Vents product model PE13
Resources
Recent News
FOR INDUSTRIAL USE ONLY
Not for use in food, drug, cosmetic or medical device manufacturing, processing, or packaging operations.