Overview
Everyday-use electronics call for shielding that is effective yet lightweight, robust yet easily removed, smartly constructed yet easily integrated into a manufacturer's design. Many of today's existing shielding technologies — including perforated metal cans — do some of these things well but fail at others.
GORE SNAPSHOT EMI Shields are multi-cavity shields providing high performance in signal integrity, weight, shielding effectiveness, easy installation and removal, and versatility during design.
The shields consist of a lightweight, metallized plastic material that is thermoformed to virtually any design. The shields are attached to your PCB via a patented attachment mechanism utilizing individual BGA solder spheres. The shields are metallized with tin on the outside surface only, resulting in narrower ground traces, reduced space between components, and reduced shield heights when compared to existing shielding solutions (no air gap needed).
In addition to custom contoured design and manufacturing flexibility, the EMI Shields have superior shielding performance when compared to perforated, soldered metal cans.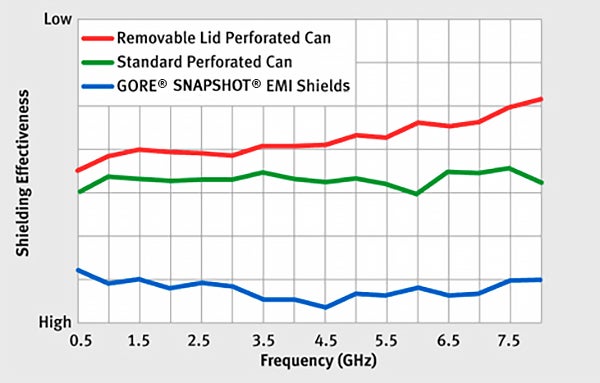 Through their combined properties of high signal integrity, shielding effectiveness, light weight, and ease of installation and removal — along with their low profile — GORE SNAPSHOT EMI Shields provide high performance in a number of applications, including handheld radios, wireless communication headsets and rugged handheld computers.
Applications
Because of the versatile nature of GORE SNAPSHOT EMI Shields, they can provide high performance in a number of everyday-use electronics applications, including:
Broadband data center routers
Commercial communication devices
Military handheld radios
Industrial barcode scanners
Mobile consumer electronics
To learn more about the EMI Shields' effectiveness across applications, please read our Success Stories
Features & Benefits
The key feature of GORE SNAPSHOT EMI Shields is their superior shielding performance, which allows everyday electronics to maintain signal integrity — highly important for customer satisfaction, but even more crucial in military and other mission-critical applications.

Additional features and benefits of the EMI Shields include:
Lightweight, metallized plastic material
Easy BGA attachment mechanism
Installs after SMT reflow and inspection processes
Complete design flexibility
Easily removable by hand
If you have additional questions about the features and benefits of our EMI Shields, please contact a Gore representative.
Success Stories
Across the electronics industry, Gore has partnered with manufacturers to solve challenges in a way that leads to long-lasting, reliable performance. With the light weight and shielding effectiveness of GORE SNAPSHOT EMI Shields, we've provided manufacturers with a way to maintain signal integrity while keeping their products lightweight and easy to use.
Properties
These values demonstrate typical performance of the GORE SNAPSHOT EMI Shields. The values are for reference only and are not intended for specification purposes.
| Shield Material Property | Value | Method |
| --- | --- | --- |
| Thickness | 0.125 mm | - |
| Shielding Effectiveness | 75 dB | ASTM D4935 |
| Surface Resistivity | 0.025 Ohms/square | ASTM F390 |
| Metallization Adhesion | 5B | ASTM D3359 |
| Metallization Thickness | 5 microns | SEM |
| Dielectric Strength | 80 kV/mm | ASTM D149 |
| Vicat Softening Temp. B | 215 °C | ASTM D1525 |
| Solder Sphere Property | Value | Method |
| --- | --- | --- |
| Sphere Diameter | 0.89 mm | - |
| Sphere-to-Sphere Spacing | 2.0 mm | - |
| Ground Pad Diameter | 0.60 mm | - |
Resources