Overview
Built to Withstand Harsh Conditions While Reducing Costs
When vehicles operate, axles, limited slip couplings (LSC), transfer cases and transmissions must perform reliably under sometimes rigorous conditions: towing, splashing, intermittent submersion, and weather extremes. At Gore, we've found that traditional venting approaches to protecting these components from environmental contaminants – including implementing custom long-tube assemblies or pressure-building spring-loaded vents – present shortcomings that can compromise the reliability of drive train and drive line components.
We've engineered a high performance, patented venting product that better protects the long-term reliability of drive train and drive line components. As a bonus to manufacturers, a single GORE Vent can often replace multiple custom drive train and drive line vents, reducing installation complexity and overall system cost. We test our vents in the field, in the laboratory, and on the vehicle, worldwide.
As our tests and customer results show, our vents deliver high performance for the life of the vehicle, because they:
resist environmental contaminants / block dust, grit, dirt and mud splatter
prevent water intrusion and withstands rain, spray, splash and submersion
withstand temperature extremes as the vents' high airflow rapidly equalizes pressures
For many years, Gore has partnered with global suppliers to advance axles, limited slip couplings, transfer cases and transmission design and reliability. With our venting expertise and thorough partnership, manufactures know the integrity of their drive line and drive train components will stay protected.
Product Specifications
Gore offers vents for automotive drive line and drive train components. We test and evaluate each vent to ensure it performs consistently and reliably.
Contact us to discuss your drive line and drive train application, and we'll evaluate the application requirements.
Powertrain Venting
GORE® Powertrain Vent (GPV) AVS41
Series Number
Sample Series: AVS41
Production Series VE2048
Component/Application
Powertrain components including Axles, Transfer Cases, Transmissions, Power Take-off Units, and others
Main Vent Functionality
Pressure Equalization, Dust/Dirt/Debris Protection, Water Intrusion Protection
Overall Dimensions
35 mm L X ⌀ 27mm
Membrane Type
AM6XX - Hydrophobic and Oleophobic ePTFE
Attachment Type
Tube Mounted
Operating Temperature
-40°C to 125°C Continuous
Typical Airflow
150 L/h @70 mbar
Water entry pressure (assembly)
≥ 345 mbar ( ≥5.0 psi) for 60 seconds
Component considerations
Vent location must be free of liquid lubricant contact, and each component must be screened to verify lifetime performance. Please contact Gore to discuss vent positioning and application details.
Vent Interface
Tubing Recommendations: Min Wall Thickness - 3.0mm, Durometer - 70 Shore A, No clamp required, Example Material - CSM
Applications
Transmissions, power transfer units/transfer cases, axles and limited-slip couplings each have specialized application requirements that must be met to ensure performance and reliability. Common challenges include extreme temperatures and pressure fluctuations, which can impact performance. For each set of challenges, GORE Automotive Vents for Drive Lines and Drive Trains are tested and validated to provide peak performance.
Transmission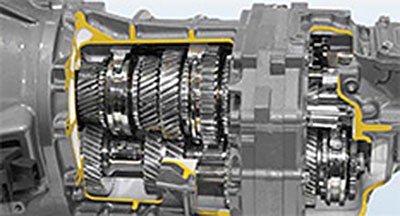 Transmissions experience temperature changes during normal operation, heavy loading, and water exposure, which lead to an increase in pressure. If the pressure is not equalized with a correct venting solution, gaskets and seals can fail. This can cause transmission fluid to leak and/or allow contamination such as dust, mud, sand, and water to enter the transmission causing reduced performance and reliability. The Series: AVS 41 equalizes pressure and protects against environmental challenges in order to maintain performance and long term reliability.
Power transfer unit/transfer case
Transfer cases and power transfer units often have small internal volumes and are required to withstand high temperature differentials. These design requirements dictate the airflow necessary to quickly equalize internal pressure. The Series: AVS 41 addresses this requirement while also protecting sensitive fluids and components from harmful environmental contaminants such as dust, mud, sand, and water.
Axles and limited-slip couplings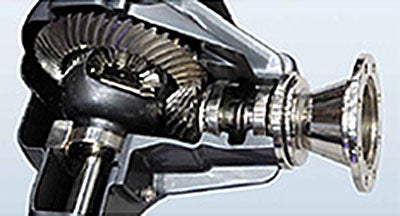 Axles and limited-slip couplings are often located near road-level and can be subjected to harsh environmental conditions and suspension vibration. They must perform reliably under rigorous operating conditions including: towing, water submersion, ice, mud, and weather extremes. Traditional venting approaches to protect these components such as custom, long-tube assembles or pressure-building spring-loaded vents often have shortcomings that can compromise reliability. The Series: AVS 41 is engineered not only to reliably equalize pressure in these conditions, but also provide internal fluid and component protection from outside contamination extending lifetime.
Quality
Initiate a PPAP submission, waiver, or engineering / product fitness consultation
Resources
Recent News
Press Release
Posted November 25, 2013
With its new GORE® PolyVent Compact Series, W. L. Gore & Associates, Inc. introduces higher-performance venting in a smaller footprint. About 30% smaller than the widely-used PolyVent Snap-Fit product family, the new Compact Series is easier to integrate into even the smallest automotive electronic housings. It provides a higher level of protection for sensitive components like sensors, motors and control units, while providing reliable and rapid pressure equalization.
News
Posted November 25, 2013
Approximately 30 percent smaller than other GORE Snap-Fit Vents, the compact series provides a higher level of protection for extremely small electronic components, where space is at a premium.
Press Release
Posted April 22, 2013
W. L. Gore & Associates has expanded its line of GORE® Automotive Vents to include the new Series: AVS 41 (P/N VE2048) venting solution, which is engineered specifically for powertrain components. This new vent improves component reliability by equalizing pressure, preventing contamination from water, dust, dirt, and other automotive fluids and simplifying design challenges, ultimately resulting in lower overall costs.
FOR INDUSTRIAL USE ONLY
Not for use in food, drug, cosmetic or medical device manufacturing, processing, or packaging operations