New GORE® Automotive Vents for Weldable Installation: Breakthrough technology for increasingly stringent reliability requirements in automotive electronics
Introducing Gore's new High Wep Series: Nearly twice the Water Entry Pressure (WEP) resistance, with high airflow and temperature stability.
---

For automotive electrical and electronic modules (EEMs) that must meet ever-increasing reliability standards, GORE Automotive Vents new High WEP Series provides a new level of robust, reliable protection.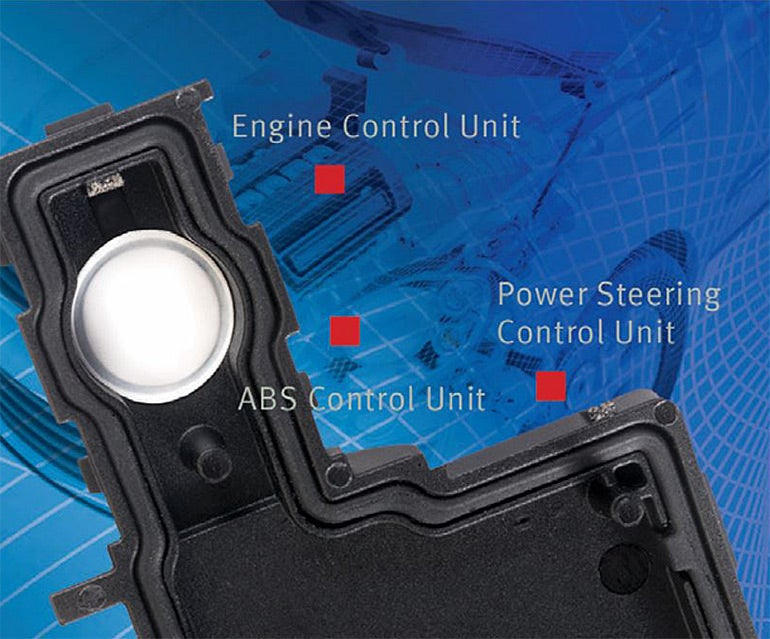 The Value of WEP Resistance
WEP Testing measures how well a membrane resists being permeated by pressurized water. It quantifies how much pressure a membrane can withstand before it leaks.
In WEP Resistance testing, higher numbers mean better performance. Comparing WEP Resistance numbers for various vent membranes will give an indication of their relative robustness in resisting water ingress.
Learn more about the difference between iWEP (Instantaneous WEP) and eWEP (Extended WEP) Testing.
A versatile solution to multiple challenges
The High WEP Series has nearly TWICE the Water Entry Pressure (WEP) resistance of our other weldable vents… yet it provides this impressive level of ingress protection without sacrificing either airflow or temperature stability in the process! This combination of performance attributes can benefit a wide range of sensitive EEMs, particularly those that must withstand high under-hood temperatures, or the harsh conditions and contaminants that can affect EEMs mounted near the point of use.
A balance of properties that protect
Unlike venting products that sacrifice airflow to boost WEP resistance, the new High WEP Series achieves a balanced ratio of airflow/WEP/temperature characteristics, to provide advanced protection in multiple ways:
Nearly double the WEP resistance of our other weldable vents
Airflow that compares favorably with our High  Airflow Series
Temperature resistance approaching that of our  High Temperature Series
 
GORE Automotive Vents
For Weldable Installation
eWEP
Resistance*
Minimum
Airflow*
Temperature
Range
High Airflow Series
≥ 60 kPa / 30 sec
≥ 16.3 l / h / cm2 at 7 kPa
-40 °C / +125 °C
High Temperature Series
≥ 60 kPa / 30 sec
≥ 4.5 l / h / cm2 at 7 kPa
-40 °C / +160 °C
NEW High WEP Series
≥110 kPa / 300 sec
≥ 15 l / h / cm2 at 7 kPa
-40 °C / +150 °C
* At ambient temperature and pressure.
Sustained performance
In harsh environments, this proprietary GORE™ Membrane structure maintains its high roll-off characteristics, hydrolytic stability and oleophobic protection – even when exposed to brake or other automotive fluids. It offers superior UV and chemical resistance, and because it is temperature-stable to 150 °C, it will survive the high temperatures that challenge many under-hood EEMs such as actuators for turbocharger flaps, or exhaust gas recuperation valves. Together, these attributes promise reliable venting performance, sustained integrity for enclosures, and extended longevity for sensitive electronic components.
Secure installation, durable protection
These vents, which incorporate our newest membrane technology, are designed exclusively for manual, semi- or fully-automated ultrasonic welding processes. Their symmetrical construction facilitates rapid, easy installation and a secure, long-term bond to the grades of plastics (such as PBT and PA) typically used  for EEM housings. Provided on a roll, these cut-part vents are available in five different diameters  (6.00–14.00 mm) designed to accommodate a range of smaller enclosure sizes.
Rigorous quality standards
All GORE Automotive Vents for weldable installation, including the new High WEP Series, meet the industry's most rigorous standards for validating EEM reliability. GORE™ Membranes are tested for compliance with ISO 16750 / ISO 20653 or LV124, and GORE Automotive Vents comply with TS16949 quality standards as well as the PPAP / VDA approval process. Depending on housing geometry, these High WEP vents can enable EEMs to achieve protection levels from IP6K1 to IP6K9K.