With high binding capacity at short residence time, GORE® Protein Capture Devices with Protein A can improve productivity and eliminate labor-intensive manual processes such as column packing, qualification and re-validation.
Affinity Chromatography Products
What is Affinity Chromatography
Put simply: affinity chromatography involves a binding reaction between two substances: a ligand that is anchored to a solid support or matrix within the chromatography column, and a target molecule (typically an antibody or protein in solution) which is "captured" as it passes through the column.
The term "affinity binding chromatography" reflects the fact that the target and ligand, which fit together like a lock and key at the molecular level, have a specific affinity to bind together. The target is then un-bound from the ligand via elution.
The term "affinity membrane chromatography" refers to a newer technology that enables greater speed and capacity from pre-packed chromatography columns. Learn more or get product information.
Why Use Affinity Chromatography
Affinity chromatography uses include downstream bioprocessing, where a target molecule (the active pharmaceutical ingredient, or API) is isolated and purified from the upstream culture in which it was produced. In these applications, affinity chromatography is chosen because it offers high yields, removes many impurities in one step, and is specific to the molecule of interest. These purified molecules are the foundation for the final formulation and packaging of many modern therapeutics — one of the most common examples is therapies based on monoclonal antibodies (mAbs).
How Affinity Purification Works
There are three basic steps in affinity purification:
sample is loaded; ligand binds target molecule
impurities are washed out; bound targets remain
elution buffer "releases" purified target
There are two common approaches to antibody purification. One involves using chromatography columns that are pre-packed with the ligands appropriate for a given application. Typically, this approach can enhance throughput and labor-efficiency, as pre-packed columns eliminate the need for qualification, and may save validation time.
Another method of antibody purification involves individually hand-packing a column for each use. In addition to the time needed to pack and qualify each column, after each use time-consuming validation and sanitization protocols are required.
Types of Affinity Purification
Column chromatography can be used for protein purification, including affinity purification of antibodies, depending upon the types of affinity interactions between specific targets and specific ligands.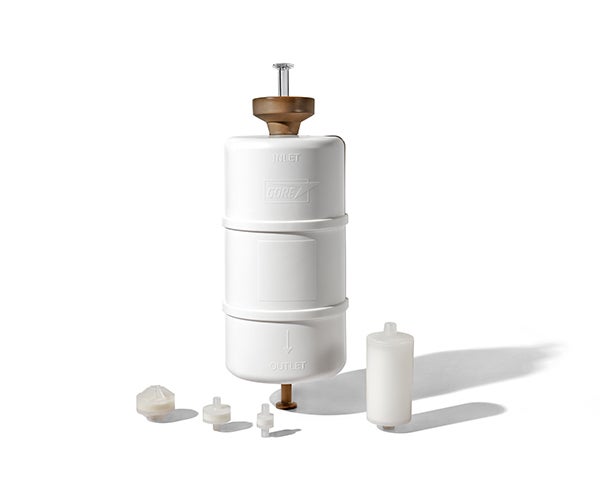 Single-use pre-packed GORE Protein Capture Devices eliminate downtime for cleaning and validation, and can run up to 100 cycles.
Traditionally, one of the most common methods has involved anchoring the ligand to a resin (agarose bead) medium. The beads can be disrupted, compressed or subjected to channeling, so they are suitable for low-speed, low-pressure applications. The beads may also be cross-linked or modified to withstand higher pressures, but this can impact the beads' binding capacity and resultant process yields.
A more advanced technology, affinity membrane chromatography, uses a proprietary ePTFE membrane composite, rather than an agarose bead matrix, to which a ligand may be immobilized or attached. This membrane is unique to GORE Protein Capture Devices with Protein A.
Unlike traditional "bead" support matrices, Gore's composite membrane bed maintains a linear relationship between pressure drop and a wide range of flow rates. Because this unique structure remains stable, the membrane bed is not vulnerable to collapse, channeling or alteration. This provides a binding capacity advantage at high flow rates, improving both speed and productivity versus bead-based technologies.
PROTEIN A PURIFICATION
Broadly speaking, affinity column chromatography with protein A can be used with any molecules (proteins) that incorporate the Fc region in their structures. These can include non-antibody proteins such as Fc-fusion molecules, which are used in TNF-blocking biologics, for example. Researchers are also leveraging Protein A purification protocols for antibody-binding fragments in VH3-binding proteins. But currently, the most prevalent application of affinity chromatography is in antibody purification.
ANTIBODY PURIFICATION
Currently, monoclonal antibody purification by affinity chromatography is a primary focus in biotherapeutics, due to the accelerating need to develop and deliver targeted mAb therapies to treat various medical conditions. Global demand for these therapies continues to grow: From January 1–April 15 2022, five therapeutic mAbs were granted first approvals in either the US or EU, with another 19 in regulatory review as of April 15.* Worldwide, more than 720 active mAbs clinical studies are ongoing.** Other end-uses for antibody purification chromatography include various assays or diagnostic tests. GORE Protein Capture Devices with Protein A bind with different affinities to the various sub-types of Immunoglobin G (IgG), with residence times that are between six and ten times faster than agarose bead-based technology. This can help eliminate bottlenecks in downstream bioprocessing.
* The Antibody Society. Therapeutic monoclonal antibodies approved or in review in the EU or US. (05/25/22); www.antibodysociety.org/resources/approved-antibodies

** NIH, U.S. National Library of Medicine: Monoclonal antibody (mAbs) /Active (not recruiting) Studies / search results (05/25/22); https://clinicaltrials.gov
Applications of Affinity Chromatography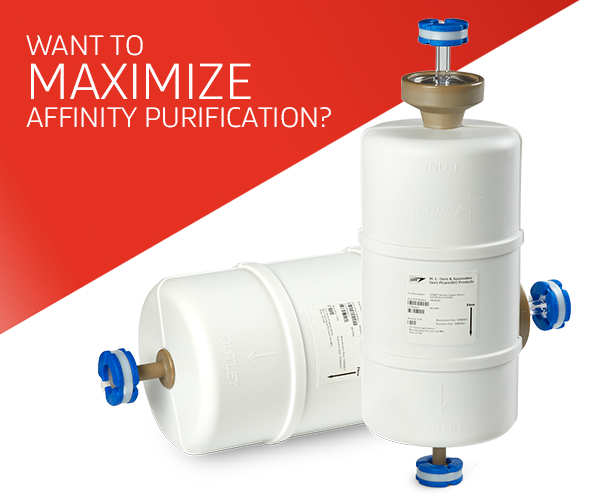 Gore's pre-packed chromatography columns enable a faster, and consistently scalable, affinity purification. Available in sizes from 1.0 mL to 232 mL, these GORE Protein Capture Devices are compatible with standard chromatography systems. The Gore products are designed to improve productivity compared to current methodologies.
The Gore affinity chromatography products can improve the productivity of clinical applications for:
monoclonal antibodies (mAbs)
next-generation molecules that utilize the Fc region for protein A binding
GORE Protein Capture Devices have enabled higher productivity and yields in a variety of applications, including:
early drug discovery screening
late-stage optimization
process development
NOT INTENDED FOR USE in medical device or food contact applications or with radiation sterilization.
Contact Us
Americas
+1 800 294 4673
+1 410 506 1715
Europe
+49 89 4612 3456
+800 4612 3456
中国
+86 21 5172 8299
+86 21 6247 9199 (传真)
Southeast Asia
+65 6210 6946
US
+1 800 294 4673
+1 410 506 1715