What's the Future of Space?
The space industry is undergoing a radical transformation globally. NewSpace is both an evolution and revolution to further shape how we use space. It's a phenomenon defined by rapid inventions, lower costs and rideshare opportunities commercially available for broader socioeconomics. Some estimates show that by 2030, more than 100,000 satellites could orbit the earth. W. L. Gore & Associates continues to innovate by offering reliable, low-risk solutions for NewSpace applications to help connect humanity and monitor the earth so that we can make better decisions about our future.
Cost, size, lead time and volume are at the heartbeat of NewSpace. This industry shifts towards smaller, low-cost vehicles and satellites with fast-paced designs and many rideshare launch cycles in low and medium Earth orbits. Now, commercial and government programs require appropriately qualified, reliable products that are affordable and delivered quickly.
A Technology Path Forward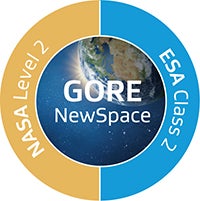 Leveraging decades of materials expertise and risk-free spaceflight heritage, Gore blends the efforts between government, commercial companies, ESA (European Space Agency) and NASA (National Aeronautics and Space Administration).
With a technology path forward, we can help system and harnessing engineers navigate wire and cable requirements to overcome many NewSpace challenges. We offer appropriately qualified, reliable and affordable solutions delivered on time to meet your LEO and MEO program schedules.
From Launch through Mission Duration
Electronic systems aboard launchers and satellites need to continue working to keep us connected and monitor our planet effectively. The wires, cables and cable assemblies connected to these systems are vital and directly impact mission readiness and success. If a system fails, the launch is delayed or many cube satellites stop providing global connectivity and monitoring our planet.
Using innovative fluoropolymer technologies, Gore's solutions have been shown to withstand the most uncompromising conditions they experience during launch cycles and missions. Some of our products can resist extreme temperatures ranging from -200 °C to +200 °C. Our solutions are also chemically inert, exhibit low outgassing, tolerate radiation exposure, and resist atomic oxygen (ATOX) — plus other common spaceflight and orbit challenges.
Wires, cables and cable assemblies must also help minimize problems associated with difficult mass budgets and tight installation paths. Our advanced solutions solve these problems because they reduce size and weight substantially.
Proven Performance to Overcome Challenges
Our high data rate cables deliver failure-free signals and transfer data at high speeds in many applications. GORE® Ethernet Cables are ideal for Ethernet backbone and telecommand remote systems. At the same time, GORE® Shielded Twisted Pair Cables work well in digital signal processors and onboard computing. Our SpaceWire cables can be found in command and data handling (C&DH) and radar sensor equipment. And, our XAUI RapidIO™ cables can be reliably used in data processing and digital video systems.
GORE® Hook-Up Wires safely and reliably distribute non-stop power with low-frequency signals in applications like electric power supplies, optical instruments and microgravity experiments.
Get Started with Gore's NewSpace Solutions
This emerging industry requires qualified, affordable solutions that can be delivered on time, offer more payload options and reliably re-used over multiple launches and missions. W. L. Gore & Associates has decades of proven experience and risk-free heritage to offer innovative wires and cables that meet these requirements.
To learn more and speak with a Gore representative about your specific application, contact a specialist today. When you're ready to order, get in touch with our authorized distributor in the US.
Contact Us
United States
+1 800 356 4622
Germany
+49 9144 6010
+49 9144 6816 (fax)
UK
+44 1382 56 1511
+44 1382 56 1007 (fax)
Italy
+39 045 6209 209
+39 045 6209 165 (fax)
France
+33 1 5695 6565
+33 1 5695 6401 (fax)
Spain
+34 93 480 6900
+34 93 373 7850 (fax)
Sweden
+46 31 7067800
+46 31 864226 (fax)
China (Beijing)
+86 10 5707 4999
+86 10 5707 4900 (fax)
China (Shanghai)
+86 21 5172 8299
+86 21 6247 9199 (fax)
China (Shenzhen)
+86 755 8359 8262
+86 755 8359 1654 (fax)
South Korea
+82 2 393 3411
+82 2 393 1285 (fax)
Japan
+81 3 6746 2582
+81 3 6746 2571 (fax)