GORE® IMPROJECT® Plungers
Eliminate silicone in both barrel and plunger to protect sensitive biologics in glass pre-filled syringes (PFS)
Contact Us
Americas
+1 800 294 4673
+1 410 506 1715
Europe
+49 89 4612 3456
+800 4612 3456
US
+1 800 294 4673
+1 410 506 1715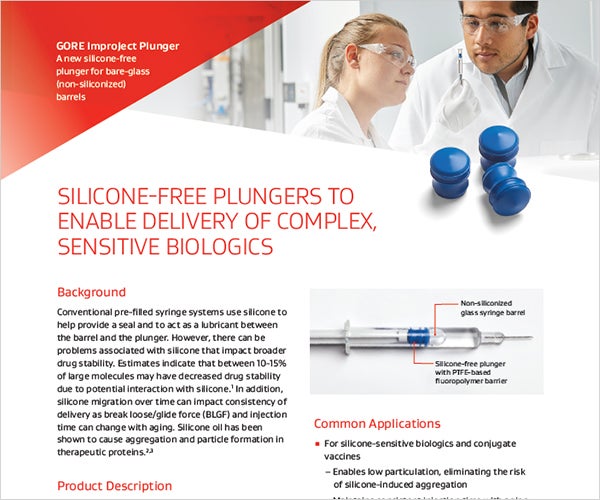 GORE® IMPROJECT® Plungers eliminate the need for silicone as a lubricant in pre-filled syringes. Used with bare-glass (non-siliconized) barrels, these silicone-free plungers provide consistent delivery performance over time, and can protect complex or sensitive biologics from silicone-induced aggregation and particulation.
English (U.S.)
All Resources For GORE® IMPROJECT® Plungers
Overview
Eliminate silicone in both barrel and plunger to protect sensitive biologics in glass pre-filled syringes (PFS)
Today's complex biologics, such as monoclonal antibodies and conjugate vaccines, can be vulnerable to silicone-induced protein aggregation, particle formation and drug product precipitation. In addition, over time, silicone migration can impact consistency of delivery, as it may change break loose/glide force (BLGF) and injection time. As a result, many biopharmaceutical manufacturers are actively seeking ways to address issues related to silicone sensitivity.
Now, GORE IMPROJECT Plungers Offer A New Solution

New GORE IMPROJECT Plungers for pre-filled syringes protect complex and sensitive biologics from silicone-induced protein aggregation and particulation. They do so by completely eliminating the need for silicone in both the syringe plunger and the glass barrel.
The syringe plunger material is completely silicone-free: Silicone is not a raw material and is not used in the manufacture of the plungers.
Designed for use in bare-glass (non-siliconized) barrels, these syringe plungers provide excellent container closure integrity (CCI) and maintain consistent drug delivery time in two-year and accelerated aging tests.
Exceptionally Low Particles
Gore's low-particulation plungers effectively protect many of the more complex biologics that are silicone-sensitive. In addition to meeting USP <788> sub-visible particles standards, testing demonstrates that GORE IMPROJECT Plungers provide:
Orders of magnitude reduction in sub-visible particles, compared to siliconized syringes.
Excellent biocompatibility: 21 CFR Part 4 and ISO 10993-1.
No significant extractable compounds, due to our plunger's proprietary PTFE-based fluoropolymer barrier.
For results of our Particulate and Aging tests, see our Data Sheet.
Functional Performance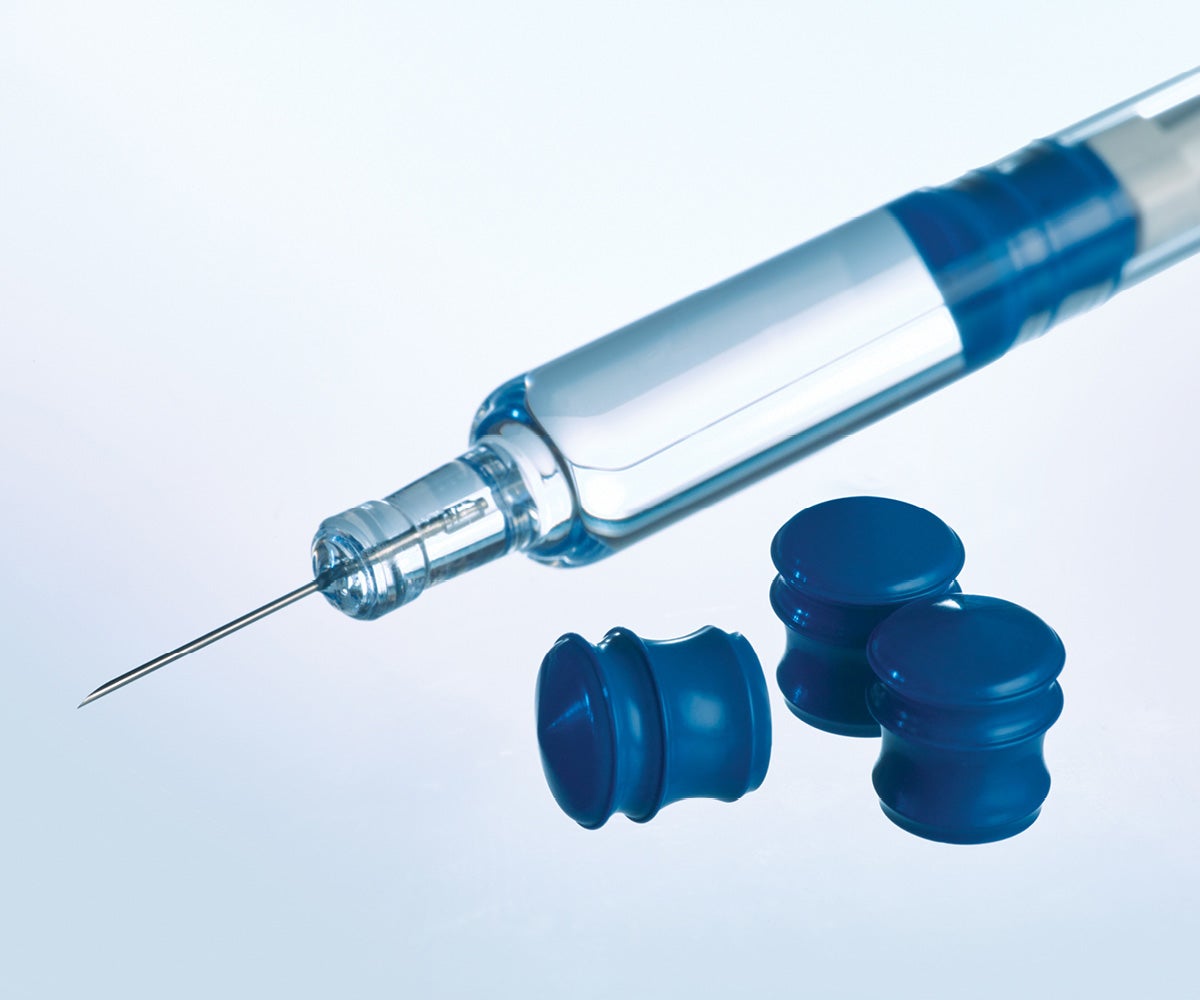 The only plunger that enables low particulates and consistent delivery over time in bare (silicone-free) glass barrels.
Due to its proprietary plunger design and fluoropolymer barrier, the GORE IMPROJECT Plunger ensures:
CCI (Container Closure Integrity)  - testing of pre-filled syringes demonstrates highly effective protection against drug loss, leakage and microbial ingress.
Consistent injection times including auto-injector applications – no auto-injector stalls or auto-injector fails, even after accelerated aging conditions.
Low extractables and leachables: No significant extractable compounds.
A New Option for Drug Delivery
GORE IMPROJECT Plungers provide the only option for a silicone-free PFS (plunger with glass barrel), which protects sensitive biologics from potential interactions with silicone.
To explore this new option in drug delivery, connect with your local Gore representative, or email the Improject Team.
Are you exploring new types of pre-filled syringes for intravitreal injections?
Gore is focused on addressing issues of concern with PFS for retina injections, including:
The need to significantly reduce particle counts, in compliance with USP <789>
Silicone-linked sequelae including silicone oil-induced floaters4,5 and silicone-induced inflammation6,7
Increasing Inter-Ocular Pressure (IOP) with repeated injections over time1,2,3
To request our footnoted reference materials, or to discuss the potentials of silicone-free plungers for intravitreal pre-filled syringes, email the Improject Team.
Compliance & Quality
GORE IMPROJECT Plungers are manufactured in accordance with appropriate material and regulatory requirements, including USP <381>, EP 3.2.9, JP 7.03 and in adherence to relevant Good Manufacturing Processes (cGMP) as defined in the Gore PharmBIO quality system, which is certified to ISO 13485 and ISO 15378.
Want to Know More?
For product information
For product samples, our Validation Guide or compliance statements, or to request a technical consultation
Resources
Recent News
NOT INTENDED FOR USE in medical device or food contact applications or with radiation sterilization.